Government urged to ditch 'bonkers' fracking plan
By Jessica Parker
BBC News political reporter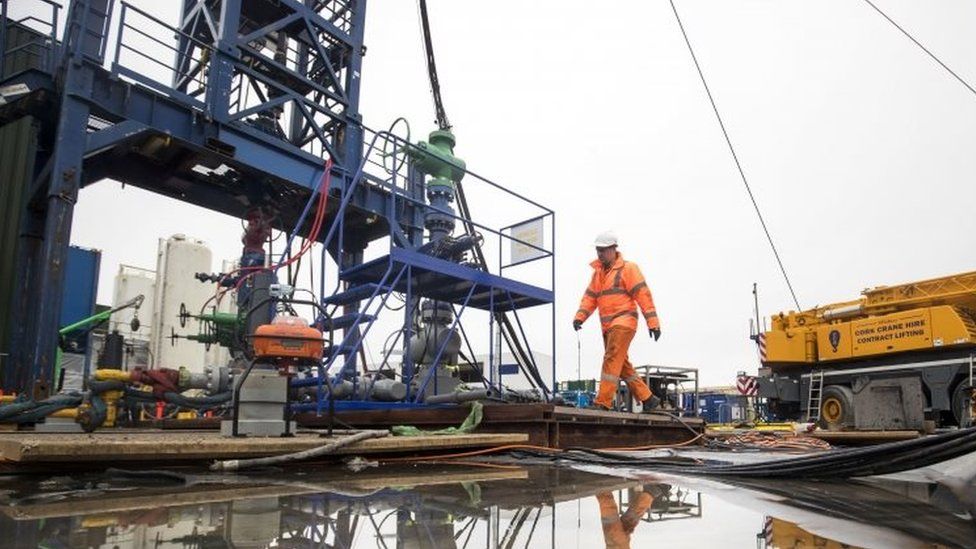 Fracking is controversial, this much we know. But the government has ratcheted-up tensions with plans that could see shale gas projects fast-tracked in future.
Those tensions were particularly apparent this week at a packed out parliamentary debate.
Conservative, Labour, Liberal Democrat and SNP MPs lined up to lambast the proposals and call for a rethink.
So what's causing all the consternation?
Well, one idea that the government's recently consulted on is whether non-hydraulic shale gas exploration projects should be granted planning permission through "permitted development rights".
For anyone who's built a kitchen extension or conservatory, it may be a familiar phrase.
Permitted developments, in the government's own words, provide a "simpler, more certain route to encourage development".
Crucially, that removes the need to put in a planning application to the local council although the relevant licenses and environmental permits would still have to be obtained.
Leading this week's Westminster Hall debate, the Conservative MP for Fylde, Mark Menzies, said that the idea was "nothing short of irresponsible and downright bonkers".
He described some of the infrastructure and traffic that can surround shale gas sites and asked, "Who on earth thinks that is equivalent to building a little extension on the side of your bungalow?"
Fracking was temporarily halted this week at Lancashire's Preston New Road site after a 1.1 magnitude tremor.
Shale gas firm Cuadrilla said the tremor was no cause for concern and, now it's seen the first signs of natural gas flowing to the surface, the industry may feel a renewed sense of confidence.
It's worth pointing out that the current hydraulic operations there would not have fallen under the government's proposed permitted development scheme.
But the tremor has provided fuel for critics of the government's fracking policy.
Former Lib Dem leader Tim Farron described the government's proposals as a "subversion" of local democracy.
"Permitted development was created for conservatories, small extensions and outhouses none of which to the best of my knowledge have ever created an earth tremor," he said in the debate.
Ministers have also consulted on the planning process for fracking sites should they reach the actual hydraulic production stage.
Hydraulic fracturing is a technique used to extract gas or oil by injecting a mixture of water, sand and chemicals, at high pressure, into the earth via drilled boreholes.
The water mixture opens up cracks in the rock and the sand lodges into the spaces to keep them open, allowing for the release of gas.
The government's proposals, for permitted development, would only apply to non-hydraulic shale gas exploration.
This works without the use of fluid pressure but allows companies to drill for core samples.
However, many argue that even exploration sites can cause considerable disruption to local communities.
The government is looking at whether such applications could be included in something known as the Nationally Significant Infrastructure Projects regime or NSIPs.
Think major new roads, railway lines and airports.
NSIPs typically see a Planning Inspector present a report and recommendations to the relevant Secretary of State.
Local councils get to "inform" the decision, but they certainly don't get to make it.
Given the government's much-trumpeted commitment to "localism", the irony has not been lost on Conservative MPs.
East Yorkshire's Sir Greg Knight said: "If the government is being consistent, shouldn't local communities have more say on fracking matters and not have their voice taken away?"
He was one of 10 Tory MPs to express concerns at this week's debate and there are more.
Misgivings range from cautious scepticism to outright anger.
North East Derbyshire is a marginal seat where a company recently won permission, through appeal, to look for shale gas.
The constituency's Conservative MP, Lee Rowley, has described the government's proposals as "ludicrous", adding that, "fracking in my view will not work in this country".
Ministers point to the fact that permitted development rights do contain exclusions and restrictions that can mitigate a development's impact.
They also say that NSIPs do see local communities consulted at an early stage while councils can submit written representations during the examination process.
But there has been a hint this week, perhaps, of some political nervousness.
On the back of two consultations, that many argued amounted to undermining local democracy, a third consultation has appeared all about "strengthening community engagement"; specifically whether it should be compulsory for shale gas firms to consult communities at the pre-application stage.
Planning Minister Kit Malthouse this week told MPs: "We believe this could further strengthen the role local people play in the process."
But it's led to claims that the government is now "all over the place" on its fracking policy.
Labour MP Sir Kevin Barron said: "This is the most inconsistent, confusing thing that I've seen in all my 35 years in parliament."
The government's determination to explore the potential of fracking is based on the hope that it could deliver greater energy security, jobs and cheaper gas for consumers.
There is also some considerable frustration at the sluggish, yet fraught, way in which shale gas applications can currently be processed at a local authority level.
Energy minister Claire Perry has previously said it is "a morass of protest and counter-prevailing information and frankly I pity any local councillor that gets an application on their desk because they will shortly have a travelling circus of protestors most of whom do not hail from the areas where those sites are located."
Ministers do insist that they remain fully committed to ensuring that local communities are properly involved in any application whilst also ensuring that the process is sped up.
However, when it comes to controversial shale gas schemes, there is a real question over whether those two aims can easily be reconciled.
And also whether the government can contain the evident displeasure and disquiet amongst some of its own MPs.