Who do we know has written a no confidence letter?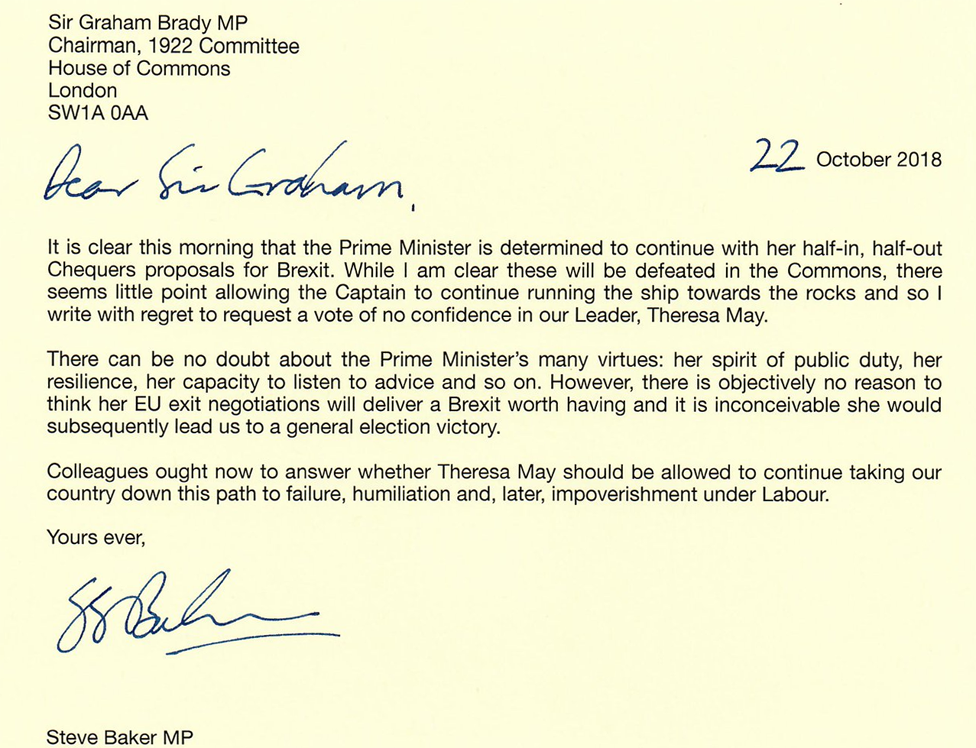 Theresa May will face a fight for her leadership after at least 48 members of her own party put in writing that they have lost confidence in her.
Any time the chair of the 1922 Committee of backbench Conservatives - Sir Graham Brady - receives letters from 15% of the party's MPs, a secret ballot is triggered.
If Mrs May wins, they cannot challenge her premiership for another year.
But, if she loses, there will be a leadership election and she will not be allowed to run. (You can see the process in the graphic below)
Here is a list of MPs who have publicly said they have submitted letters:
Andrea Jenkyns, MP for Morley and Outwood, confirmed to Sunday Politics Yorkshire back in July that she had sent a letter
Andrew Bridgen, MP for North West Leicestershire, submitted his five days later, saying the EU negotiations had "deteriorated into a state of complete capitulation"
Philip Davies, MP for Shipley, joined the letter writers of July, telling his constituents the Chequers plan was unacceptable, adding: "It is with much sadness that I have to say that I also lost trust in her to deliver the referendum result"
James Duddridge, MP for Rochford and Southend East, submitted his letter at the start of October, saying the Conservatives needed a leader that believes in Brexit and that "blind loyalty" was not the way forward
Anne Marie Morris, MP for Newton Abbot, said in November she had written her letter
Laurence Robertson, MP for Tewkesbury, became the first of a long list to confirm his letter in mid-November, after the government announced details of its draft Withdrawal Agreement with the EU
Jacob Rees-Mogg, MP for North East Somerset and head of the influential European Research Group of Brexiteer Tories, was next with his letter
Nadine Dorries, MP for Mid Bedfordshire, confirmed she had submitted her letter but said on Twitter she had done so "some weeks ago"
Simon Clarke, MP for Middlesbrough South and East Cleveland, confirmed he had sent a letter after a meeting of the European Research Group
Steve Baker, MP for Wycombe and former Brexit minister, confirmed his letter to BBC sources
Henry Smith, MP for Crawley, confirmed his no confidence letter in a separate letter to the prime minister
Maria Caulfield, MP for Lewes, told the BBC she had sent her letter
Sheryll Murray, MP for South East Cornwall, tweeted her letter, saying her decision was due to fishing policy and the Northern Ireland backstop
Lee Rowley, MP for North East Derbyshire, told ITV he could not accept the Brexit deal and had submitted a letter
Martin Vickers, MP for Cleethorpes, tweeted in November that he had submitted his letter
Peter Bone, MP for Wellingborough, told Newsnight he had sent in a letter
Adam Holloway, MP for Gravesham, posted a picture on his Facebook account saying the country needed leadership
Mark Francois, MP for Rayleigh and Wickford, confirmed he had submitted his letter in November
John Whittingdale, MP for Maldon, confirmed to Nick Ferrari on LBC that he had submitted his letter
Ben Bradley, MP for Mansfield, confirmed to BBC sources that he had sent his letter in October
Chris Green, MP for Bolton West and Atherton, tweeted he had written his letter, citing his displeasure over the deal
Zac Goldsmith, MP for Richmond Park and North Kingston and former London mayor candidate, has submitted a letter of no confidence in Theresa May, writing in the Daily Telegraph that the PM "won't change course".
Sir Bill Cash, Conservative MP for Stone and veteran Eurosceptic, told BBC Radio Stoke the current deal doesn't fulfil promises.
Philip Hollobone, Conservative MP for Kettering, told BBC Radio Northampton that he sent a letter in on the day David Davis resigned, four months ago
Andrew Lewer, Conservative MP for Northampton South, explained on his official website why he had submitted his letter
Crispin Blunt, Conservative MP for Reigate, told The Times he had submitted his letter
Owen Paterson, former Northern Ireland and environment secretary and MP for North Shropshire, had his letter published in the Daily Telegraph