Tory peer Baroness Trumpington dies at 96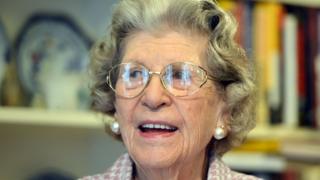 Former Tory minister and government whip Baroness Trumpington has died at the age of 96.
The peer, who retired from the Lords last year, served in the Department of Health and Ministry of Agriculture in the 1980s and 1990s.
Seven years ago, footage showing her making a V-sign at a fellow Tory over what she saw as a rude remark about her age went viral online.
In World War Two, she worked in naval intelligence at Bletchley Park.
Fluent in French and German, the then 18-year-old worked as a cypher clerk, transcribing messages from German submarines for code breakers.
Before entering Parliament in 1980, Lady Trumpington was a councillor in Cambridge, where she later became mayor.
In government, she served under prime ministers Margaret Thatcher and John Major.
Lady Trumpington's death was confirmed by her son, Adam Barker, who said she had died on Monday afternoon in her sleep.
He posted a photo of his mother's Parliamentary Pass on Twitter, which showed it still had four years to run: "She did not make it to October 2022(100) ..but she had a bloody good innings".
'Formidable figure'
Prime Minister Theresa May said: "Jean enjoyed a truly extraordinary career, from her work in intelligence at Bletchley Park during the Second World War to her decades of public service in local and national government, and in Parliament.
"She was a formidable figure in British politics and her kindness and humour will be sorely missed."
Former Prime Minister David Cameron tweeted: "So very sad to hear that Baroness Trumpington has passed away."
He added: "She was one of a kind - they simply don't make politicians like that anymore. She will be sorely missed in Westminster but long remembered for her outstanding ability and great humour. RIP Trumpers."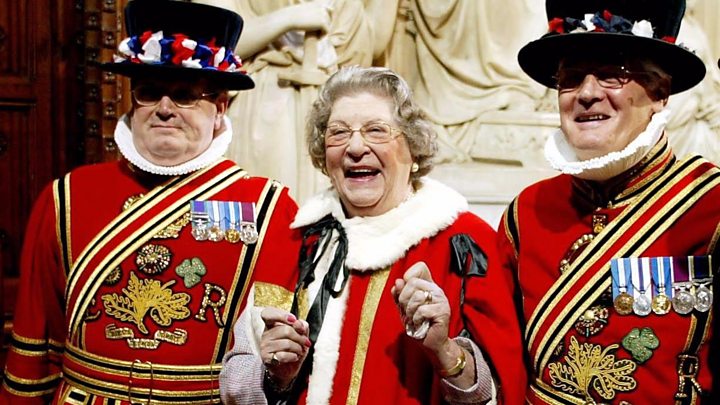 Her two-fingered gesture at fellow peer Lord King in 2011 introduced Lady Trumpington to a wider audience outside Parliament and she was soon appearing on programmes, including Have I Got News For You, Backchat and the Great British Menu.
She had taken exception at remarks by the former defence secretary suggesting veterans of World War Two - of which she was the last remaining member in the Lords - were getting "pretty old".
Political stalwart mixed with Lloyd George and Thatcher
She was the society girl and war-time Nazi codebreaker who fended off the amorous advances of Lloyd-George.
In a long political career, she was mayor of Cambridge, a Conservative whip and served as a health minister in Margaret Thatcher's government.
But Baroness Trumpington, who has died at the age of 96, found fame and a place in the nation's heart late in life - flicking a V-sign at a colleague during a House of Lords debate.
It was arguably the best career move she ever made and she revelled in her newfound YouTube notoriety.
Conservative Party deputy chairman James Cleverly, tweeted: "So sad to hear that code-breaking, two finger-wagging, Baroness Trumpington has passed away. Ma'am, we salute you."
International Development Secretary Penny Mordaunt described her as a "trailblazer, heroine and an utter joy", and added: "Deepest sympathies to all who knew and loved this incredible woman. Socialite, mother, Bletchley Park code breaker, Baroness, Minister, trailblazer, heroine and an utter joy."
Former Liberal Democrat leader Tim Farron said she was "admirable, decent and unique".
And Tory peer Baroness Sayeeda Warsi said she was "a huge inspiration", tweeting: "She always had time to deliver a good telling off, give advice or pay a compliment. I had the privilege of being at the receiving end of all three!"
Labour MP Kevin Brennan celebrated his "admiration for a remarkable woman".
Health minister Jackie Doyle-Price said Lady Trumpington was "unique", adding: "When I grow up I want to be just like her."