Ian Austin: No action against Labour MP over anti-Semitism policy row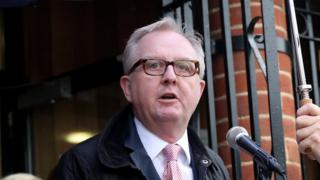 Labour will not be taking disciplinary action against an MP involved in a row over how it is tackling anti-Semitism.
Ian Austin, the MP for Dudley North, faced possible suspension following an argument with chairman Ian Lavery in which he called the party's code of conduct on anti-Semitism a "disgrace".
Mr Austin said he was glad at the outcome but hit out at the party's "appalling" handling of the case.
Labour sources said he was reprimanded and warned about his future conduct.
Mr Austin acknowledged he had a "heated discussion" with Mr Lavery last summer at the height of an internal fight within Labour over the extent of anti-Semitism within the party and the leadership's response to it.
The MP condemned the party's decision, at the time, not to adopt the International Holocaust Remembrance Alliance's "working definition" of anti-Semitism and all its examples - a move that was subsequently reversed.
The ex-minister, who is the adopted child of a Jewish refugee, has always denied "screaming abuse" at Mr Lavery.
In a statement, Mr Austin said Labour's general secretary Jennie Formby had written to him to tell him that he would face no further action in connection with the episode.
"I make no apologies for being upset about anti-Semitism," he said. "I think every Labour Party member ought to be angry about racism and the failure to deal with it properly.
"But I did not scream abuse, as was alleged, so I am pleased the Labour Party have dropped its threat to hold an investigation. Frankly, they should never have threatened this in the first place.
"The way this whole issue has been handled is unacceptable and the time it has taken is appalling."
Mr Austin has long been a critic of Mr Corbyn but insisted he and others urging a zero tolerance approach to anti-Semitism within Labour were not using the issue to undermine his leadership, as claimed by some of his supporters.
Labour's NEC adopted the full IHRA definition of anti-Semitism in September but also approved a document alongside it vowing to uphold freedom of speech and legitimate criticism of the Israeli government.
'Not acceptable'
Mr Austin said Labour must not "re-write or water down" its code of conduct and rebuild the trust of the Jewish community by dealing with outstanding cases of anti-Semitism quickly.
"The Labour Party's priority ought to be doing everything it can to win back the trust of the Jewish community, not investigating people like me for complaining about their failure to tackle anti-Semitism properly," he said.
A Labour spokesman said all allegations of abusive behaviour were taken seriously and "fully investigated in line with party rules and procedures".
Party sources said Mr Austin had been given a formal reprimand by the chief whip Nick Brown who "made clear to him that shouting aggressively is not acceptable behaviour by a Labour MP".
Mr Corbyn has repeatedly said anti-Semitism is wrong and it will not be tolerated in the party.
Mr Austin is the second Labour MP to be told there face no further action - a disciplinary inquiry into Labour veteran Margaret Hodge was dropped after she reportedly swore at Jeremy Corbyn and called him an anti-Semite.