Brexit deal: Should May be 'camped out' in Parliament?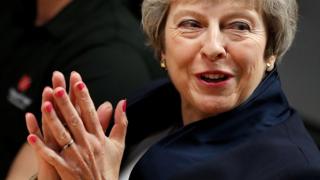 It looks a bit like a general election, but it's something rather different.
The prime minister's deal is the only candidate. And it's MPs - not the public - who are the voters this time.
As things stand, it looks like Theresa May's compromise is heading for a nasty defeat - although, as I've cautioned many times, we are still some way from the vote and things change VERY fast round here these days.
She is busy shaking hands, visiting businesses and meeting a carefully controlled sample of the public, trying to drum up the kind of sentiment that is certainly felt by some voters - not just a Brexit fatigue, but an anxiety about the continuing effect of simply not knowing what is going to happen.
And tomorrow she flies off to the G20 meeting of international leaders in Argentina, meaning another three days when she will be otherwise engaged, rather than spending time trying directly to get her reluctant colleagues on side.
There are whispers in Westminster questioning the merits of her travels.
Of course she has no control over the summit in Buenos Aires. But there are anxieties about whether No 10's strategy of trying to make the case for her deal outside Westminster is useful.
She has spent hours on her feet in the Commons of course.
But that is not the same as doing what many politicians have had to do when their backs are genuinely against the wall - spend time, hours and hours even, talking to colleagues to get them on side.
One cabinet minister told me today that "people want to see her".
They said: "She is getting the message to get off the road. She needs to be here, there are a lot of people willing to be convinced."
Another senior Conservative, a Brexiteer who is backing the deal, said she "needs to be camped out in the tea rooms the whole time" - frustrated that the PM is not, so far, being seen to be everywhere in Parliament, preferring a PR campaign to talking her reluctant colleagues round.
For her supporters, it was part of Mrs May's appeal. She's not a creature of the Commons, not someone who trades in Westminster's currencies of gossip, information and patronage.
She's not "clubbable", to use that SW1 word, and not really part of any sprawling network of political friends and allies.
When she ran to be leader, she confronted it and boasted about it.
"I know I'm not a showy politician," she said. "I don't tour the television studios. I don't gossip about people over lunch. I don't go drinking in Parliament's bars.
"I don't often wear my heart on my sleeve. I just get on with the job in front of me."
'Mammoth effort'
Of course, there is what one minister described as a "huge operation" going on to try to change minds, making it plain - in their view - to Brexiteers who are refusing to back the deal that they are "risking the Conservative government and the country".
We know there is a "war room" where No 10, DExEU and Cabinet Office advisers, and the whips have based themselves, trying to work together to find ways scraping as many votes as possible together.
Behind the scenes there is certainly a mammoth effort to try and salvage the situation.
But it's clear that some of the prime minister's colleagues are frustrated at how she is fronting this publicly around the country, but perhaps not pressing the flesh, or, more to the point, twisting the arms herself in Parliament.
And many insiders wonder why No 10 isn't bearing in mind what happened the last time that Mrs May went on the road.