UKIP leader Gerard Batten survives no-confidence vote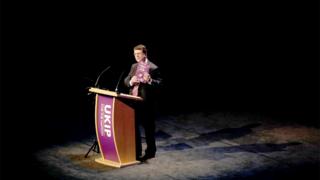 UKIP leader Gerard Batten has survived a vote of no confidence held by the party's National Executive Committee.
Mr Batten had been criticised by some in the party - including former leader Nigel Farage - for appointing far-right activist Tommy Robinson as an adviser.
UKIP said its ruling body had voted "overwhelmingly" against a motion of no confidence. However it said it did not endorse Mr Robinson's appointment.
He was barred from membership "through his associations", it added.
Former EDL leader Mr Robinson - real name Stephen Yaxley-Lennon - was jailed for 13 months in May for contempt of court, although his conviction was later quashed over procedural concerns. The case has since been referred to the attorney general.
It was his third spell in prison since January 2013, having served sentences for mortgage fraud and a passport offence.
However, after appointing Mr Robinson to advise on rape gangs and prison reform, Mr Batten said: "He's a good person to have on side, a lot of people respect his stand on things and his courage."
Mr Robinson is expected to feature in a Brexit march in London on 9 December. UKIP said it had not organised the event, although members were "free to attend".
UKIP's former deputy leader Suzanne Evans has quit the party over what she described as the "perverse direction" in which Mr Batten was taking it.
She said she had hoped "sense would prevail" at the NEC meeting, but had been disappointed by the outcome.
"I feel I have no option but to join the thousands of other good, decent former UKIP members in walking out of the door in disgust at the radical change in UKIP's direction," she said in a Facebook post.
The former Conservative councillor said she had joined UKIP as a "Brexit party", but added: "I would never have joined UKIP as it stands today, obsessed as it is with becoming a successor to the BNP and the EDL".