Brexit: How could another referendum on leaving the EU work?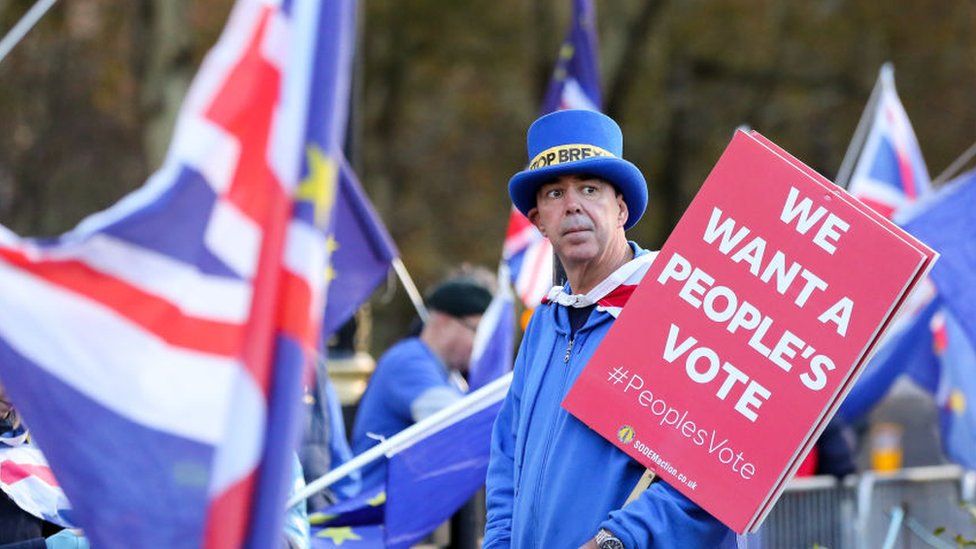 One possible way to break the political stalemate over Brexit, could be to offer the public a new vote on European Union (EU) membership.
With the UK due to leave the EU on 31 October, how could another referendum work?
Organising another public vote would take a minimum of 22 weeks, according to experts at the Constitution Unit at University College London (UCL).
This would consist of at least 12 weeks to pass the legislation required to hold a referendum, plus a further 10 weeks to organise the campaign and hold the vote itself.
A government cannot just decide to hold a referendum. Instead, a majority of MPs and Lords would need to agree and vote through the rules of another public vote.
Parliament could copy over large chunks of the legislation that led to the 2016 referendum to speed things up:
"This could be done very quickly in theory," says Alan Renwick, deputy director at the Constitution Unit.
Mr Renwick estimates this approach could take about 11 weeks - much shorter then the seven months it took last time.
But that assumes things go smoothly. If there was a lot of disagreement amongst MPs, it could take much longer to pass the legislation.
Potential flashpoints could be over the wording of the referendum question, the number of options on the ballot paper and the voting system.
If the legislation was successfully passed, official campaign groups would have to be selected.
This would be done by the Electoral Commission. It also needs to assess the referendum question, provide information to voters about how to take part and ensure enough counting officers are available around the country.
Once that's out the way, there's the campaign - which usually lasts four weeks - and then the vote itself.
The Electoral Commission says existing law stipulates this is a rigid period that cannot be shortened.
Can a new vote be held before the 31 October deadline?
On a 22-week timetable (allowing for legislation and a campaign), it would take until at least mid-December to hold another vote - and that's if the process started now.
That means, if Parliament was determined to hold another public vote, it would need to ask the EU to extend the 31 October Brexit deadline.
If the EU agreed, it would be the third Brexit extension.
But it's not unheard of for countries to hold referendums on much tighter timescales.
However, Alan Renwick says that if referendums are organised too hastily, it can give the impression that "normal procedure is not being followed" and that voters may see the eventual result as illegitimate.
A referendum similar to Greece's timescale, for example, would not allow enough time to organise postal votes and assess the question on the ballot paper.