Brexit: May is making new enemies, not finding fans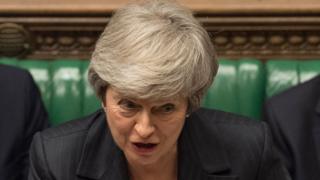 This is not - I repeat NOT - a re-run of the referendum.
Theresa May will never convince purists on either side of the Brexit debate that they are wrong to believe it's right to leave, or heresy to argue to stay.
What she needs to do is get enough of her colleagues to accept they can't have everything they desire, but that there is enough in her compromise to say yes to an arrangement that fulfils the Tories' political promises.
So far, however, her arguments don't seem to be holding much sway. The tally of Tory MPs who've declared they're willing to vote against is rising - irrespective of whether the public detests or ignores the circus.
With less than a week to go, despite the prime minister's private meetings with dozens of backbenchers, they are not emerging convinced.
If anything, her compromise seems to be making new enemies, not finding new fans.
And fresh from a trio of defeats, Mrs May seems to be arguing the case with diminishing authority.
A tentative hunt for changes that could peel rebels away seems fruitless so far.
Just when the prime minister needs goodwill, respect and trust, it is in very short supply.
One senior Tory told me: "She doesn't listen to anyone, so why should we."