How Tory MPs said they would vote in no confidence ballot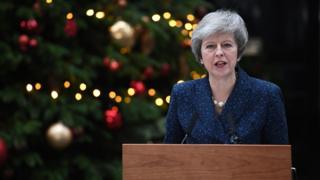 Theresa May survived a vote of no confidence on Wednesday evening.
Many of her MPs publicly said during the day which way they planned to vote ahead of the poll.
The ballot was secret, so an MP's public declaration might not match up to the mark they made on the ballot paper.
We now know that 200 Tory MPs backed her leadership, while 117 voted against.
The figures below reflect how they said they would vote before the ballot.
FOR (188):
Bim Afolami, MP for Hitchin and Harpenden
Adam Afriyie, MP for Windsor
Peter Aldous,MP for Waveney
Heidi Allen, MP for South Cambridgeshire
Stuart Andrew, MP for Pudsey
Edward Argar, MP for Charnwood
Victoria Atkins, MP for Louth and Horncastle
Kemi Badenoch, MP for Saffron Walden
Harriett Baldwin, MP for West Worcestershire
Stephen Barclay, Brexit Secretary and MP for North East Cambridgeshire
Guto Bebb, MP for Aberconwy
Richard Benyon, MP for Newbury
Paul Beresford, MP for Mole Valley
Jake Berry, MP for Rossendale and Darwen
Nick Boles, MP for Grantham and Stamford
Andrew Bowie, MP for West Aberdeenshire and Kincardine
Karen Bradley, Northern Ireland Secretary and MP for Staffordshire Moorlands
Jack Brereton, MP for Stoke-on-Trent South
Steve Brine, MP for Winchester
James Brokenshire, Housing Secretary and MP for Old Bexley and Sidcup
Robert Buckland, MP for South Swindon
Alex Burghart, MP for Brentwood and Ongar
Alistair Burt, MP for North East Bedfordshire
Alun Cairns, Welsh Secretary and MP for Vale of Glamorgan
James Cartlidge, MP for South Suffolk
Alex Chalk, MP for Cheltenham
Jo Churchill, MP for Bury St Edmonds
Greg Clark, Business Secretary and MP for Tunbridge Wells
Colin Clark, MP for Gordon
Kenneth Clarke, MP for Rushcliffe
James Cleverly, MP for Braintree
Therese Coffey, MP for Suffolk Coastal
Alberto Costa, MP for South Leicestershire
Geoffrey Cox, Attorney General and MP for Torridge and West Devon
Stephen Crabb, MP for Preseli Pembrokeshire
Mims Davies, MP for Eastleigh
Glyn Davies, MP for Montgomeryshire
David Davies, MP for Monmouth
Caroline Dinenage, MP for Gosport
Jonathan Djanogly, MP for Huntingdon
Leo Docherty, MP for Aldershot
Michelle Donelan, MP for Chippenham
Jackie Doyle-Price, MP for Thurrock
David Duguid, MP for Banff and Buchan
Alan Duncan, MP for Rutland and Melton
Michael Ellis, MP for Northampton North
Tobias Ellwood, MP for Bournemouth East
Mark Field, MP for Cities of London and Westminster
Vicky Ford, MP for Chelmsford
Kevin Foster, MP for Torbay
Liam Fox, International Trade Secretary and MP for North Somerset
Lucy Frazer, MP for South East Cambridgeshire
George Freeman, MP for Mid Norfolk
Mike Freer, MP for Finchley and Golders Green
Roger Gale, MP for North Thanet
David Gauke, Justice Secretary and MP for South West Hertfordshire
Nusrat Ghani, MP for Wealden
Nick Gibb, MP for Bognor Regis and Littlehampton
John Glen, MP for Salisbury
Robert Goodwill, MP for Scarborough and Whitby
Michael Gove, Environment Secretary and MP for Surrey Heath
Luke Graham, MP for Ochil and South Perthshire
Richard Graham, MP for Gloucester
Helen Grant, MP for Maidstone and The Weald
Bill Grant, MP for Ayr, Carrick and Cumnock
Chris Grayling, Transport Secretary and MP for Epsom and Ewell
Damian Green, MP for Ashford
Andrew Griffiths, MP for Burton
Sam Gyimah, MP for East Surrey
Kirstene Hair, MP for Angus
Robert Halfon, MP for Harlow
Luke Hall, MP for Thornbury and Yate
Philip Hammond, Chancellor of the Exchequer and MP for Runnymede and Weybridge
Stephen Hammond, MP for Wimbledon
Matthew Hancock, Health Secretary and MP for West Suffolk
Richard Harrington, MP for Watford
Trudy Harrison, MP for Copeland
Oliver Heald, MP for North East Hertfordshire
James Heappey, MP for Wells
Chris Heaton-Harris, MP for Daventry
Peter Heaton-Jones, MP for North Devon
Gordon Henderson, MP for Sittingbourne and Sheppey
Nick Herbert, MP for Arundel and South Downs
Damian Hinds, Education Secretary and MP for East Hampshire
Simon Hoare, MP for North Dorset
Kevin Hollinrake, MP for Thirsk and Malton
John Howell, MP for Henley
Nigel Huddleston, MP for Mid Worcestershire
Jeremy Hunt, Foreign Secretary and MP for South West Surrey
Nick Hurd, MP for Ruislip, Northwood and Pinner
Alister Jack, MP for Dumfries and Galloway
Margot James, MP for Stourbridge
Sajid Javid, Home Secretary and MP for Bromsgrove
Robert Jenrick, MP for Newark
Caroline Johnson, MP for Sleaford and North Hykeham
Gareth Johnson, MP for Dartford
Marcus Jones, MP for Nuneaton
Andrew Jones, MP for Harrogate and Knaresborough
Gillian Keegan, MP for Chichester
Seema Kennedy, MP for South Ribble
Stephen Kerr, MP for Stirling
Julian Knight, MP for Solihull
Kwasi Kwarteng, MP for Spelthorne
John Lamont, MP for Berwickshire, Roxburgh and Selkirk
Mark Lancaster, MP for Milton Keynes North
Andrea Leadsom, Leader of the Commons and MP for South Northamptonshire
Phillip Lee, MP for Bracknell
Jeremy Lefroy, MP for Stafford
Oliver Letwin, MP for West Dorset
Brandon Lewis, Conservative Party chairman and MP for Great Yarmouth
Iain Liddell-Grainger, MP for Bridgwater and West Somerset
David Lidington, MP for Aylesbury
Jack Lopresti, MP for Filton and Bradley Stoke
Rachel Maclean, MP for Redditch
Alan Mak, MP for Havant
Kit Malthouse, MP for North West Hampshire
Paul Masterton, MP for East Renfrewshire
Theresa May, Prime Minister and MP for Maidenhead
Paul Maynard, MP for Blackpool North and Cleveleys
Patrick McLoughlin, MP for Derbyshire Dales
Mark Menzies, MP for Fylde
Huw Merriman, MP for Bexhill and Battle
Maria Miller, MP for Basingstoke
Amanda Milling, MP for Cannock Chase
Penny Mordaunt, International Development Secretary and MP for Portsmouth North
Nicky Morgan, MP for Loughborough
David Morris, MP for Morecambe and Lunesdale
Wendy Morton, MP for Aldridge-Brownhills
David Mundell, Scottish Secretary and MP for Dumfriesshire, Clydesdale and Tweeddale
Andrew Murrison, MP for South West Wiltshire
Bob Neill, MP for Bromley and Chislehurst
Sarah Newton, MP for Truro and Falmouth
Caroline Nokes, MP for Romsey and Southampton North
Jesse Norman, MP for Hereford and South Herefordshire
Neil O'Brien, MP for Harborough
Guy Opperman, MP for Hexham
Neil Parish, MP for Tiverton and Honiton
Mark Pawsey, MP for Rugby
John Penrose, MP for Weston-super-Mare
Andrew Percy, MP for Brigg and Goole
Claire Perry, MP for Devizes
Chris Philp, MP for Croydon South
Chris Pincher, MP for Tamworth
Daniel Poulter, MP for Central Suffolk and North Ipswich
Rebecca Pow, MP for Taunton Deane
Victoria Prentis, MP for Banbury
Mark Prisk, MP for Hertford and Stortford
Mary Robinson, MP for Cheadle
Amber Rudd, Work and Pensions Secretary and MP for Hastings and Rye
David Rutley, MP for Macclesfield
Antoinette Sandbach, MP for Eddisbury
Paul Scully, MP for Sutton and Cheam
Bob Seely, MP for Isle of Wight
Alok Sharma, MP for Reading West
Alec Shelbrooke, MP for Elmet and Rothwell
Chris Skidmore, MP for Kingswood
Julian Smith, Chief Whip and MP for Skipton and Ripon
Chloe Smith, MP for Norwich North
Nicholas Soames, MP for Mid Sussex
Anna Soubry, MP for Broxtowe
Caroline Spelman, MP for Meriden
Mark Spencer, MP for Sherwood
Andrew Stephenson, MP for Pendle
Rory Stewart, MP for Penrith and The Border
Iain Stewart, MP for Milton Keynes South
Gary Streeter, MP for South West Devon
Mel Stride, MP for Central Devon
Julian Sturdy, MP for York Outer
Maggie Throup, MP for Erewash
Kelly Tolhurst, MP for Rochester and Strood
Justin Tomlinson, MP for North Swindon
David Tredinnick, MP for Bosworth
Liz Truss, Chief Secretary to the Treasury and MP for South West Norfolk
Thomas Tugendhat, MP for Tonbridge and Malling
Ed Vaizey, MP for Wantage
Robin Walker, MP for Worcester
Ben Wallace, MP for Wyre and Preston North
David Warburton, MP for Somerton and Frome
Matt Warman, MP for Boston and Skegness
Giles Watling, MP for Clacton
Helen Whately, MP for Faversham and Mid Kent
Heather Wheeler, MP for South Derbyshire
Craig Whittaker, MP for Calder Valley
Gavin Williamson, Defence Secretary and MP for South Staffordshire
Sarah Wollaston, MP for Totnes
Mike Wood, MP for Dudley South
Jeremy Wright, Culture Secretary and MP for Kenilworth and Southam
Nadhim Zahawi, MP for Stratford-on-Avon
Against (35):
Steve Baker, MP for Wycombe
Crispin Blunt, MP for Reigate
Peter Bone, MP for Wellingborough
Ben Bradley, MP for Mansfield
Andrew Bridgen, MP for North West Leicestershire
Bill Cash, MP for Stone
Maria Caulfield, MP for Lewes
Simon Clarke, MP for Middlesbrough South and East Cleveland
Geoffrey Clifton-Brown, MP for The Cotswolds
Philip Davies, MP for Shipley
Nadine Dorries, MP for Mid Bedfordshire
Steve Double, MP for St Austell and Newquay
James Duddridge, MP for Rochford and Southend East
Mark Francois, MP for Rayleigh and Wickford
Marcus Fysh, MP for Yeovil
Zac Goldsmith, MP for Richmond Park
Chris Green, MP for Bolton West
Philip Hollobone, MP for Kettering
Adam Holloway, MP for Gravesham
Bernard Jenkin, MP for Harwich and North Essex
Andrea Jenkyns, MP for Morley and Outwood
David Jones, MP for Clwyd West
Andrew Lewer, MP for Northampton South
Anne Marie Morris, MP for Newton Abbot
Sheryll Murray, MP for South East Cornwall
Priti Patel, MP for Witham
Owen Paterson, MP for North Shropshire
John Redwood, MP for Wokingham
Jacob Rees-Mogg, MP for North East Somerset
Laurence Robertson, MP for Tewkesbury
Lee Rowley, MP for North East Derbyshire
Henry Smith, MP for Crawley
Michael Tomlinson, MP for Mid Dorset and North Poole
Martin Vickers, MP for Cleethorpes
John Whittingdale, MP for Maldon