Ex-Lib Dem leader Paddy Ashdown dies aged 77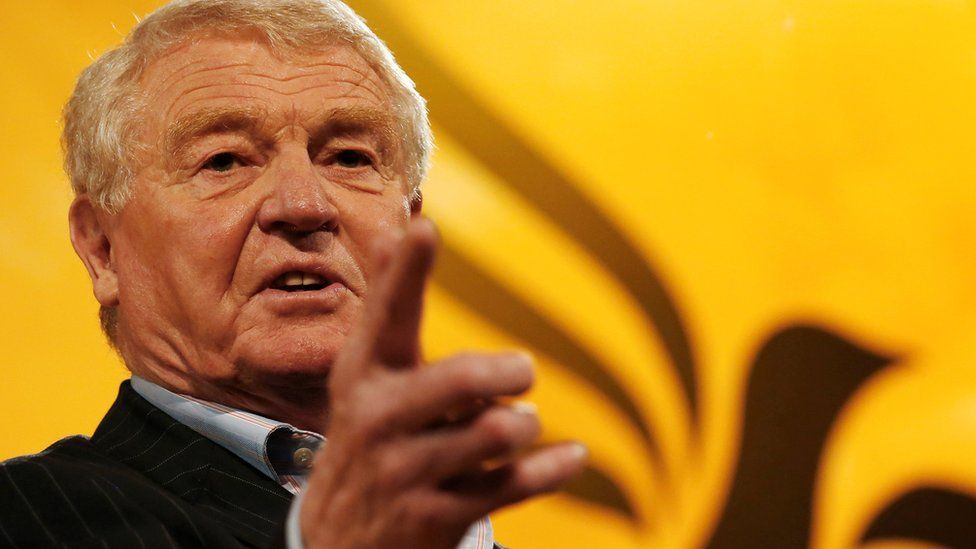 Tributes have been paid to the former Liberal Democrats' leader Paddy Ashdown, who died on Saturday after a short illness aged 77.
A party spokesman said the Lib Dem peer and former MP for Yeovil "made an immeasurable contribution to furthering the cause of liberalism".
Current party leader, Sir Vince Cable, said Lord Ashdown had "made a real mark" and it was "a hugely sad day".
Lord Ashdown was diagnosed with bladder cancer in October.
While his real name was Jeremy John Durham Ashdown, he was nicknamed Paddy when he moved to England, after spending his childhood years in Northern Ireland.
The longest serving leader of the Lib Dems in its history, Lord Ashdown led the party between 1988 and 1999, when it became a growing force in UK politics.
After standing down as an MP in 2001, he served as the United Nations' high representative in Bosnia-Herzegovina, helping steer the country through its post-war reconstruction.
Former Lib Dem leader and ex-deputy PM Sir Nick Clegg said Lord Ashdown was "the most heartfelt person I have known".
"Paddy was the reason I entered politics," he said.
"He was the reason I became a liberal. And he became a lifelong mentor, friend and guide."
People from outside of politics also paid tribute to the politician.
Monty Python actor John Cleese tweeted that it was "really terrible" news, while scientist and TV presenter Prof Brian Cox said Lord Ashdown had lived "a remarkable life".
Comedian Matt Forde also tweeted: "Really sad to hear about the passing of Paddy Ashdown. He was one of the great politicians of my lifetime, a proper heavyweight.
"His pragmatism never got in the way of his principles. He was also a great laugh. We need more politicians like Paddy, not less. RIP."
Former Lib Dem leader Tim Farron said: "Paddy Ashdown was a hero to me, he saved and revived the Liberal Democrats at our lowest ebb, and then led us to our best result for 70 years.
"As a movement, we owe him our very existence."
Paddy Ashdown was a hero to me, he saved and revived the Liberal Democrats at our lowest ebb, and then led us to our best result for 70 years. As a movement, we owe him our very existence. Much love to Jane and the family. Thank you boss.

— Tim Farron (@timfarron) December 22, 2018
Sir Vince said Lord Ashdown was "a great inspiration".
"He was full of life, full of ideas," he told BBC News.
"Only three months ago he was absolutely buzzing with energy and ideas at our party conference".
Former Lib Dem leader Lord Steel said Lord Ashdown had transformed the party from one with just a handful of seats to being "a really influential party in Parliament".
Lord Steel added: "The last time I spoke to him was just two or three weeks back, it was about the books he was writing.
"He was starting to carve out a new career as a really, very interesting author on books really to do with the Second World War, located in France, where, of course, he had a holiday house."
The party's leader in the House of Lords, Dick Newby, said Lord Ashdown was "a natural leader" who "kept the Liberal Democrats alive in our early years".
Prime Minister Theresa May said Lord Ashdown "served his country with distinction" in both his military and political careers.
"He dedicated his life to public service and he will be sorely missed," she said.
Former Labour prime minister Tony Blair said he admired the former Lib Dem leader "as a man and as a political visionary and leader".
He said: "He had courage, personal and political, unafraid to speak his mind yet always open to the views of others. He was one of the least tribal politicians I have ever known."
Ex-Conservative prime minister Sir John Major hailed his former opponent as "a man of duty, passion, and devotion to the country he loved - right up to the very end".
He added: "In government, Paddy Ashdown was my opponent. In life, he was a much-valued friend."
Labour leader Jeremy Corbyn said Lord Ashdown would be "greatly missed".
Former Conservative Prime Minister David Cameron tweeted that he had "seldom known a public servant with so much energy and dynamism."
"The UK, liberal democracy & rational, moderate, cross-party debate have lost a great advocate," he said.
My thoughts are with the family and friends of Paddy Ashdown.

He represented Yeovil very well and I got to know him in the 1980s when we often found ourselves voting in parliament together against damaging government policies.

He will be greatly missed.

— Jeremy Corbyn (@jeremycorbyn) December 22, 2018
Lord Ashdown was an influential figure within the party and a strong supporter of Nick Clegg's controversial decision to take the party into coalition with the Conservatives in 2010.
He went on to play a role in the Remain campaign during the 2016 referendum.
Prior to entering Parliament in 1983, he served as a Royal Marine and in the intelligence services.
During his time as the UN's administrator in Bosnia he forced through major political, economic and security reforms and helped build up Bosnia's state institutions.
The Archbishop of Canterbury Justin Welby said Lord Ashdown "served the people of the Balkans with passion and inspiration" and was "an agent of reconciliation".