MPs voting on May's Brexit strategy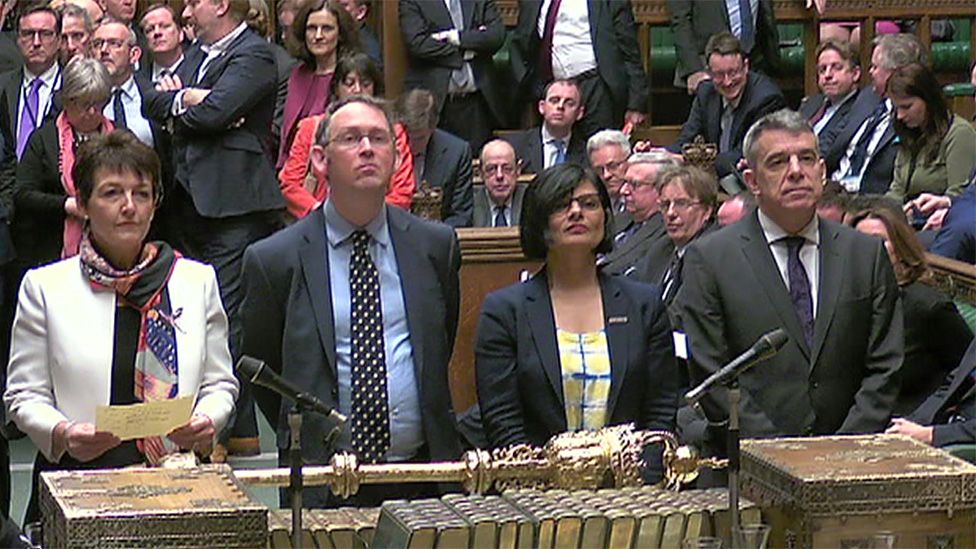 MPs are voting on whether to back the government's Brexit strategy.
They have rejected a Labour call for another vote on the withdrawal deal by 27 February by 322 votes to 306.
The Commons also rejected an SNP call to delay Brexit by at least three months by 315 votes to 93 votes, after Labour abstained in the vote.
Conservative backbencher Anna Soubry has withdrawn her amendment calling for official papers on the impact of a no-deal Brexit to be published.
Brexit Minister Chris Heaton-Harris indicated that Cabinet Office Minister David Lidington would meet Ms Soubry and would be publishing some information.
Ms Soubry welcomed the move and said she reserved the right to lay the amendment again at end of February.
The Labour amendment called for a vote on the withdrawal deal by 27 February, or for the government to allow Parliament to decide what happens next.
Shadow Brexit Secretary Sir Keir Starmer had argued that would "ensure a hard stop" to prevent the prime minister "running down the clock" in a bid to force MPs to back her deal.
Skip twitter post by Anna Soubry MP
Allow Twitter content?
This article contains content provided by Twitter. We ask for your permission before anything is loaded, as they may be using cookies and other technologies. You may want to read Twitter's cookie policy, external and privacy policy, external before accepting. To view this content choose 'accept and continue'.
The BBC is not responsible for the content of external sites.
End of twitter post by Anna Soubry MP
MPs are now voting on a government motion which says the House of Commons "reiterates its support for the approach to leaving the EU expressed by this House on 29 January 2019".
But that has angered some Tory Brexiteers as MPs backed two motions on 29 January - one seeking an alternative to the controversial "backstop" element of the withdrawal deal and another one backing for a separate move to stop Brexit happening without a formal deal.
Downing Street has urged them not to rebel over what it describes as an "anodyne" motion.
The government has warned a rebellion could damage the prime minister's negotiating position, as she seeks to make changes to the controversial backstop "insurance policy" in the deal to avoid customs checks between Northern Ireland and the Republic of Ireland.
During Thursday's debate, former Brexit secretary David Davis urged Mr Barclay to be "clear" about whether the UK would still be leaving the EU on 29 March, with or without a deal.
Mr Barclay confirmed that it would but was challenged by Lib Dem MP Tom Brake about why he was respecting one Commons vote, but not the other.
Mr Barclay replied that the Commons "has said two different things" as it had also passed legislation to say the UK would leave the EU on 29 March, "by a large margin" adding: "The legislation frankly takes precedence over that motion."
Ms Greening, a former education secretary who backs another EU referendum, described this approach as "fundamentally wrong and anti-democratic".
Fellow Conservative Dame Caroline Spelman said "equal respect" must be given to both Commons motions adding: "If he fails to do that, it is contemptuous of this House."
And Father of the House Ken Clarke said it was "ridiculous" to stick with the "arbitrary" 29 March departure date if no deal was in place.
But DUP Westminster leader Nigel Dodds said taking "no deal" off the table would weaken the UK's negotiating position: "So those who call for no deal to be taken off the table are actually playing into the hands of the possibility of a no deal."
And Tory backbencher Peter Bone told MPs: "The truth is that a no-deal Brexit, which of course is a deal coming out on WTO rules, is the answer. It gives clarity to business and it delivers what the British people voted for in June 2016."
Mr Barclay said the government's priority was to secure a deal and said: "The only way to avoid 'no deal' is either to secure a deal on the terms the prime minister has set out... the only other option would be to revoke Article 50 (the process by which the UK will leave the EU)."
For Labour, Sir Keir Starmer said the prime minister was "pretending to make progress while running down the clock".
And he expressed anger at the "macho way" some Brexiteers talked about "marching off the cliff" without a deal and said he would "take whatever steps are necessary" to avoid a no-deal Brexit.
But Labour MP Chris Leslie said backbenchers were "being played for fools" by his party's leadership.
He pointed out an amendment tabled by Labour Leader Jeremy Corbyn, to ensure MPs get a vote on Theresa May's deal by 27 February, makes no mention of a further referendum with the option of remaining in the EU.
"The idea that the Labour Party is not together and arguing against this disaster is, for me, entirely heartbreaking," he said.
The UK is due to leave the EU on 29 March, whether or not a deal has been approved by the Commons.
Mrs May is continuing to try to get a Brexit deal through Parliament, after MPs rejected it by a historic margin in January. The prime minister says she is seeking legally-binding changes to the controversial "backstop".
The prime minister has promised to return to the Commons on 26 February with a further statement - triggering another debate and votes the following day - if a deal has not been secured by that date.
If a deal is agreed, MPs will have a second "meaningful vote", more than a month after Mrs May's deal was rejected in the first one.
The EU has continued to say it will not renegotiate the withdrawal agreement.
On Wednesday, European Council President Donald Tusk tweeted that "no news is not always good news":
Skip twitter post 3 by Donald Tusk
Allow Twitter content?
This article contains content provided by Twitter. We ask for your permission before anything is loaded, as they may be using cookies and other technologies. You may want to read Twitter's cookie policy, external and privacy policy, external before accepting. To view this content choose 'accept and continue'.
The BBC is not responsible for the content of external sites.
End of twitter post 3 by Donald Tusk