Winston Churchill 'villain' over Tonypandy riots, says John McDonnell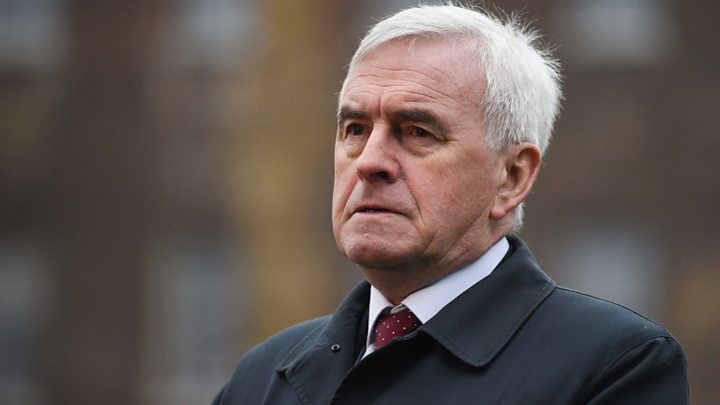 Shadow Chancellor John McDonnell has called Sir Winston Churchill a "villain" over his role in dealing with striking miners in 1910.
Asked at a Politico website event, for a one-word answer on whether Churchill was a hero or villain, he paused and replied: "Tonypandy - villain".
The Tonypandy riots saw troops sent to control striking miners who wrecked shops and mine owners' property.
The wartime PM was voted the greatest Briton in a BBC poll in 2002.
His grandson Sir Nicholas Soames described Mr McDonnell's remark as "a very foolish and stupid thing to say".
The Conservative MP told The Telegraph: "I think my grandfather's reputation can withstand a publicity-seeking assault from a third-rate, Poundland Lenin. I don't think it will shake the world."
And the prime minister's official spokesman said: "The British public will reach its own judgement on this characterisation of Sir Winston Churchill."
The spokesman added that Theresa May had a portrait of Churchill hanging on the wall of her study in Number 10 and paid tribute to his "strong leadership, determination and unwavering personality" which "inspired our country through our darkest hour".
Asked about his comments later, Mr McDonnell told ITV News the Churchill "was obviously a hero during the Second World War but there was another side to Churchill".
He said many working class people had been angry about his actions as home secretary during the Tonypandy riots.
He added: "If it's prompted a more rounded debate about Churchill's role, well I welcome it."
Labour MP Ian Austin posted a picture of the wartime leader on social media, calling him "a real British hero".
And former foreign secretary Boris Johnson tweeted that the UK's debt to Churchill was "incalculable":
But Mr McDonnell had some support from Labour's MP for the Rhondda, Chris Bryant, who said Churchill was "never welcome" in his constituency:
And former Plaid Cymru leader Leanne Wood agreed with the shadow chancellor:
The Tonypandy riots took place on the evenings of 7 and 8 November 1910 and involved violent clashes between striking miners and the police, with soldiers arriving on the second day.
One miner was killed.
The incident haunted Churchill for the rest of his career and many of his critics saw it as an anti-trade union stance.