Labour: Disaffected MPs asked to join new group by Tom Watson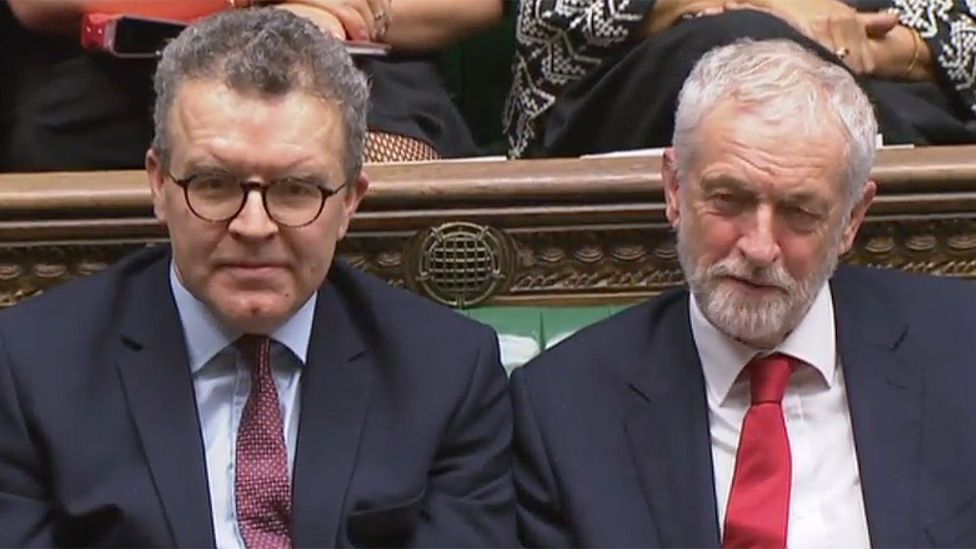 Disaffected Labour MPs are to be asked to join a new group within the party in a bid to avoid further resignations.
The move, led by deputy leader Tom Watson, is intended to give more of a voice to MPs from Labour's social democratic tradition.
Nine MPs from that wing of the party left Labour last week, criticising the party's leadership and direction.
Mr Watson claimed on Sunday that the new internal grouping was the only way to hold the party together.
He said it would give a platform to MPs whose views were not currently represented in Jeremy Corbyn's shadow cabinet and a chance for them to discuss and shape policy.
A source close to Mr Corbyn said more discussion about policy was a good thing and had been a hallmark of his leadership, but signalled there would be no major shift away from current policies which were popular with voters.
Nine Labour MPs quit the party last week, accusing Mr Corbyn of a "lurch to the left" and tolerating a culture of bullying and anti-Semitism in the party.
Mr Watson, whose close friend Ian Austin is among those who have left, warned there was a "crisis for the soul" of the party and urgent action was needed.
In creating the new grouping, Mr Watson insisted he was not stoking a rebellion against Mr Corbyn but standing up for pluralism within the party.
The BBC's political correspondent Iain Watson
It's likely there will be a meeting of the new group in the next 48 hours - because allies of Labour's deputy leader say this is "urgent" if further defections are to be staved off.
And I'm told the group could attract a substantial number of MPs, including former ministers.
It won't just be a kind of support group for those who feel disillusioned, and thinking of defecting. The intention is to give these MPs more influence, and they will undertake proper policy work.
But there could be an iron fist in this velvet glove.
At the moment we are seeing a steady trickle of Labour MPs leaving. If, however, a much larger group feel subsequently that their ideas are being ignored, then - as one source put it - there is "strength in numbers".
So Jeremy Corbyn could be told - change position or face not a splinter, but a proper split.
The Labour leader, himself, will be addressing his MPs behind closed doors in Parliament tonight. And how he handles the defections, the new grouping - and much else besides - could determine if anyone else walks out of the party soon.
With the Independent Group of MPs convening their inaugural "business meeting" later today, then the disillusioned know they have the option of travelling to a different political destination.
Shadow health secretary Jon Ashworth said he regarded himself as a social democrat in the mould of Tony Crosland, the former Labour cabinet minister, and he felt able to speak out during shadow cabinet.
But he told the BBC's Politics Live that he recognised some Labour MPs felt they needed a "greater platform".
"I would say to all colleagues, you have a contribution to make," he said. "There is room for different voices."
The move was also applauded by Jon Lansman, the chair of pro-Corbyn campaign group Momentum. "We are a pluralist party ... I welcome that."
While the intention is to unify, the BBC's political correspondent Alex Forsyth said one MP warned if there was a hostile response from the party leadership, it could lead to further splits.
Mr Corbyn has called on the nine who quit Labour to stand down and seek re-election as independent MPs.
Shadow foreign secretary Emily Thornberry has said those who resigned from her party had "betrayed" their seats and would be "crushed" if by-elections were held.
In response, Mr Watson told the BBC's Andrew Marr show that he thought "dying is a virtue that is over-rated" and said it was "incumbent on all of us to dial down the rhetoric".