Brexit: Which amendments will be debated by MPs?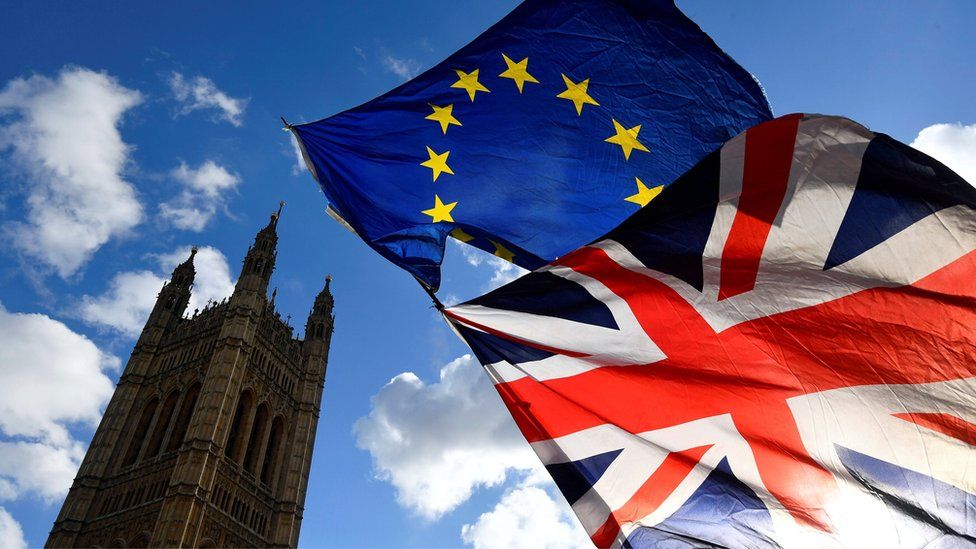 Theresa May returned to the Commons on Tuesday to try to allay the fears of MPs concerned about a no-deal Brexit.
To settle their nerves - and to prevent resignations - she promised MPs a vote on whether to leave the EU with or without a deal, and on whether to ask for an extension of Article 50.
But this will not happen unless her deal is rejected, and that "meaningful vote" could come as late as 12 March.
So, for now, MPs will only have the chance to have their say on how they want the next steps to play out in a series of votes on Wednesday.
The process starts with the government putting down a motion. It is a plain piece of text, asking the House to note the the prime ministers's statement and that discussions between the UK and the EU are ongoing.
This then allows MPs to table amendments, putting forward their proposals on what they think should happen next. This time, a total of 12 amendments were tabled.
Speaker John Bercow makes the final call on which amendments are put before the Commons, as he explains in a tweet below.
He has selected five amendments for debate by MPs.
So what are the proposals and who has put them forward?
Labour amendment on alternative Brexit plan
First up is an amendment tabled by Jeremy Corbyn, which again pushes for his party's proposals for Brexit.
These include creating a permanent customs union with the EU, and a close relationship with its single market.
However, if this deal fails to get the support of MPs, Labour has confirmed it will put forward or support an amendment in favour of a public vote "in order to prevent a damaging Tory Brexit" or no-deal outcome.
The party proposes a further referendum would then be held between Mrs May's deal and remaining in the EU - if Mrs May's deal gets the backing of MPs in the meaningful vote she says will take place before 12 March.
SNP and Plaid Cymru no-deal amendment
The SNP, led at Westminster by Ian Blackford, and Plaid Cymru work closely in and out of Parliament.
They have tabled a joint amendment insisting the UK should not leave the EU in any circumstances without a deal "regardless of any exit date".
This is significant because of concerns expressed by some MPs that, even if Brexit is pushed back beyond 29 March, the UK could end up leaving anyway in July without a deal.
Spelman/Dromey amendment on Commons Brexit process
Tory MP Caroline Spelman and Labour MP Jack Dromey have already proposed one successful amendment, which they tabled last month, gaining the support of the Commons to avoid a no-deal Brexit.
However, it does not lead to legislation, so the government would not be bound to stick to it.
The pair, who sit in neighbouring constituencies in Birmingham, tabled two amendments but only the first was selected.
This calls for MPs to be given time on 28 February to put in place a legislative process to ensure the prime minister's commitment to give MPs a vote on delaying Brexit is legally binding.
But in a joint statement the MPs said they would "seek assurances from ministers" during Wednesday's debate to "secure confirmation of the prime minister's commitments".
If they are reassured the opportunity for an extension to Article 50 will be forthcoming, they will not put their amendment to a vote.
Costa amendment on citizens' rights
Conservative backbencher Alberto Costa's amendment seeks to protect the rights of UK citizens in the EU, and vice versa.
The amendment does not ask for a new agreement.
But it calls on the government to implement the part of the withdrawal agreement - the so-called "divorce bill" element of the deal - that includes citizens' rights at "the earliest opportunity" regardless of the outcome of negotiations.
The amendment has attracted significant cross-party support, with Labour, the Lib Dems and the SNP all backing it. Leading Tory Brexiteers and Remainers, including Dominic Raab and Justine Greening, are also on side. All told, 141 MPs have signed it so far.
Mr Costa resigned his job as aide to Scottish Secretary David Mundell, because of a convention that members of the government should not amend government motions.
Cooper amendment on Article 50 vote and Brexit date
As a result of all our cross party arguments & our Bill, PM's statement today accepts most of provisions of the Bill to provide for votes that can avert No Deal on March 29. We are still laying cross party amendments today in order to secure confirmation of PM's commitment

— Yvette Cooper (@YvetteCooperMP) February 26, 2019
Labour's Yvette Cooper has tabled an amendment - with the support of Conservative MP Sir Oliver Letwin - to reiterate the statement made by the PM, giving MPs the chance to vote on it specifically.
It states that if MPs vote to delay Brexit, the government should seek an extension from the EU and bring forward legislation to change, in law, the date of the UK's departure.
It would not be binding in the same way as an Act of Parliament, but would nonetheless be an expression of the will of the House and that would be politically difficult for Mrs May to ignore.
The other amendments that were tabled, but not chosen, were:
Liberal Democrat amendment on Brexit job losses
Tabled by the party's leader Sir Vince Cable, this calls on the government to set aside £7.5bn to help workers who lose their jobs due to "Brexit uncertainty", whether as a result of their firms re-locating out of the UK or downsizing their operations.
The Independent Group amendment
Just over a week after they quit their parties to come together, the Independent Group have tabled their first motion.
It calls on the government to set time in Parliament before 8 March to debate and decide what the necessary steps are to prepare for a public vote.
For them, the ballot paper would have the options of whether to proceed with what is agreed by Parliament, or whether to remain in the EU.
It has the backing of the SNP, Liberal Democrats and Plaid Cymru and a small number of Conservatives, including Dominic Grieve and Phillip Lee.
John Baron no-deal amendment
This amendment, tabled by Conservative Brexiteer John Baron, backs the government's motion but adds the rider that "an extension to Article 50 cannot take no deal off the table".
Its signatories include former minister Sir Mike Penning.
Lucas amendment on the environment
This urges the government to rule out a no-deal exit on environmental grounds, arguing leaving without a formal agreement would be "disastrous" for wildlife, nature and the marine environment.
It says existing environmental protections the UK enjoys through EU membership to be maintained and improved.
Tabled by Green Party MP Caroline Lucas, it has cross-party support, with ex-Labour leader Ed Miliband and Plaid Cymru's Liz Saville Roberts among its supporters.
A second Spelman/Dromey amendment on Commons Brexit process
This amendment would nominate 19 March - about a week after the prime minister's suggested votes - as the specific day MPs should have a debate and hold a vote on the form of the future relationship with the EU.
Angus MacNeil's amendment to revoke Article 50
This amendment, tabled by the SNP's Angus MacNeil, calling on the government to revoke Article 50, which would effectively bring the Brexit process to a halt.
Former Conservative Chancellor Ken Clarke, a leading pro-European voice in his party, is backing it but it is unlikely to attract much other support on the Tory benches.
Plaid Cymru amendment on devolved assemblies
This calls on the government to "honour the will" of the Scottish Parliament and Welsh Assembly - which have voted for Article 50 to be extended. It says Brexit should be delayed until the end of 2021.