Labour prepared to back new Brexit referendum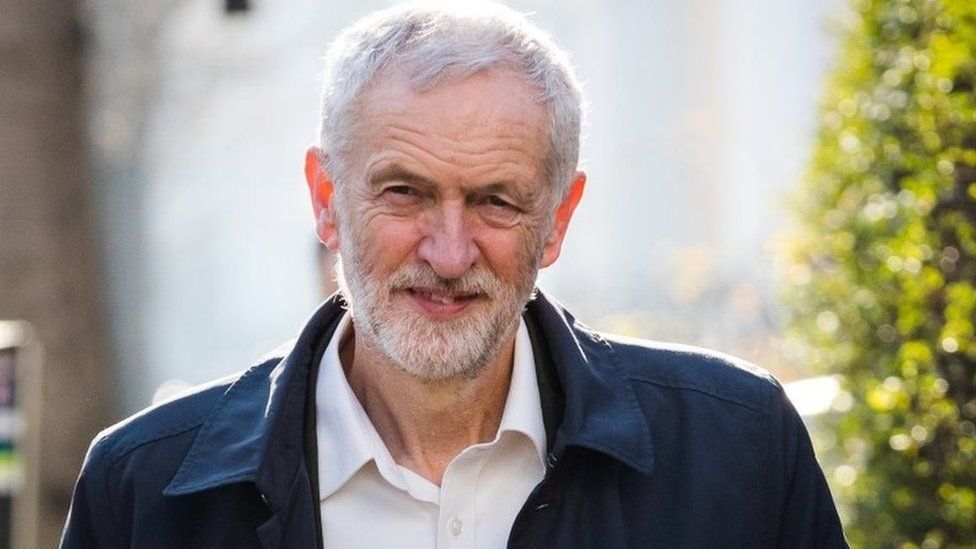 Labour has said it is prepared to back another EU referendum to prevent a "damaging Tory Brexit".
Jeremy Corbyn has told Labour MPs the party will move to back another vote if their own proposed Brexit deal is rejected on Wednesday.
Labour's Emily Thornberry said if the parliamentary process ended with a choice of no deal or the PM's deal, the public should decide.
Theresa May is under growing pressure to delay the 29 March Brexit date.
Labour have not yet made clear what their proposed referendum would be on, but a party briefing paper to MPs says that any referendum would need to have "a credible Leave option and Remain".
The prime minister, who will update MPs on the negotiations on Tuesday, has insisted the UK can still leave next month as planned.
The UK voted to leave the EU in a referendum in June 2016, but the withdrawal deal Mrs May negotiated with the EU has to be agreed by MPs - and it suffered a huge defeat by them last month.
Mrs May has ruled out a "meaningful vote" on her Brexit deal this week - saying one would be held by 12 March - but she will give MPs the chance to have their say on how the next steps for Brexit.
MPs will be able to table amendments to a government motion, putting forward their proposals on what they think should happen next.
Mr Corbyn has told his MPs that Mrs May is "recklessly running down the clock" in an attempt to "force MPs to choose between her botched deal and a disastrous no deal".
He said Labour would also put down an amendment this week setting out its plan for a "comprehensive customs union" and "close alignment" with the single market.
The amendment also sets out guarantees on rights and standards, protection for Britain's role in EU agencies and a security agreement which guarantees access to the European arrest warrant and "vital" shared databases, he said.
What does Labour's announcement mean?
The Labour leadership has moved to this position believing that, as things stand, a plan to hold another referendum would not get the votes it needs in Parliament.
Right now, they reckon it's a promise they can make, but will probably never have to keep.
But if, as this political moment implies, there is a total meltdown, the prime minister's deal falls and chaos beckons, the move tonight keeps Labour's options firmly open, and has a better shout at keeping anxious Labour Europhiles happy.
In such volatile times it is, of course, not impossible that a majority for another vote could emerge.
But there is already some angst over the move.
Labour has also said the party will support a cross-party amendment, proposed by Labour's Yvette Cooper and Tory MP Sir Oliver Letwin, designed to rule out the prospect of a no-deal exit.
Mr Corbyn said: "One way or another, we will do everything in our power to prevent no deal and oppose a damaging Tory Brexit based on Theresa May's overwhelmingly rejected deal.
"That's why, in line with our conference policy, we are committed to also putting forward or supporting an amendment in favour of a public vote to prevent a damaging Tory Brexit being forced on the country."
At their conference last autumn, Labour members backed a policy of keeping all options on the table, including holding another referendum, if it could not force a general election.
However, many Labour MPs believe the party has been slowly distancing itself from that commitment after it failed to win a vote of no confidence against the government last month.
Nine Labour MPs have quit the party in the past week, partly in protest at its stance on Brexit.
Shadow Brexit Secretary Sir Keir Starmer insisted the party would "deliver" on its promises.
The BBC is not responsible for the content of external sites.
Skip twitter post by Keir Starmer
Allow Twitter content?
This article contains content provided by Twitter. We ask for your permission before anything is loaded, as they may be using cookies and other technologies. You may want to read Twitter's cookie policy, external and privacy policy, external before accepting. To view this content choose 'accept and continue'.
The BBC is not responsible for the content of external sites.
End of twitter post by Keir Starmer
Ms Thornberry, the shadow foreign secretary, told the BBC: "What she [Theresa May] wants to do is just get herself into a position whereby she says it's my deal or no deal.
"We think both of those are disastrous, and so we will see what it is at the end of the parliamentary process - whether we are facing no deal or a disastrous Tory Brexit.
"But either should go before the people and we need to have the people to break the logjam."
Labour MP David Lammy, who backs a "People's Vote" on the terms of the UK's exit, welcomed the move by his party to "back the principle" of a referendum.
"Even if MPs can agree some sort of deal, it would be wrong to force it on the British people when we now know so many of the promises made in 2016 have been broken, and any deal will be worse than the one we've already got inside the EU," he said.
Labour's position on Brexit
June 2017 - Labour's general election manifesto accepts referendum result
September - Labour agrees if a general election cannot be achieved it "must support all options… including a public vote"
28th November - Shadow Chancellor John McDonnell says Labour will "inevitably" back a second referendum if unable to secure general election
16th January 2019 - 71 Labour MPs say they support a public vote
21st January - Shadow International Trade Secretary Barry Gardiner says if a second referendum motion was put to MPs, Labour would support it
6th February - Mr Corbyn writes a letter to Mrs May outlining five changes with no mention of a "People's Vote"
25th February - Labour says it will back a public vote if its proposed Brexit deal is rejected on Wednesday
Labour's Hilary Benn, who chairs the Commons Brexit committee, said talk of a referendum was still some way off as MPs would have another opportunity to vote on Theresa May's deal by 12 March.
But if the deal was rejected, he said, it would "open up" a range of other possibilities, one of which would be to put the final decision "in the people's hands".
Shadow education secretary Angela Rayner tweeted that if the prime minister did not support Labour's amendment, then "the time has come" to stop a no deal scenario with a public vote.
The BBC is not responsible for the content of external sites.
Skip twitter post 2 by Angela Rayner
Allow Twitter content?
This article contains content provided by Twitter. We ask for your permission before anything is loaded, as they may be using cookies and other technologies. You may want to read Twitter's cookie policy, external and privacy policy, external before accepting. To view this content choose 'accept and continue'.
The BBC is not responsible for the content of external sites.
End of twitter post 2 by Angela Rayner
Liberal Democrats leader Vince Cable said he welcomed the news.
"My party will work with Labour and others to secure a People's Vote with an option to remain," he said.
"We have long argued it is the right and logical thing to do for the people to have the final say on Brexit."
SNP Westminster Leader Ian Blackford said Labour "must be clear" that Remain would be on the ballot paper in any referendum.
But Conservative Party chairman Brandon Lewis said Labour had "ripped up their promise to respect the referendum result".