Brexit: What does Yellowhammer say about no-deal impact?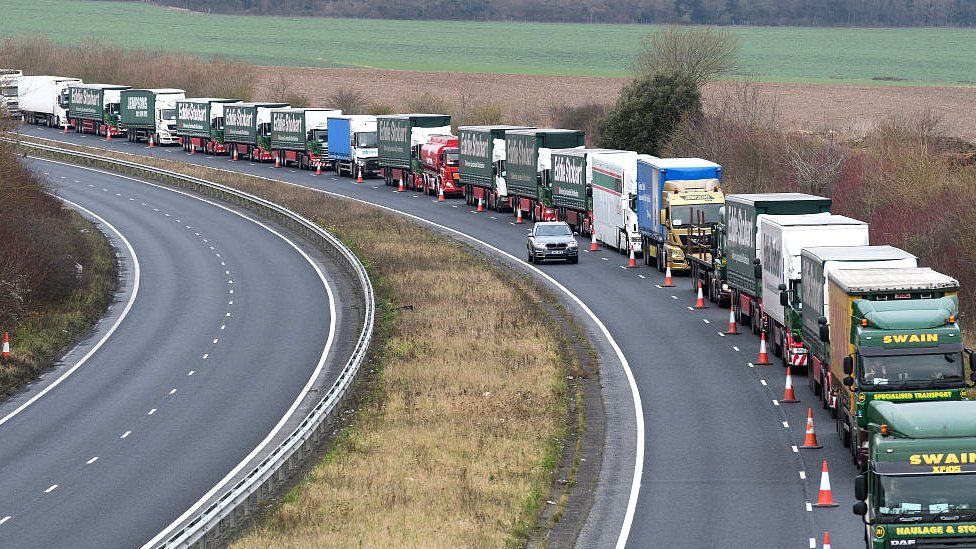 The government has released an assessment of the possible effects of a no-deal Brexit on the UK, after MPs demanded that it be made public.
It was drawn up as part of "Operation Yellowhammer" - the name for the government's contingency plan to prepare for leaving the European Union (EU) without a deal.
The government says it is spending an extra £2.1bn on no-deal planning and is updating these planning assumptions.
So, what does the document say and what is being done - as far as we know - to prepare for no-deal?
What Yellowhammer document says:
Between 50-85% of UK lorries travelling to the EU may not be ready for French customs
Lack of readiness and limited space in French ports could cut HGV traffic by 40-60% and lead to disruption lasting three months
This would lead to significant queues in Kent. In a worst-case scenario, it could take lorries up to two-and-a-half days before being able to cross into France
The Port of Dover in Kent handles approximately 10,500 lorries a day. To prevent nearby roads from clogging up, the government has a traffic management plan codenamed Operation Brock.
If the plan is activated, up to 2,000 lorries will be held in a queue leading to the port. Other traffic will be kept flowing around the queued-up lorries, in what is known as a contraflow system.
A fallback option would be to divert lorries to the disused Manston airfield, near Ramsgate - and use it to hold up to 6,000 lorries on the runway at any one time.
If further capacity was still required, a "last resort" would be to turn the 10-mile M26 motorway into a temporary lorry park.
But there is a still a lot of confusion, according to Rona Hunnisett, from the Freight Transport Association.
"The report shows there's still significant detail to be clarified if Britain is to keep trading efficiently," she says. "Businesses can only prepare for, and implement, new processes once, and still need confirmation of what they are to adopt in the way of new practices."
What Yellowhammer document says:
Certain types of fresh food supply will decrease
Key ingredients may be in shorter supply
There will not be an overall shortage of food in the UK, but may be reduced availability and choice
Prices may increase "which could impact vulnerable groups"
The government has said that it will continue to recognise EU standards for food being imported into the UK, to minimise disruption.
The British Retail Consortium has said retailers are doing all they can to prepare for no-deal, but will not be able to prevent all negative effects. It stresses that many fresh fruits and vegetables will be out of season in the UK and that there will be a shortage of warehouse space ahead of Christmas.
"No deal Brexit would be extremely disruptive to the supply chains that we operate, particularly the fresh food supply chains," Mike Coupe, chief executive of Sainsbury's told BBC News.
"There will inevitably be disruption simply because we've never done this before," he added, although he also said that previous delays to the Brexit date mean "there's probably more understanding of what could go wrong and therefore more contingency planning".
Another factor is what tariffs (the taxes on imports) will be charged on food coming into the UK.
That means some food from outside the EU that currently attract a tariff could be cheaper, but some goods from the EU that are currently imported with 0% tariffs, like beef and dairy, will now carry tariffs, and so could become more expensive.
What Yellowhammer document says:
Supply chains for medicines and medical products are "particularly vulnerable" to disruption at the Channel ports
While some products can be stockpiled, others cannot because they have a short shelf life
It will not be practical to stockpile products to cover expected delays of up to six months
An increase in inflation would "significantly impact" adult social care providers and may lead to some failing, with smaller providers impacted within two-three months.
At the end of June, the Department of Health and Social Care (DHSC) started putting out contracts for freight, warehouse space and fridges. These will be used to stockpile medicines and fly in those which cannot be stored, like radioisotopes for cancer treatment.
Of the £2.1bn pledged for no-deal preparations, £434m has been set aside for this.
That includes a £25m contract for planes to bring in emergency medical supplies within 24 hours.
Ahead of the UK's original departure date of 29 March - then extended to 12 April - the DHSC said thousands of medicines had been analysed to work out what might be affected by supply disruption from the EU.
Suppliers stockpiled an additional six weeks' worth of these drugs over and above the usual "buffer" stock.
This exercise is being repeated to ensure the department is "as prepared for leaving the EU without a deal in October as it was on 29 March and 12 April".
Specific ferry routes were made available for suppliers to book onto 11 weeks before the no-deal deadline in March.
Six weeks before the 31 October deadline, the government had only just opened the bidding process to freight firms competing to transport medicines. So the pharmaceutical industry doesn't currently know which ports and ferry routes will be made available.
Steve Bates, an industry official working with government on no-deal planning, said the time frame to make sure everything was in place for the October deadline was "significantly compressed".
He said the difference for drug suppliers between three months and potentially three weeks to put plans into action was "material".
On social care, the government website advises providers to draw up contingency plans and support EU staff who may be working for them.
What Yellowhammer document says:
There will be no immediate disruption to electricity or gas supplies
However, there are likely to be significant price rises if the UK splits from the EU single energy market, which could happen months or years after Brexit
This could lead to some energy companies leaving the market
Public water supplies are likely to remain largely unaffected
In the event of no-deal, the UK has said it will not impose tariffs on electricity and gas coming into the country.
However, if the value of the pound falls in response to a no-deal Brexit, it will become more expensive to import energy from abroad.
The government intends to remain part of the single energy market, in order for the UK's energy laws to continue to work after Brexit and that supplies are not disrupted.
Water is unlikely to be affected, although there is still a low risk in the event of a chemical supply problem. The Yellowhammer report says water companies are well-prepared and have significant stockpiles of critical chemicals.
What Yellowhammer document says:
The government's planned short-term solution for the border is likely to be unsustainable because of the "economic, legal and biosecurity risks" it presents
Trade between Northern Ireland and the Irish Republic will be "severely disrupted"
Some businesses will stop trading, some will move and some will experience higher costs that they may pass on to customers
Agriculture will be hardest hit, leading to job losses, protests and direct action with road blockages
Growth of the "illegitimate economy" around the border "where criminal and dissident groups already operate"
The UK government has said it is committed not to have any physical infrastructure at the border between Ireland and Northern Ireland.
On 13 March it published its contingency plan to avoid a hard border in the event of a no-deal Brexit. It said it would not bring in new checks or controls, or require customs declarations for any goods moving from Ireland to Northern Ireland, in the event of no-deal.
But this will only be a temporary measure while negotiations take place to find longer-term solutions.
To protect people's health, some plant and animal products that come into Northern Ireland from outside the EU, via Ireland, will still need to be checked. The UK government has said these checks will not happen at the border itself, but it has not specified exactly where they will take place.
It remains unclear what will happen to goods travelling from Northern Ireland to Ireland. Under EU rules, checks would normally be required at the point certain goods enter the EU single market.
The Irish government says it is securing additional space, and has recruited more customs and agriculture staff to allow for a "significant increase in checks and procedures".
What Yellowhammer document says:
Protests and counter-protests likely across the UK
May be a rise in public disorder and community tensions
Information-sharing between UK and EU law enforcement will be disrupted
The government has also established the International Crime and Coordination Centre, which is supposed to help the police cope with the change to the UK's relationship with law enforcement agencies in the EU.