Brexit: Petition to revoke Article 50 passes 5.7m signatures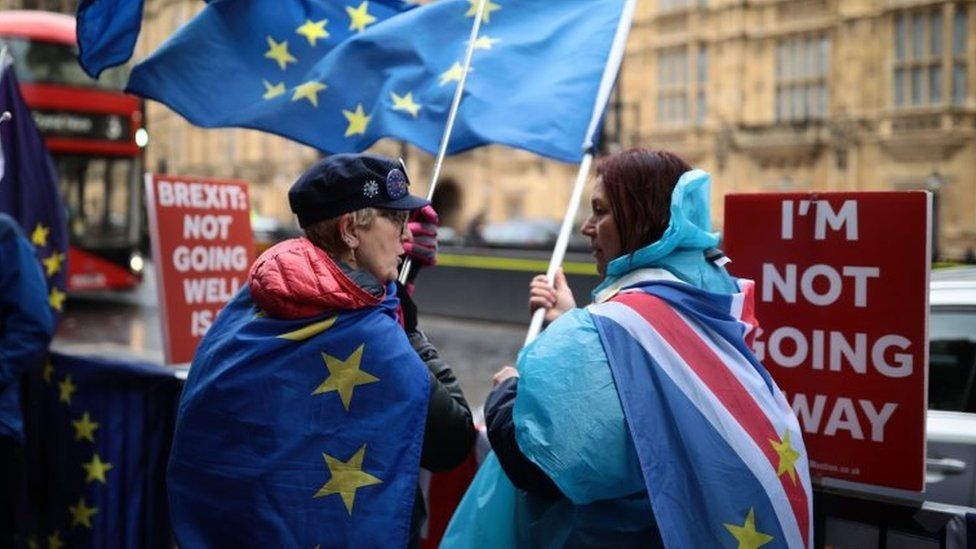 A petition on Parliament's website calling for Brexit to be cancelled has now passed more than 5.7m signatures.
The petition to revoke the Article 50 withdrawal process has gained more than one million signatures since Saturday's march calling for a new EU referendum.
Theresa May has stressed that the UK had already decided to leave the EU in the biggest ever democratic exercise.
But European Council chief Donald Tusk has said revoking Brexit was an option if MPs again rejected the PM's deal.
The prime minister hopes to bring the agreement she has negotiated with the EU back to the Commons for the third time but MPs want other options to be considered as well - and on Monday backed a series of votes to find out the kind of Brexit deal they would support.
In December, the European Court of Justice ruled that the UK can unilaterally revoke Article 50 of the Treaty of the European Union, the clause which allows a country to leave the bloc.
This means the UK can decide to stay in the EU without the consent of the 27 other member states.
Lib Dem MP Layla Moran has said the petition could "give oxygen" to the campaign for another Brexit referendum, a so-called People's Vote.
However, speaking on Thursday night after the petition reached the two-million mark, Mrs May said the public had already had their say on EU membership.
"They voted in 2016, they voted to leave. I think the time is now to deliver for the British people, the time is now to make the decision," she said.
People signing petitions on the Parliament website are asked to tick a box saying they are a British citizen or UK resident and to confirm their name, email address and postcode to sign.
The petition was started in February and quickly passed the 100,000-signature threshold needed for it to be debated in Parliament. It began to attract thousands of more signatures last week and at one stage caused the petition website to crash.