Brexit: What are indicative votes?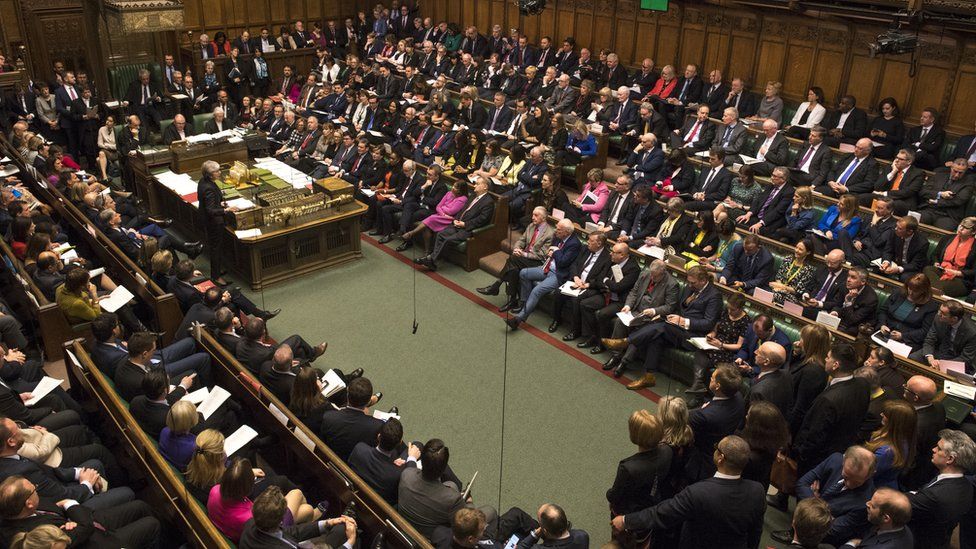 MPs have decided to try to break the Brexit deadlock by holding a series of "indicative votes". But what does it mean?
Indicative votes are where MPs vote on a series of options designed to test the will of Parliament to see what, if anything, commands a majority.
In the case of Brexit, supporters of indicative votes believe it could provide a way out of the current political stalemate.
Usually the government has control over what happens day-to-day in Parliament, but on Monday evening MPs backed a proposal by a cross-party group of MPs, including Labour's Hilary Benn and Conservative Sir Oliver Letwin, to take control of the timetable.
Under the cross-party plan, MPs can put forward their preferred Brexit plans this evening to Speaker John Bercow. Tomorrow he will select all or some of these options for debate.
MPs may be asked to consider whether any plan agreed by Parliament should be put back to the public in another referendum, or whether the UK should stop Brexit altogether by revoking its notification of Article 50.
Following a debate on the various options, at 7pm the Commons will be suspended for 30 minutes so MPs can vote on the each plan.
During the indicative votes, MPs will enter one of the division lobbies - the corridors in the House of Commons where votes are normally counted - and will receive a paper ballot.
They can vote "yes" or "no" on as many options as they are prepared to support.
The results will be announced by the Speaker later that evening.
After the results are in and options are narrowed, a second round of voting could also take place next Monday to find a single preference. It is unclear if the voting system will remain the same for this.
Among the possible ideas are:
Would MPs be forced to vote a particular way?
Usually, MPs are instructed to vote with their party line (a process known as "whipping") and they can face repercussions if they don't.
But with indicative votes, MPs might be allowed "free votes" - where they can choose to vote as they wish - meaning the final outcome could be substantially different.
Government ministers have indicated free votes are likely.
Does it tie the government's hands?
Any decision taken by indicative votes would not compel the government into pursuing that course of action, but would show what Parliament wants and where the most votes lie.
However, there is always a risk that either no single Brexit option secures a majority, or more than one does. If this happens then Parliament would still find itself deadlocked over Brexit.
The Prime Minister Theresa May has also warned that the votes could lead to an outcome which the EU would not agree to.
Have they happened before?
Yes. One occasion indicative votes were used was in 2003 when MPs were presented with seven different options on how to reform the House of Lords.
It produced exactly the deadlock some fear would be the case over Brexit as nothing was able to secure a majority.
This meant reforms were not passed and the status quo prevailed.
But haven't MPs already voted on all the options?
MPs have had a number of opportunities to vote on different ways forward, and, as Mrs May has pointed out, they have "equally been rejected". But these were all "whipped" votes and each proposal was taken in isolation, rather than side by side.