Who is Sir Gavin Williamson?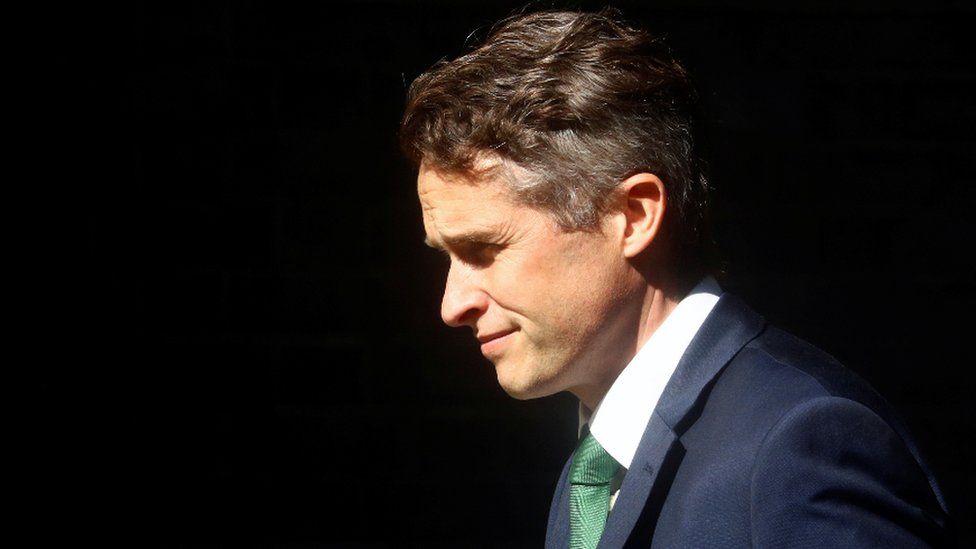 Sir Gavin Williamson is in the spotlight again, after he resigned from the government amid accusations of bullying and harassment.
Former chief whip Wendy Morton has handed over a series of expletive-laden text messages from Sir Gavin to Parliament's bullying watchdog and made a complaint to Tory HQ about his conduct.
Following a report in the Guardian that Sir Gavin told a senior civil servant to "slit your throat" and "jump out of the window" when he was defence secretary, No 10 said it would be conducting its own informal investigation.
In his resignation letter, Sir Gavin said allegations about his "past conduct" were becoming a distraction for the government - even though he "refutes the characterisation of these claims" and has apologised to the recipient of some text messages.
This is the third time Sir Gavin has had to leave government, having already been sacked from cabinet twice previously - as education secretary and defence secretary.
His rise through the Conservative ranks has been blown off course by a number of separate scandals.
However, he has been widely seen as a political survivor, serving under four different prime ministers.
The 46-year-old was raised near Scarborough, North Yorkshire, by Labour-supporting parents.
Educated at state schools, he became involved in Tory politics while studying at Bradford University and later went on to become a county councillor in North Yorkshire.
A former fireplace salesman, he also ran a pottery firm, making and selling ceramic tableware, before being elected as MP for South Staffordshire in 2010.
Sir Gavin began his parliamentary career as a ministerial aide to David Cameron, acting as the then-prime minister's bag carrier and eyes and ears at Westminster.
He remained in this important role until Mr Cameron left office in June 2016.
After Theresa May became prime minister, he was made chief whip, responsible for keeping MPs in line and enforcing party discipline.
In the aftermath of the disastrous 2017 election, he played a crucial role in paving the way for the Conservatives' agreement with the Democratic Unionists to prop up Mrs May's minority government.
In his role as chief whip he was known for keeping a tarantula called Cronus on his desk.
Describing his methods in the whips office, he told the Conservative Party conference in 2017: "We take a carrot and stick approach... Personally I don't much like the stick, but it is amazing what can be achieved with a sharpened carrot."
Nick Timothy - a senior adviser to Mrs May - described Mr Williamson as an "excellent" chief whip, who was "a shrewd tactician" and "a judge of character".
"Even MPs who don't like him admit that he was the best chief whip the party has had in decades - and he did it through some of the hardest years," he said in a tweet.
Sir Gavin's promotion to defence secretary in November 2017 came as a surprise to some within the Tory Party and the armed forces. He had no military background and little opportunity to build up a public profile because his role in the whips office meant he did not speak in Parliament.
While at the Ministry of Defence he lobbied successfully for more funding for the military, often to the irritation of the Treasury.
But he was derided in the press for telling Russia to "shut up and go away", and for suggestions the UK should respond in kind to "acts of warfare" by the Kremlin.
His downfall came after an inquiry into a leak from a top-level National Security Council meeting about whether to allow Chinese firm Huawei to help build the UK's 5G network.
Sir Gavin denied leaking information from the meeting, but Mrs May said she had "lost confidence in his ability to serve" and sacked him in May 2019.
He was not on the backbenches for long and returned to cabinet as education secretary in July the same year, when Boris Johnson became prime minister.
When the Covid pandemic broke out in 2020, the role became even more high profile, with Sir Gavin responsible for tricky areas including home-learning and managing the return to classrooms and exams when schools fully reopened.
He was widely criticised for U-turning over getting all primary school pupils back in school after lockdown and there were also clashes with footballer Marcus Rashford over his campaign to provide children with free meals during holidays.
Perhaps the biggest debacle was the chaos of the 2020 school exam period, with multiple U-turns over how to grade pupils after examinations were cancelled because of the pandemic.
This resulted in his department's most senior civil servant and the head of the exams watchdog both leaving their roles.
Sir Gavin stayed put until September 2021, when he was replaced by Nadhim Zahawi.
Some argued he had been made a political fall guy - used as a lightning rod for the criticism of how the government had dealt with the challenges Covid posed to education and taking the blame for decisions that were never down to an individual minister.
Sir Gavin returned to cabinet as a minister without portfolio under Mr Sunak in October. But it took less than two weeks for concerns to be raised about his appointment following claims he had bullied a fellow Conservative MP.
In texts sent to then-Chief Whip Ms Morton in the run-up to the Queen's funeral in September he appeared to complain that MPs who were not favoured by Prime Minister Liz Truss were being excluded from the ceremony at Westminster Abbey.
In the messages, published by the Sunday Times, Sir Gavin reportedly warned Ms Morton "not to push him about" and that "there is a price for everything".
He was quoted by the paper as saying he regretted "getting frustrated" and was happy to "work positively with [Ms Morton] in the future as I have in the past".
No 10 described the messages as "unacceptable" but the prime minister's official spokesman insisted Mr Sunak had full confidence in Sir Gavin.
When he resigned, the prime minister said he accepted his resignation with "great sadness" but understood his decision to step back.
The official said they raised concerns to the Ministry of Defence's human resources department, but did not make a formal complaint at the time.
Sir Gavin did not deny using the language attributed to him but said he "strongly" rejected allegations of bullying.
However, the pressure of multiple accusations and inquiries became too great, and Sir Gavin was forced to step down.
Writing in his resignation letter, he said he would "clear my name of wrongdoing" but it remains to be seen if this consummate Westminster operator can, once again, bounce back.