Brexit: Theresa May rejects calls to resign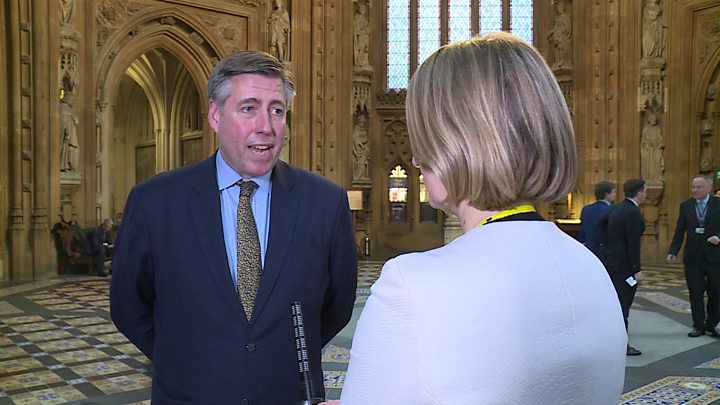 The PM has rejected calls to quit over her handling of Brexit, saying it is "not an issue about me".
Theresa May was replying to Tory Brexiteer Andrea Jenkyns, who said she had "failed to deliver on her promises" and had lost public trust.
Calls have been growing for the prime minister to name an exit date.
The PM's spokesman said she had already promised to leave after delivering the first stage of Brexit and was sticking to that "generous and bold offer".
Mrs May has agreed to address a meeting of the 1922 Committee - an elected body of Tory MPs which represents backbenchers and oversees leadership contests - next week.
Its chairman, Sir Graham Brady, told the BBC he had had two "very good meetings" with the PM, organised to raise concerns about her leadership.
He said it was clear she "wishes and is determined to do her best to secure our departure [from the EU]", but the 1922's executive would have the opportunity after next week's meeting "to decide if the assurances they have had [from her] are sufficient or not".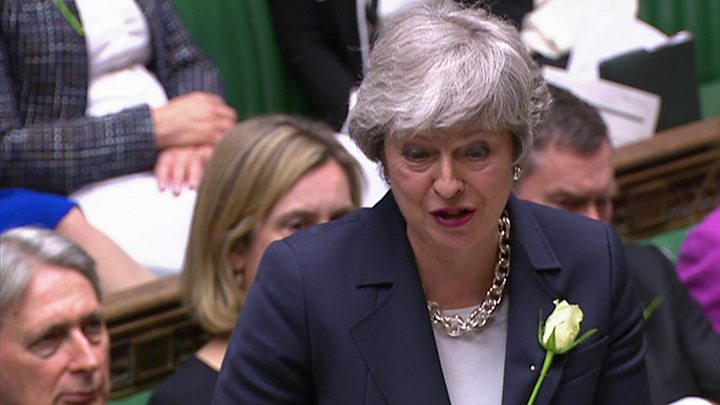 Sir Graham also said he believed the PM would ask the Commons to vote again on the terms of the UK's exit before elections to the European Parliament take place on 23 May.
The withdrawal agreement has effectively been rejected by MPs three times already.
BBC political editor Laura Kuenssberg says the prime minister has bought herself a bit more time.
In March, Mrs May pledged to stand down if and when Parliament ratified her Brexit withdrawal agreement, but she has not made it clear how long she intends to stay if no deal is reached.
Pressure has grown on her since the Tories' local election drubbing last week, and there have been warnings they face a meltdown in elections to the European Parliament too.
At Prime Minister's Questions, Mrs May said she was "very sorry" that so many councillors - 1,300, in fact - lost their seats.
But she told Ms Jenkyns the resolution to the Brexit crisis was "not an issue about me or her" - and if it was up to the prime minister, the UK would have already left the EU.
Much of the anger in the parliamentary party is focusing on Mrs May's efforts to find a Brexit compromise with Labour.
Further pressure is also coming from the grassroots, with local Tory associations confirming they will hold a vote of confidence in her leadership on 15 June.
Analysis: By BBC political correspondent Jonathan Blake
Sometimes it can seem like Theresa May is surrounded by an invisible force field, deflecting blows from all directions.
Political flaming asteroids which might've seen off a prime minister in simpler times lie smouldering on the floor as she doggedly pushes on.
A failed snap election, no confidence votes, defeat after defeat in Parliament have all left her standing somehow.
But that survival is down in no small part to factors beyond her control; nobody wanting to inherit the mess, Tories terrified of losing power to Labour, and a party increasingly ill at ease with itself.
But if something shifts then her time and her luck may run out.
A candidate to replace her could decide it's now or never, her own MPs may run out of patience entirely or the European election results may simply be too bad to bear.
Holding her hands up and walking away would not be in Theresa May's nature, but just as events have shaped her survival, they may yet lead to her demise.
The 1922 has previously rejected calls to re-write its rules to bring forward another confidence vote in the PM's leadership, meaning that at the moment, the earliest it can happen is in mid-December.
Eurosceptic Conservative MP Peter Bone said "the majority" of Tory MPs "acknowledge she needs to go and needs to go soon".
Tory Brexiteer Sheryll Murray tweeted that she believed the PM "should resign immediately".
Former minister Robert Halfon said Mrs May had to set out a "proper timetable" for departure, but it had to be done in a "dignified way".
Some Conservatives, though, think she should be allowed to stay until the autumn, if necessary, to deliver the UK's exit from the EU.
Mel Stride, financial secretary to the Treasury, said: "At end of the day - if you change the pilot, you are not going to change the weather."
Discussions with Labour could still yield a way forward, he said - although as yet, the talks have not borne fruit.
Negotiations finished on Wednesday without an agreement between the two sides, but Downing Street said there will be more talks "over the coming days".
Conservative MPs have already begun to voice their intentions to stand in a Tory leadership contest once Mrs May leaves, including new International Development Secretary Rory Stewart.
Cabinet minister Andrea Leadsom is the latest to indicate an interest, saying she is "seriously considering" standing for a second time - she ran in 2016, but pulled out to give Mrs May a clear run at the job.
The UK had been due to leave the EU on 29 March, but the deadline was pushed back to 31 October after Parliament was unable to agree a way forward.
---
How could Theresa May be forced out?
No confidence vote of Tory MPs: Theresa May won a leadership ballot by 200 to 117 votes on 12 December 2018. Under current party rules, there can't be another vote for a further year so the PM is technically safe until 12 December this year. Many MPs want to change the rules to allow an earlier contest but this would need to be agreed by the 1922 Committee.
No confidence vote in Parliament: The PM would have to resign if she lost a confidence vote in Parliament. Labour tried this manoeuvre in December but Tory MPs and their DUP allies backed the PM. Might some Tories now withhold their support if they think it will usher in a new leader rather than a general election?
Grassroots Tory revolt: Local Conservative associations seem to be turning against the PM, with one - Clwyd South - already passing a motion of no confidence in her. The National Conservative Convention's vote on 15 June is non-binding, though, so the PM could ignore it.
Cabinet revolt: Margaret Thatcher quit in 1990 after a number of ministers told her it was time to go. Could history repeat itself? There has been no sign of that so far and colleagues who want to succeed her - and there are many - may not want to be seen to be the ones wielding the knife or to risk sacrificing their own careers.
Quits of her own accord: The BBC's Norman Smith says there is no way the PM will "walk away" right now, but this could change in the aftermath of a "catastrophic" result in European elections.
---