Brexit: Theresa May's withdrawal bill delayed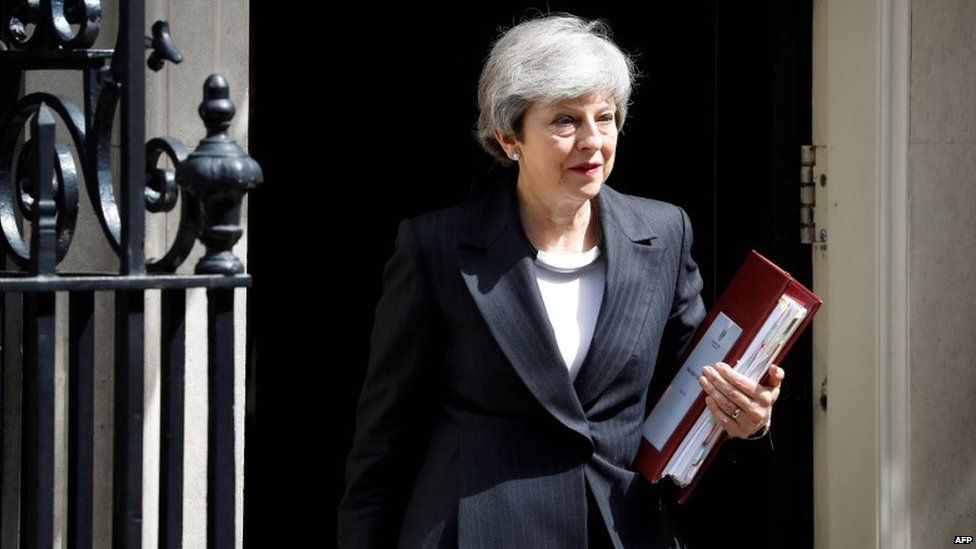 Theresa May's Brexit withdrawal bill will not be published or debated until early June, the government says.
The prime minister is under pressure to resign following a backlash from her own MPs against her pledged "new deal" on Brexit.
Andrea Leadsom quit as Commons Leader, saying she could not announce the bill which had "new elements that I fundamentally oppose".
She has been replaced by Treasury minister Mel Stride.
Downing Street has confirmed that the prime minister met Foreign Secretary Jeremy Hunt and Home Secretary Sajid Javid at No 10 on Thursday morning and would "give full consideration their views" about the bill.
Mrs May had told the Commons that the Withdrawal Agreement Bill - the legislation needed to implement the agreement between the UK and EU - would be published on Friday so MPs would have "the maximum possible time to study its detail".
Mrs Leadsom had been due to announce when it would be introduced to Parliament on Thursday, but resigned on Wednesday night.
Standing in for her, government whip Mark Spencer told MPs: "We will update the House on the publication and introduction of the Withdrawal Agreement Bill on our return from the Whitsun recess."
He added that the government planned to publish the bill in the first week of June.
"We had hoped to hold second reading on Friday 7 June," he added. "At the moment, we have not secured agreement to this in the usual channels. Of course we will update the House when we return from recess."
Second reading is when MPs get a first chance to debate legislation, before deciding whether it should proceed to detailed scrutiny.
Responding for Labour, shadow Commons leader Valerie Vaz said: "The prime minister has once again put her own political survival ahead of the national interest.
"It is clear that the prime minister does not command a majority in her approach to Brexit and she has failed to accept this political reality."
US President Donald Trump is due to make a three-day state visit to the UK from 3 to 5 June.
Asked who would be in 10 Downing Street when he arrives, Mr Hunt said: "Theresa May will be prime minister to welcome him and rightly so."
It is possible for Mrs May to quit as Conservative leader before Mr Trump's visit, but continue as prime minister on a caretaker basis.
Mrs Leadsom said on Thursday she had "no doubts that I made the right decision" adding: "I felt I couldn't, in all conscience, stand up and deliver the business statement today with a Withdrawal Agreement Bill in it that I couldn't support elements of."
She did not answer questions about whether she was planning to run for the leadership.
What is the Withdrawal Agreement Bill?
The UK needs to pass a law to implement the withdrawal agreement - the part of the PM's Brexit deal which will take the country out of the EU - in UK law.
In a mini-reshuffle prompted by Mrs Leadsom's resignation, Mel Stride, who had been Financial Secretary to the Treasury, has replaced her as Commons leader.
He has been replaced on the Treasury team by Jesse Norman, whose previous role as a transport minister has been filled by Michael Ellis. Rebecca Pow has been made a junior minister at the Department for Digital, Culture, Media and Sport, replacing Mr Ellis.
On Wednesday, members of the Conservatives' backbench 1922 Committee held a secret ballot on whether to change party rules, to allow the prime minister to face a vote of no confidence immediately.
Mrs May is due to meet the chairman of the committee, Sir Graham Brady, on Friday.
The results, in sealed envelopes, will be opened if Mrs May does not agree to stand down by 10 June.