Climate change: Emissions target could cost UK £1tn, warns Hammond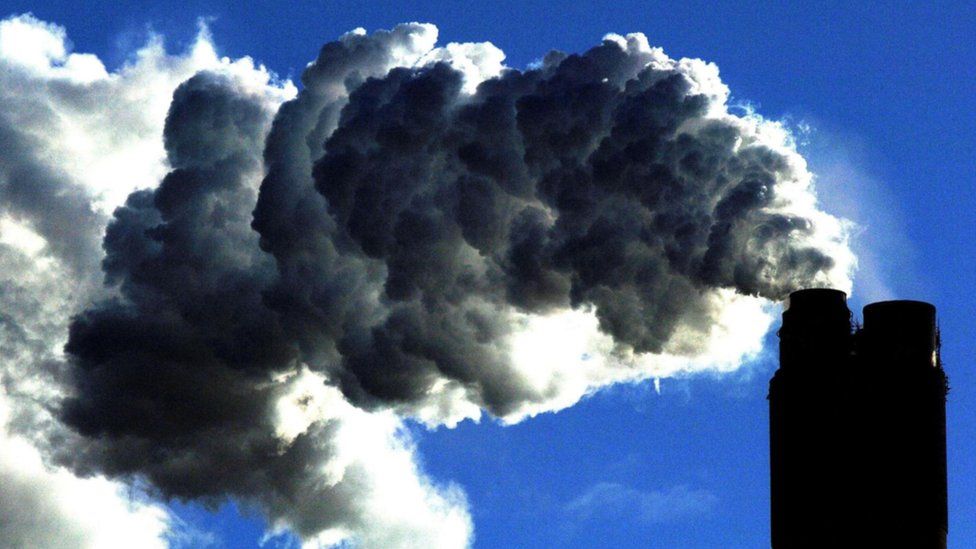 The chancellor has warned Theresa May that reducing greenhouse gas emissions to net zero by 2050 could cost the UK more than £1tn.
The Financial Times reports that the PM wants to introduce the legislation to Parliament next week as "one of her most important legacies".
Philip Hammond has written to her, saying it would mean less money for schools, police and hospitals.
The BBC's assistant political editor Norman Smith said next week would see the first stage in the process of making this new target law - but any legislation would "have to wait until after Mrs May and after Brexit, so it could still be some time off".
Labour's shadow chancellor, John McDonnell, criticised his opposite number, saying: "We are facing a climate emergency and Philip Hammond clearly doesn't get it.
"The Tory party is way overdue in adopting a target already put forward by Labour, and now the chancellor is creating obstacles to prevent the action we desperately need to take."
A No 10 spokeswoman said there were "a lot of figures out there on this issue that don't factor in the benefits or consider the costs of not doing this".
She added: "The costs relating to meeting this target are whole-of-economy costs, not a fiscal cost, and so it's not really right to frame it as a trade-off for public spending."
The CCC, which is the independent adviser to government on climate change, put the cost at £50bn a year.
It said, while the UK would not be able to hit "net zero" emissions any sooner, 2050 was still an extremely significant goal.
According to the letter, seen by the FT, the Department for Business, Energy and Industrial Strategy believes it will cost more, estimating £70bn a year.
Mr Hammond said: "On the basis of these estimates, the total cost of transitioning to a zero-carbon economy is likely to be well in excess of £1tn."
The chancellor also warned the move could leave some industries "economically uncompetitive" - unless other countries the UK competes with follow suit.
He said it was right for the UK to lead when it came to climate change, but the implications of pursuing the target needed to be "better understood".
The potential political cost of the target
Analysis by BBC assistant political editor Norman Smith
Philip Hammond is not opposed to ambitious energy targets, but it's clear he's worried about the cost - not just the financial cost, but also the potential political cost.
And in Mr Hammond's view, there are hard choices to be made.
Encouraging consumers to change their habits and household appliances - like boilers - will come at a hefty price in terms of possible subsidies or tax incentives, and that will mean less cash for public services.
There could also be a significant additional cost for business, particularly small firms, all of which is likely to prove politically fraught.
Of course, Mr Hammond won't be around to feel the political heat when these changes are introduced, but it's clear he thinks his successors at the Treasury need to start doing some serious work on the numbers.
Next week will be the first stage in the process when the government announces its intention to press ahead with the net zero target.
However, any legislation will have to wait until after Mrs May and after Brexit, so it could still be some time off.
Former Energy Secretary, and Liberal Democrat leadership contender, Ed Davey said it was time to act on climate change.
"[Mr] Hammond might be trying to reclaim his crown as a fiscal hawk in the dying embers of [Mrs] May's premiership, but this intervention is wrong-headed and threatens our children's future," he said.
"The cost of tackling the climate emergency is massively outweighed by the long term cost of not acting. The chancellor has got his sums wrong."
The government's current target is to reduce emissions by 80% by 2050.
Mr Hammond said the UK was not on track to reach that goal, so to go further would need an "ambitious policy response".
Stakes on the global stage
Analysis by BBC science editor David Shukman
The tussle over whether Britain should set a carbon target of net zero is being watched closely far beyond these shores.
For months, the government has been campaigning to host what is set to be the most important climate summit for years - a vast event known as COP26, due to be staged in December 2020.
The conference will have the pivotal role of formally putting the Paris Agreement into effect - the world's only international accord designed to limit global warming.
The thinking in Whitehall is that for post-Brexit Britain, hosting this monumental gathering would send a powerful and positive signal, and several Tory leadership candidates have highlighted their support for the move.
But other countries want the prize too, with Italy offering to play host, and Belgium and Turkey throwing their hats into the ring.
The decision is due to be made on 27 June at talks in Bonn, and live coverage around that time of the Conservative leadership process may be seen as a sign of uncertainty in London.
Setting a net-zero carbon target might tip the balance. There's a lot at stake.
The CCC said England can eliminate emissions by 2050, while Scotland could go carbon-free sooner - by 2045.
The BBC's environment analyst, Roger Harrabin, said Scotland had exceptional potential for planting trees (which absorb carbon dioxide) and is more suited for carbon capture and storage.
A No 10 spokesman said the government was committed to legislating to net zero and was responsible for commissioning the CCC's report.
He said it "strongly welcomed the recommendations" from the committee and it "remains our intention to make announcement on next steps as soon as we can".
By BBC Reality Check's Anthony Reuben
The Committee on Climate Change puts the cost of achieving net zero greenhouse gas emissions by 2050 at between 1% and 2% of GDP - the total output of the UK economy - a year.
GDP is currently about £2tn a year, so, at the moment, that amount would be between £20bn and £40bn.
Remember, this isn't all government spending - things like transport and power generation could get more expensive, which would increase bills.
The CCC reckons the cost will be about £50bn a year in 2050, but will be less in the early years of the transition.
Still, you can see how those figures could reach a total of £1tn over 30 years.
The letter also refers to a figure of £70bn a year from the Department for Business, Energy and Industrial Strategy - although the department has declined to comment on whether it has actually come up with that figure.
But these figures are only covering the cost - they do not include any possible benefits, creating new jobs in new industries, for example.
Although many environment groups are supportive of the move, many campaigners have complained the CCC target is too soft.
The UK Health Alliance on Climate Change has called on the government to adopt the recommendations, but "adopt a net-zero target before 2050".
Dr Doug Parr, Chief Scientist for Greenpeace UK, said Mr Hammond was putting "ideology before our wellbeing".
He added: "If you want to know whether a policy is a good idea, you include the benefits as well as the costs, and in this case the benefits include an economy fit for the 21st century, cleaner air, warmer homes and maximising the chances of civilisation surviving."