Tory leadership: Hunt rules out change to abortion law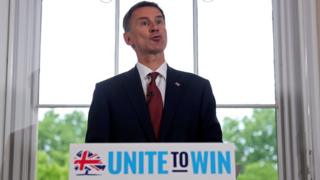 Jeremy Hunt has ruled out any changes to abortion law if he becomes the UK's next prime minister.
The Tory leadership contender has been criticised after saying his "personal view" was that the legal time limit for an abortion should be reduced from 24 weeks to 12.
But he told the BBC's Laura Kuenssberg: "No government I lead will ever seek to change the law on abortion."
The foreign secretary made the comment at his leadership campaign launch.
Mr Hunt was introduced by one of his key backers, Work and Pensions Secretary Amber Rudd, who said earlier she had been "reassured" by the candidate he would not change the abortion law.
He is one of 11 candidates in the race, which will also choose the next PM - nominations for the contest close at 17:00 BST.
Mr Hunt's fellow contender, Dominic Raab, told his own campaign launch he would not change the law on abortion, saying it was "broadly right".
He added: "I wouldn't change it and I tend to advocate things as a politician that I believe in my private life as well."
Liberal Democrat MP Christine Jardine said the foreign secretary's personal views were "incredibly alarming", while Scottish First Minister Nicola Sturgeon described the leadership contest as a "horror show", which included "attacks on abortion rights".
And former Tory MP Nick Boles - who now sits as an independent - asked on Twitter if leadership candidates had "taken leave of their senses".
Mr Hunt had previously said he was in favour of reducing the legal time limit from 24 weeks to 12.
Asked about it on Sky's Sophy Ridge on Sunday, he said: "These are matters of conscience. Yes, my view hasn't changed on that.
"I respect the fact other people have very different views and that's why these matters are matters for free votes in the House of Commons."
Asked whether he would seek to change the current abortion law if he was PM, Mr Hunt said "it won't be government policy to change the law" or to have a vote on it.
He then reiterated the point at his campaign launch.
'Very strongly'
Ms Rudd told BBC Radio 4's Today programme that a reduction in the legal time limit had "always been his view".
She added: "I have spoken to Jeremy and there will no change to abortion law if and when he becomes prime minister.
"I feel very strongly about this. We need to make sure that, as a government, we always protect women's rights to choose."
What is the current law on abortion?
The 1967 Abortion Act covers England, Scotland and Wales - but does not extend to Northern Ireland. However, women from Northern Ireland do not have to pay to have abortions on the NHS in England.
The law allows for abortions to be legally performed under certain conditions - such as if the pregnancy involves a greater risk to the physical or mental health of the woman, or her existing children, than having a termination.
An abortion must be agreed by two doctors (or one in an emergency) and carried out by a doctor in a government-approved hospital or clinic.
In 1990, the legal time limit for abortions was lowered from 28 to 24 weeks, deemed to be the point at which a foetus was "viable".
Those in favour of lowering it further say babies born at 24 weeks are increasingly likely to survive, with right-to-life groups adding that efforts should be made to save every life.
But those arguing against a reduction cited studies, including one published in the British Medical Journal, showing that while survival rates had increased significantly for babies born at 24 and 25 weeks, they had not risen for babies born 23 weeks or less.
Very few terminations take place at this stage of pregnancy, but those in favour of keeping the limit argue that it is often the 20-week scan which reveals severe abnormalities.
Read more on the rules around abortion in the UK.