Could there be an early general election?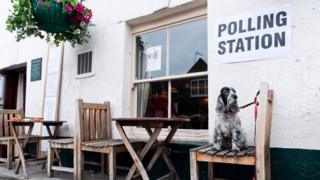 Boris Johnson, the UK's new prime minister, has ruled out holding a general election before the 31 October Brexit deadline. However, some MPs say they are willing to trigger one in order to a prevent a possible no-deal Brexit.
But Dominic Cummings, the prime minister's new adviser, has reportedly told ministers that MPs have left it too late to force an autumn poll.
So have MPs missed their chance?
How could the prime minister hold an early election?
A parliament lasts for a maximum of five years, so the next election doesn't have to be held until 2022.
If Boris Johnson wants to call an earlier election, he needs at least 66% of MPs to agree to it.
While elections always carry risk, Mr Johnson might hope an early poll would lead to the Conservatives winning more seats - making it easier to pass new laws and deliver Brexit.
However, this scenario seems unlikely as Mr Johnson says he doesn't want a snap election before 31 October.
Could a prime minister be made to have an election?
If Mr Johnson chooses not to call an election, MPs could try to force one. They could potentially do this through a vote of no confidence.
Some MPs believe this could prevent a no-deal Brexit on 31 October - something Mr Johnson has refused to rule out.
A no-deal Brexit would see the UK immediately leave the European Union (EU) with no agreement about the "divorce" process.
If a vote of no confidence was called, MPs would have to decide whether they want the current government to continue. For of a vote of no confidence to succeed, a majority of MPs need to support it. This might require some Conservative MPs to vote against their own government.
If this passes, the government could stay on for 14 days to try to persuade MPs to change their minds.
Other parties might also try to come together to form an alternative government during this period. If this happened, Mr Johnson would be expected to resign and a new prime minister could request a further Brexit delay to prevent a no-deal outcome.
But getting MPs to support an alternative government will not be easy. Would Conservatives unhappy with a no-deal Brexit really prefer Jeremy Corbyn as prime minister?
If nothing is resolved after 14 days, a general election is automatically triggered.
Traditionally, the election would be held as soon as practically possible.
Once the date is known, Parliament shuts down - or dissolves - 25 working days before the poll. This allows MPs to campaign for re-election.
How soon could a general election happen?
Even with a successful no confidence motion, it would be extremely tight to organise a general election before 31 October.
MPs did not call a confidence vote before Westminster went on its summer break. That means 3 September, when Parliament next sits, is now the earliest opportunity to do so.
Assuming the confidence vote is held and passed the next day, the 14-day period the government has to win back support would expire on 18 September.
If that happens, the prime minister could choose to call the election the next day. That would mean dissolving Parliament on 20 September, signalling the start of the five-week campaign.
The House of Commons Library told the BBC, that such a scenario would leave Friday 25 October as the earliest possible election day - less than one week before Brexit day.
To hold an election on a day other than a Thursday would be extremely unusual. In fact, you have to go back to Tuesday 27 October 1931 to find the last time this happened.
Could the prime minister speed things up?
A compliant prime minister could speed things up.
Instead of having a 14-day period after losing any no confidence motion, the prime minister could decide to call an election.
He would still need the votes of at least 66% of MPs, but that would trim two weeks off the election timetable.
Could the prime minister hold the election after 31 October?
If, on the other hand, the prime minister was determined to leave the EU on 31 October, he could try to delay things.
"Even if a vote of no confidence was successful, it doesn't guarantee the election will happen before Brexit day," says Catherine Haddon, from the Institute for Government think tank.
That's because the prime minister controls the timetable.
"For example, they could extend the wash-up [the period where some unfinished Parliamentary business is dealt with] before Parliament is dissolved," she says.
By doing this, the election could be pushed into November - by which point the UK would have already left the EU.
Could the prime minister face a legal challenge?
Ultimately, it is in the hands of the prime minster, rather than Parliament, to guarantee an election before Brexit is due to happen.
But that does not mean the prime minister would escape a legal challenge.
Dominic Grieve, a Conservative MP and staunch no-deal opponent, has said it would be "utterly perverse" to try to take the UK out of the EU during what is known as the period of purdah before an election.
Purdah is the pre-election period in which government departments are restricted from making and communicating policy announcements.
Instead, he argues, the prime minister must ask for an extension to the Brexit date in that event, adding: "There is a long-established convention that once an election has been called, no government should take anything other than caretaker decisions."
However, in theory the government does not need to take any decisions in order for us to leave on 31 October - that is the default position in law. Brexiteer MP Iain Duncan Smith puts it: "If we are in an election it makes no difference, we still leave because it is law."
Attorney General Geoffrey Cox, the government's number one lawyer, has reportedly told Mr Johnson the same.
But these are uncharted waters and there may not be an obvious answer.
That is why both sides are convinced that in this situation the case would inevitably end up in the Supreme Court, with the 12 justices asked to decide the country's fate.