Brexit: Deal essentially impossible, No 10 source says after PM-Merkel call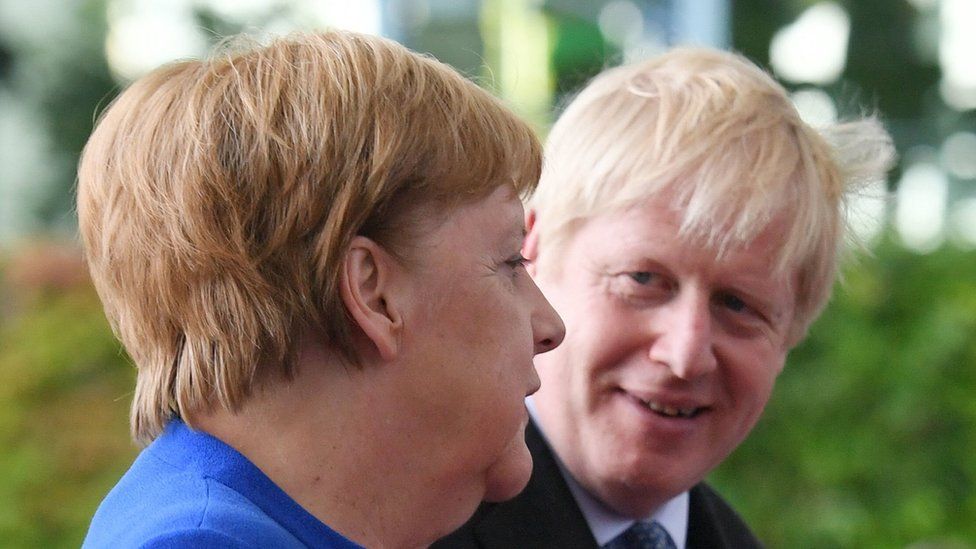 A No 10 source has said a Brexit deal is "essentially impossible" after a call between the PM and Angela Merkel.
Boris Johnson and the German chancellor spoke earlier about the proposals he had put forward to the EU - but the source said she made clear a deal based on them was "overwhelmingly unlikely".
Mrs Merkel's office said it would not comment on "private" conversations.
But the BBC's Adam Fleming said there was "scepticism" within the EU that Mrs Merkel would have used such language.
And the EU's top official warned the UK against a "stupid blame game".
President of the European Council Donald Tusk sent a public tweet to Mr Johnson, telling him "the future of Europe and the UK" was at stake.
.@BorisJohnson, what's at stake is not winning some stupid blame game. At stake is the future of Europe and the UK as well as the security and interests of our people. You don't want a deal, you don't want an extension, you don't want to revoke, quo vadis?

— Donald Tusk (@eucopresident) October 8, 2019
With efforts to get a deal by the end of the month on an apparent knife edge, Mr Johnson and his Irish counterpart Leo Varadkar have said they hope to meet later in the week.
He said the UK had "repudiated" the deal negotiated previously with Theresa May's government and had "sort of put half of that now back on the table, and are saying that's a concession. And of course it isn't, really".
And following talks in Downing Street, the president of the European Parliament said there had been "no progress" and MEPs would not agree to a compromise deal "at any price".
David Sassoli said the UK's new proposed customs arrangements for Northern Ireland were a "long way from something to which the Parliament could agree".
Amid frantic diplomatic manoeuvring in European capitals, details of a call earlier on Tuesday between the UK and German leaders have reignited tensions across the continent.
The No 10 source suggested Mrs Merkel told her counterpart the only way to break the deadlock was for Northern Ireland to stay in the customs union and for it to permanently accept EU single market rules on trade in goods.
This, the source said, marked a shift in Germany's approach and made a negotiated deal "essentially impossible".
The prime minister's official spokesman said the conversation had been "frank" but denied the negotiations were all but over.
Norbert Rottgen, an ally of the chancellor who is chair of the Bundestag's Foreign Affairs Committee, said there was "no new German position".
He tweeted that a deal based on the UK's latest proposals had "been unrealistic from the beginning and yet the EU has been willing to engage".
The BBC's Europe editor Katya Adler said it was "no secret" Berlin found the UK's proposed new customs solution for Northern Ireland problematic.
Berlin keen to underline that Chancellor Merkel has repeated over and again that she will work "till last moment" to get a deal. Sources say she remains interested in avoiding a no deal Brexit and thinks a deal is possible /2

— katya adler (@BBCkatyaadler) October 8, 2019
While Berlin had not given up hope, she said the chances of a no-deal exit were rising again as the nature of the UK's proposals made any compromise very difficult.
EU diplomats say there's no meeting in middle over PMs Brexit proposals. They say his offer would either result in customs infrastructure on the island of Ireland which is unacceptable to Dublin OR in EU having a non-controlled customs border which .../4

— katya adler (@BBCkatyaadler) October 8, 2019
Which Brussels says would a) lead to smuggling and b) contravene WTO regulations. "If that customs were left open as UK pretty much asks then I would quit my job and start a smuggling enterprise," said an high level EU diplomat this morning /5

— katya adler (@BBCkatyaadler) October 8, 2019
Under Mr Johnson's proposals, which he calls a "broad landing zone" for a new deal with the EU:
Northern Ireland would leave the EU's customs union alongside the rest of the UK, at the start of 2021
But Northern Ireland would continue to apply EU legislation relating to agricultural and other products, if the Northern Ireland Assembly approves
This arrangement could, in theory, continue indefinitely, but the consent of Northern Ireland's politicians would have to be sought every four years
Customs checks on goods traded between the UK and EU would be "decentralised", with paperwork submitted electronically and only a "very small number" of physical checks
These checks should take place away from the border itself, at business premises or at "other points in the supply chain"
The UK's chief negotiator, David Frost, is continuing to meet EU counterparts in Brussels, but the No 10 source said Tuesday morning's phone call had been a "clarifying moment", adding: "Talks in Brussels are close to breaking down."
They said the UK was not willing to move away from the principle of providing a consent mechanism for Northern Ireland, or the plan for leaving the customs union, and if the EU did not accept those principles, "that will be that" and the plan moving forward would be an "obstructive" strategy towards Brussels.
They also accused the EU of being "willing to torpedo the Good Friday agreement" - the peace process agreed in Northern Ireland in the 1990s - by refusing to accept Mr Johnson's proposals.
Hands up if all this stuff about "spokesman" and "sources" is driving you bonkers? Here's the in-brief explanation of how it works at Westminster.
The prime minister has an official spokesman. They work for the government, not the political party that is in government. They give two briefings a day to reporters when Parliament is sitting and they are on the record. That is to say we report what is said and we report who said it - although by convention we don't actually name the spokesman.
There are two reasons for this: they are speaking on behalf of the PM, not themselves. And sometimes a deputy does the briefing instead.
In addition to the official spokesman, there are other people in Downing Street who will talk to journalists. For some, that is their specific job. For others, it is not.
These people will always talk to us off the record - so we can quote them, but not name them, or do anything that risks identifying them.
Journalists always prefer on the record quotes, but in politics as in life, people are often more candid in private, and so we can get a greater sense of what is going on in return for respecting the terms on which the information has been given to us.
Updating MPs on contingency planning for a no-deal exit, minister Michael Gove said there was still "every chance" of a deal but the EU must engage with the UK's plans.
"In setting out these proposals, we've moved - it is now time for the EU to move too," he said.
Ireland's Tánaiste (Deputy Prime Minister), Simon Coveney, said a deal was still possible but "not any at cost" - and the UK must accept it had "responsibilities" on the island of Ireland.
The UK and Irish leaders spoke on the phone for 40 minutes on Tuesday, after which No 10 said both sides "strongly reiterated" their desire to reach a deal.
But Labour's shadow Brexit secretary Sir Keir Starmer told MPs the government was "intent on collapsing the talks and engaging in a reckless blame game".
"The stark reality is the government put forward proposals that were designed to fail," he said, adding that it was "beneath contempt" that, according to a Downing Street source reported by the Spectator, the UK could withdraw security co-operation from other EU countries if it were forced to remain beyond 31 October.
The PM has insisted the UK will leave the EU on that date, with or without a deal.
That is despite legislation passed by MPs last month, known as the Benn Act, which requires Mr Johnson to write to the EU requesting a further delay if no deal is signed off by Parliament by 19 October - unless MPs agree to a no-deal Brexit.
No-one really wants to comment directly on this phone call - certainly not Berlin - but talking to EU officials and diplomats in Brussels, there is considerable scepticism.
That's because the words attributed to Angela Merkel do not reflect the EU's agreed language.
For one, Mrs Merkel and the EU have repeatedly said they will keep talking to the last second and will not pull the plug before that.
And secondly, the No 10 source claims the EU wants to keep Northern Ireland permanently "trapped" in the customs union - Brussels insists it doesn't want that at all, it just wants the option for Northern Ireland stay inside temporarily until something else is worked out.
So as I say, scepticism. It could be a misinterpretation or it could be a deliberate bit of spin, because we're now entering into a blame game about whose fault it is that progress isn't being made.
The key focus of the new UK plans is to replace the so-called backstop - the policy negotiated by Theresa May and the EU to prevent a hard border returning to the island of Ireland - which has long been a sticking point.
After presenting them, government sources hoped the sides might be able to enter an intense 10-day period of talks almost immediately, but a number of senior EU figures, including Irish Taoiseach Leo Varadkar, warned they did not form the basis for deeper negotiations - even if they believed a deal could still be done.
Mr Varadkar has warned the Johnson plan could actually undermine that principle by giving one party in Northern Ireland a veto over what happens to the country as a whole.
Timeline: What's happening ahead of Brexit deadline?
Tuesday 8 October - Last working day in the House of Commons before it is will be prorogued - suspended - ahead of a Queen's Speech to begin a new parliamentary session.
Monday 14 October - The Commons is due to return, and the government will use the Queen's Speech to set out its legislative agenda. The speech will then be debated by MPs throughout the week.
Thursday 17 October - Crucial two-day summit of EU leaders begins in Brussels. This is the last such meeting currently scheduled before the Brexit deadline.
Saturday 19 October - Date by which the PM must ask the EU for another delay to Brexit under the Benn Act, if no Brexit deal has been approved by Parliament and they have not agreed to the UK leaving with no-deal.
Thursday 31 October - Date by which the UK is due to leave the EU, with or without a withdrawal agreement.