Labour MP Keith Vaz faces six-month suspension after drug and sex probe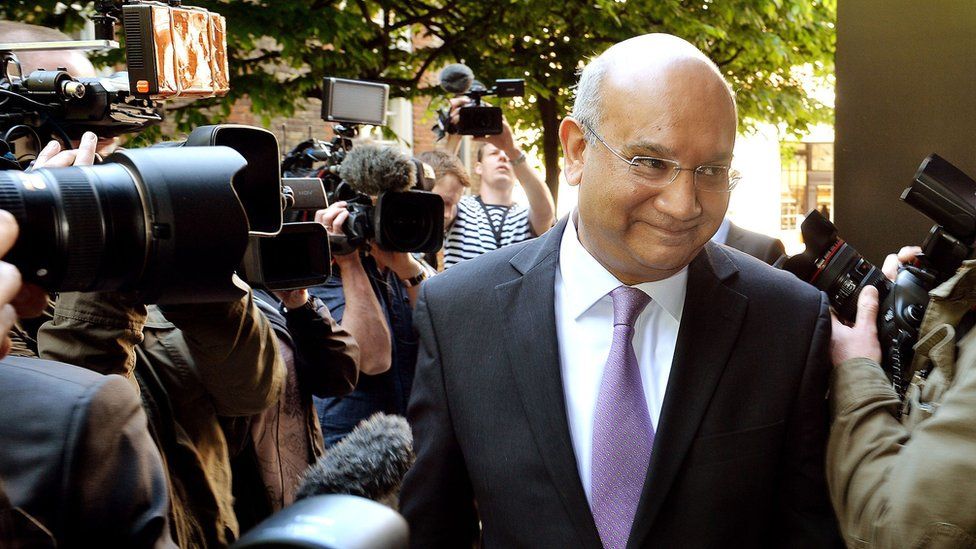 Labour MP Keith Vaz "disregarded" the law by "expressing a willingness" to help buy cocaine for male prostitutes, the Commons standards body has found.
It said there was "compelling evidence" he offered to pay for a class A drug and had paid-for sex in August 2016.
It is recommending he be suspended for six months after he was "evasive and unhelpful" during the investigation.
Mr Vaz would not comment on his future but said he was receiving treatment for a serious mental health condition.
A statement later issued by his office said Mr Vaz had cooperated at all stages of the inquiry and he had been admitted to hospital on Monday.
If MPs vote to approve the committee's recommendation, Mr Vaz would be subject to a recall petition which could trigger a by-election if supported by 10% of his constituents.
Conservative MP Andrew Bridgen, whose complaint triggered the investigation, told BBC East Midlands Today: "The wheels of justice have moved slowly but inexorably to the right conclusion.
"The report is damning regarding Keith Vaz's conduct and only needs rubber stamp from parliament now.
"Hopefully, this is the end of the line for Keith Vaz, I don't think he's fit to be representing anywhere in this place, I think he's been a malign influence on local and national politics for too long."
A spokesman for Mr Vaz said the Leicester East MP had been treated for a serious mental health condition "for the last three years as a result of the events of 27th August 2016".
"He has shared all the medical reports in confidence with the committee. He has nothing further to say on this matter other than what was said in his oral and written statements to the committee and to the commissioner."
The police declined to take action against the MP following an investigation in 2016.
In a scathing report, the committee said there was "convincing evidence" that Mr Vaz was "evasive or unhelpful" during an investigation into his conduct by Commons standards commissioners Kathryn Hudson and Kathryn Stone.
A statement on Mr Vaz's website "vigorously" rejected this allegation and said he cooperated at "all stages of this process".
"He holds the standards system in the highest regard and with the highest respect," it said.
The revelations, first reported by the Sunday Mirror, led to Mr Vaz standing down as chairman of the Home Affairs Select committee - which at the time was conducting an inquiry into drug policy.
It was alleged the MP had met two men at his London flat to engage in paid-for sex, and that during this encounter - which was covertly recorded by one of the men - he offered to buy illegal drugs for a third person to use.
In her report, the commissioner said the recording "contains evidence of Mr Vaz's apparent willingness to purchase controlled drugs for others to use".
"While his comments regarding this may not amount to a criminal offence, he shows disregard for the law and that, in turn, is disrespectful to the House and fellow members, who collectively are responsible for making those laws."
At the time, Mr Vaz said he had met the men to discuss the redecoration of his flat.
But the cross-party committee said Mr Vaz's characterisation of the meeting - in which he reportedly posed as a washing machine salesman - was "not believable and ludicrous".
The MP's claim during the inquiry that his drink may have been spiked and that he had since suffered memory loss about the incident were "not relevant", the report found.
The MP's conduct in relation to illegal drugs and his behaviour during the investigation caused "significant damage" to the reputation and integrity of the House of Commons, it said.
He had "failed repeatedly to answer direct questions, gave incomplete answers and an account that was, in parts, incredible" - actions which constituted a "very serious" breach of the MPs' code of conduct.
"Mr Vaz has done his best to complicate, obfuscate and confuse the inquiry through arguments of little merit and documentation of dubious relevance," it said.
The committee said its aim throughout was "to establish whether the rules of the House have been complied with, not to investigate Mr Vaz's private life or to pass judgement on issues of sexual morality".
Mr Vaz, a former Europe minister under Tony Blair, was suspended from the Commons for one month in 2002 after being found to have obstructed a standards watchdog's investigation into his financial affairs.
The committee said it had taken this into account in recommending the longer suspension, as well as the fact that as chair of the Home Affairs committee there was an extra onus on Mr Vaz to set a "good example" to other MPs.