Who will be Labour's next leader?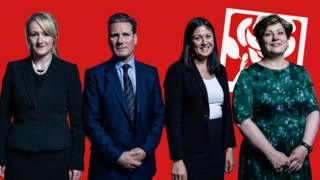 The race to be Labour's next leader is well under way, with the field now narrowed to just four candidates.
There is a big task ahead for the successor to Jeremy Corbyn, as they will need to bring the party back from its worst electoral defeat since 1935.
We'll find out who gets the top job on 4 April.
But for now, here are the hopefuls, with analysis from BBC Reality Check and BBC Politics.
Who is running for Labour's leadership?
The 57-year-old shadow Brexit secretary received the most backing in the initial stage of the contest - securing 88 nominations from MPs and MEPs.
He was also the first candidate to pass the second hurdle to get onto the members' ballot - winning support from three trade unions/affiliate groups representing 5% of the membership.
He did this by winning the backing of Unison, the shopworkers' union Usdaw, and the Socialist Environment and Resources Association (Sera).
A passionate Remainer, Sir Keir was director of public prosecutions before becoming MP for Holborn and St Pancras in 2015.
But critics have accused him of pushing Labour into its "renegotiate then referendum" Brexit position ahead of the 2019 election.
When he announced his candidacy in the Sunday Mirror, he said Labour needed to "rebuild fast" to restore trust.
Read a full profile of Sir Keir here.
The 40-year-old shadow business secretary received the second highest number of nominations from her colleagues, with the backing of 33 MPs and MEPs.
She is being backed by the Unite trade union, which was Labour's biggest donor at the 2019 election.
One of a new generation of MPs on the left of the party, she formed part of Mr Corbyn's inner circle and represented Labour in an election TV debate.
She is widely regarded as the preferred candidate of Mr Corbyn and his shadow chancellor, John McDonnell. But critics of the current leadership have accused her of representing "continuity Corbyn".
Announcing her leadership bid in an article for Tribune magazine, she argued she was the candidate who could be trusted "with our socialist agenda".
Read a full profile of Mrs Long-Bailey here.
The 40-year-old MP for Wigan became the second candidate to secure her place on the members' ballot when she won the backing of affiliate group Chinese for Labour.
She had already secured the nominations of the GMB union and the National Union of Mineworkers. She was nominated by 31 Labour MPs and MEPs in round one.
Ms Nandy worked in the charitable sector before entering politics in 2010, and became one of a clutch of shadow ministers who resigned from Jeremy Corbyn's frontbench after the Brexit referendum.
She has become known for her support of smaller towns, saying the party needs to appeal to voters outside big cities if it is to win at the next election.
Ms Nandy declared her bid for leader in a letter to the Wigan Post, saying the loss to Boris Johnson's Conservatives had been "a long time coming" and she had a "deeper understanding of what has gone awry" than her rivals.
Read a full profile of Ms Nandy here.
The 59-year-old shadow foreign secretary was the first contender to throw her hat into the ring, but the last to get enough nominations from MPs and MEPs.
She passed the required level of support from colleagues, of 23 nominations, just 10 minutes before the voting closed.
She is yet to receive any endorsements from affiliates or unions, and has garnered support from just a handful of the 33 local branches required to make the final ballot.
Ms Thornberry worked as a barrister before becoming MP for Islington South and Finsbury.
She deputised for Mr Corbyn at Prime Minister's Questions, but was replaced after publicly calling for Labour to back another EU referendum.
She has argued that her experience at the top of the party is the thing that sets her candidacy apart.
Read a full profile of Ms Thornberry here.
Who has pulled out?
Shadow treasury secretary Clive Lewis announced his candidacy early - becoming only the second person to enter the race behind Ms Thornberry.
But less than an hour before nominations closed - and with only five MPs backing him - he pulled out of the contest.
In a statement afterwards, Mr Lewis urged the other candidates to be "strong enough" to take forward some of his policies and to be "radical, democratic, internationalist, green, open and pluralist".
Birmingham Yardley MP Jess Phillips secured 23 nominations from her colleagues to get through the first stage of the process.
But the former charity worker, and outspoken critic of Jeremy Corbyn's leadership, withdrew from the race later in January, having failed to secure any union, affiliate or constituency endorsements.
In a video message to supporters, Ms Phillips said the next leader had to be able to unite the whole Labour movement.
She added: "I have to also be honest with myself, as I said I always would be throughout this campaign. At this time, that person is not me."
She subsequently backed Ms Nandy for the top job - with Sir Keir as her second choice.
There were other MPs being touted for the top job, such as shadow international trade secretary Barry Gardiner, former leadership candidate Yvette Cooper and party chairman Ian Lavery, but all ruled themselves out.
What about the deputy leader?
The post has also been vacant since the election, when former Labour MP Tom Watson said he was stepping down, both from the role and as an MP.
This means it is now up for grabs, with the winner chosen in a separate contest entirely.
All five contenders who put themselves forward went on to get the required support from MPs and MEPs.
However shadow education secretary Angela Rayner is the only one so far to secure the required support from affiliates/unions to secure her place on the ballot.
Ms Rayner - who was a care worker and Unison official before becoming an MP - has also received the endorsement of her flat-mate and friend Mrs Long-Bailey.
Scotland's only remaining Labour MP, Ian Murray, got the second most nominations with 34, followed by shadow equalities minister Dawn Butler on 29.
Tooting MP Rosena Allin-Khan got 23 nominations, while shadow justice secretary Richard Burgon - a loyal supporter of Mr Corbyn who has pledged to continue the current leader's policy agenda - reached 22 shortly before nominations closed.
What is the timetable?
Who can run?
Candidates for leader and deputy leader have to be MPs, and they required nominations from 10% of Labour MPs and MEPs to get onto the ballot.
In a new rule, candidates also need nominations from 5% of Labour's constituency parties.
Alternatively, they need nominations from three affiliated bodies, two of which must be trades unions, adding up to 5% of affiliated members.
Who can vote?
Members of the Labour Party, affiliated trades unions (if they opt in), and socialist societies such as the Fabians, all get one vote each.
Those who joined the party or become affiliated supporters before 20 January will be eligible to vote.
Registered supporters - who are not full party members - had 48 hours from 14-16 January to secure a vote by paying £25.
How does the vote work?
The votes are cast on a one-member, one-vote basis.
Voters fill in a preferential ballot, meaning they rank the candidates in order of preference.
If any candidate gets more than half the first preference votes, they win.
If not, the candidate with the fewest votes is eliminated, and their second preference votes are redistributed.
If that results in any candidate with more than half the votes, they win. If not, the remaining candidate with the fewest votes is eliminated and their votes redistributed, until the contest produces a winner.
Who controls the process?
Labour's National Executive Committee has 39 members, representing the trades unions, the shadow cabinet, Labour's elected representatives at local, national and European level, and constituency parties.
Supporters of Jeremy Corbyn and the grassroots campaign group Momentum are strongly represented on the NEC, and they are likely to use their influence to promote a left-wing candidate in the coming election.