Labour leadership contenders: Sir Keir Starmer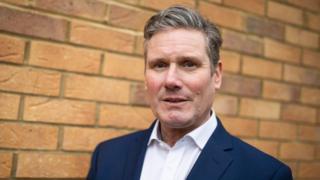 Sir Keir Starmer has been at the heart of Labour's front bench during the tumultuous years of debate over Brexit.
Now, the shadow Brexit secretary is running to replace Jeremy Corbyn and lead from the despatch box.
So, what do we know about the candidate?
Personal life
Sir Keir was born in 1962 in Southwark, London, to his parents Rod - a toolmaker, and Josephine - a nurse.
Named after Labour's first MP, Keir Hardie, he was one of four children and the first to pass the 11-plus, getting him a place at Reigate Grammar School.
From there, he went on to study law at the University of Leeds, graduating with a first in 1985, before moving onto post-graduate qualifications at St Edmund Hall, Oxford.
He married solicitor Victoria Alexander in 2007 and the couple have two children.
Before Parliament
After graduating from Oxford in 1986, Sir Keir became a barrister at Middle Temple and soon began focusing on human rights law.
He worked on legal battles to get rid of the death penalty in the Caribbean and Africa, and served as human rights adviser to the Northern Ireland Policing Board.
He was also part of the legal team in the so-called McLibel case, defending activists Helen Steel and David Morris over a factsheet they had written about fast food chain McDonald's.
In 2008, Sir Keir was named the new head of the Crown Prosecution Service and Director of Public Prosecutions.
During this time, he dealt with a number of high-profile cases, most notably bringing the prosecution against two men accused of murdering 18-year-old Stephen Lawrence. Gary Dobson and David Norris were found guilty in early 2012.
Sir Keir stood down as DPP in 2013, and was awarded his knighthood in 2014 for services to law and criminal justice.
In December that year, he was confirmed as Labour's prospective parliamentary candidate for Holborn and St Pancras, London, to replace the retiring Frank Dobson.
In Parliament
Sir Keir won the seat in the 2015 election with a majority of more than 17,000.
He backed the now-Mayor of Greater Manchester, Andy Burnham, to become leader of the Labour Party in the aftermath of the election, but it was Jeremy Corbyn who won the race.
Mr Corbyn appointed him as a shadow Home Office minister, but in 2016, Sir Keir quit the role, joining a number of frontbenchers resigning in protest.
But Sir Keir rejoined the shadow cabinet later that year - this time as shadow Brexit secretary - and arguments around leaving the EU have occupied his time in Parliament ever since.
He backed remaining in the EU, and focused his efforts on pushing for transparency from the government around the whole process.
He campaigned for Theresa May to make her Brexit plans public before she started negotiations - a fight he won - and set out Labour's "six tests" for what a deal acceptable to his benches would look like.
However, he also said publicly that another referendum should remain an option, and that if it happened, he would campaign to stay in the EU.
Some believe he was the driving force behind Labour's change in position ahead of the 2019 election, promising a second vote.
After the party suffered its worst election defeat since the 1930s, Sir Keir said he had accepted the UK would leave on 31 January.
Now, he says he will campaign for a close trade deal with the EU, with protections for workers' rights, the environment, consumer standards and jobs.
The pitch
Sir Keir announced he was standing for the leadership in an article for the Sunday Mirror, saying Labour needed to "rebuild fast" to restore trust in the party.
"We cannot bury our head in the sand," he wrote. "The millions of people who needed change at the last election still need change. The moral fight against poverty, inequality and injustice must continue."
However, Sir Keir said Labour could not "lose sight of our values or retreat from the radicalism of the past few years".
He also released a video on Twitter, showing the number of unions he had defended as a lawyer, and securing the backing of Baroness Doreen Lawrence - the mother of Stephen.
Sir Keir was the first candidate in the race to get enough nominations to make it onto the ballot paper, and the UK's biggest union, Unison, has pledged its support to him.