Huawei: Pompeo urges UK to 'relook' at decision ahead of UK visit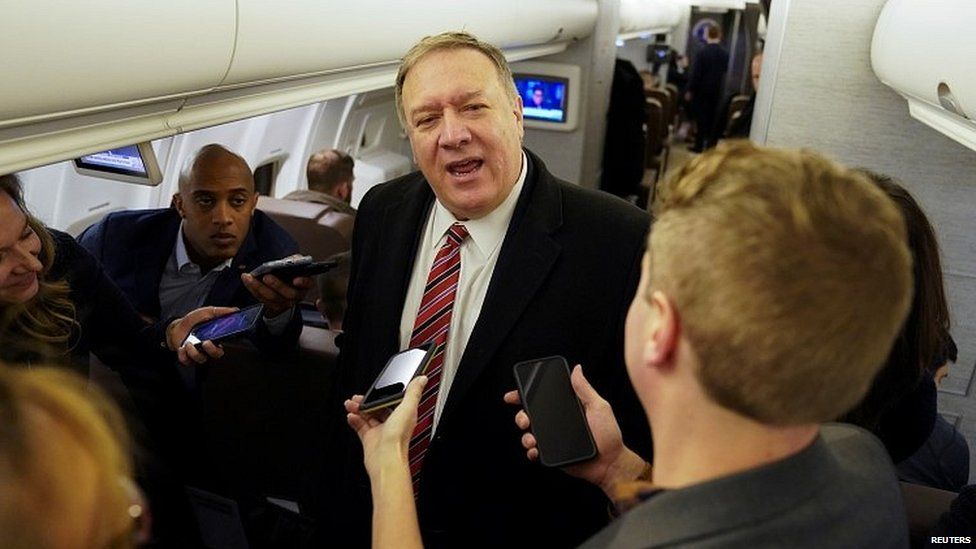 US Secretary of State Mike Pompeo has urged the UK to reconsider allowing Huawei to have a role in its 5G system, ahead of talks with Boris Johnson.
He told reporters the UK had a chance to "relook" at the decision, stressing the US needed to be sure its allies had "trusted" information networks.
The US believes the Chinese firm's equipment poses a spying risk.
But Culture Secretary Baroness Morgan said it "in no way" affects the ability of the UK to share classified data.
Ahead of his meeting with the PM, Mr Pompeo held talks with his UK counterpart, Dominic Raab, on Wednesday evening.
Mr Dunn, 19, died after a crash in Northamptonshire in August, which led to suspect Ms Sacoolas leaving for the US under diplomatic immunity.
The US had repeatedly warned that giving Huawei a role in 5G could allow the Chinese government a "back door" into the telecoms network through which they could carry out espionage or cyber attacks.
Ahead of his arrival in London, Mr Pompeo told reporters the US wanted to "work with" the UK following the National Security Council's decision to give Huawei a role in spite of those warnings.
"We were urging them (the UK) to make a decision that was different than the one they made and we'll have a conversation about how to proceed," he said.
"There is also a chance for the UK to relook at this as implementation moves forward, and then it's important for everyone to know there is also real work being done by lots of private companies inside the US and in Europe to make sure that there are true competitors to Huawei."
He added: "We will make sure that when American information passes across a network we are confident that that network is a trusted one."
The UK has insisted the firm will be barred from sensitive locations, such as nuclear sites and military bases and its share of the market will be capped at 35%.
Baroness Morgan also told BBC Breakfast the UK had expertise is mitigating risks when using Huawei's technology, as it was already part of existing 4G networks - unlike in the US.
She said: "We want to see the roll-out of 5G... for the growth of our economy and productivity, but in making this decision, we have been very clear we will not compromise on national security.
"We obviously had a number of conversations with the US [who] have made their views clear. But we have got that expertise, we have had that oversight of Huawei... which gives our agencies the ability to give the assurance that having them involved in the periphery of the network does not present the security challenge I think others have worried about."
The UK's decision also faced a criticism from some senior Conservative MPs after Mr Raab made a statement about it in the Commons.
Tom Tugendhat, former chair of the Foreign Affairs Select Committee, tweeted that the government's "statement leaves many concerns and does not close the UK's networks to a frequently malign international actor".
But Defence Secretary Ben Wallace downplayed such concerns, telling the BBC the UK should not be "paranoid" that the decision would lead to "Big Brother from China watching us".
Asked about how the US might react Mr Wallace said: "I don't know how they'll react... they've made their concerns clear.
"We understand that - we respect that, we've given them lots of assurances that the intelligence they share and how they share it."
'Pervasive espionage' claim
A series of US congressional figures called on the UK to reconsider, saying the decision could be an obstacle to a post-Brexit trade deal between the US and UK, as well as raising questions over security co-operation.
Senator Tom Cotton, a Republican member of the Senate intelligence committee, called for a "thorough review" of intelligence sharing with the UK.
"I fear London has freed itself from Brussels only to cede sovereignty to Beijing," he said.
The decision gave China a foothold to carry out "pervasive espionage" on the UK and gave it "increased economic and political leverage", he said.
Senator Lindsey Graham, a Republican who is one of the president's most committed defenders, said he was "very concerned" and urged the UK to think again.
"This decision has the potential to jeopardise US-UK intelligence sharing agreements and could greatly complicate a US-UK free trade agreement," he tweeted.