Michel Barnier: Serious issues remain over trade deal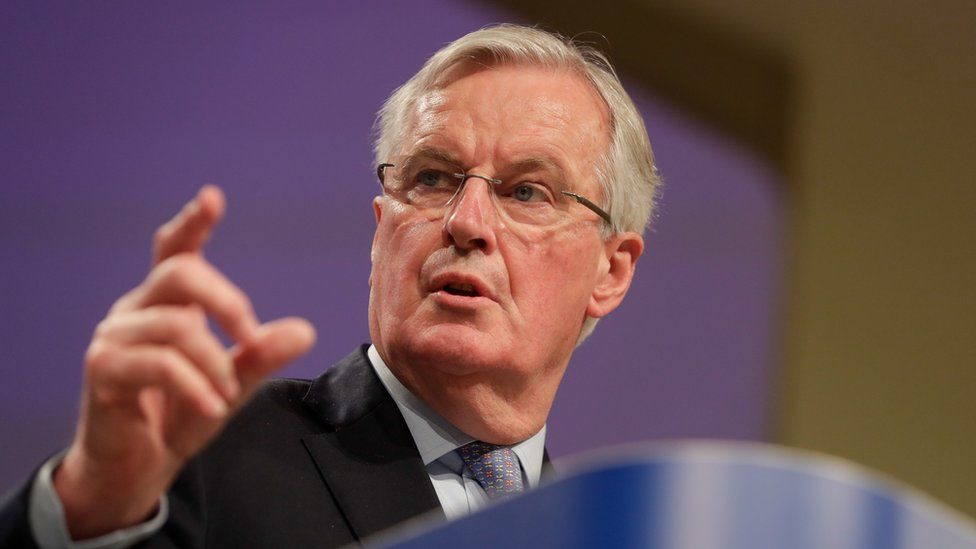 There remain "serious" differences between the UK and EU after the first round of trade talks, the bloc's chief negotiator has said.
Michel Barnier said "very difficult" areas needed to be resolved, but a "good agreement for both sides" remained possible.
He said there were disagreements over competition rules, police co-operation, and how a deal would be enforced.
Mr Barnier also dismissed UK proposals on fishing as "impractical".
A UK government spokesperson said there were "significant differences" between the two sides in some areas, but talks had been "constructive".
"These are going to be tough negotiations - this is just the first round," they added. "We now have a good idea where both parties are coming from."
Speaking to reporters in Brussels at the end of this week's first round of trade negotiations, Mr Barnier said points of difference had "come as no surprise".
Talks will move to London later this month for the second round. Both sides set out their respective positions in opposing strategy documents last month.
The UK has warned it will walk away from trade talks in June, when both sides are due to review progress, unless there is a "broad outline" of a deal.
More than 100 British negotiators are heading home from Brussels after the first week of talks with the EU over the future relationship with the UK.
The two sides sound quite positive and appear to agree on some technicalities in areas like transport and energy.
But there are some big disagreements about some big things.
The post-Brexit transition period, under which the UK will continue to follow EU rules, will end in December and Prime Minister Boris Johnson has vowed not to extend it.
Mr Barnier warned the UK against under-estimating the challenges posed by the end of the transition, which he said would be "very different" to those which accompanied the UK's exit from the bloc at the end of January.
Reaching a deal over fishing is likely to prove an early flashpoint in trade talks, with both sides having pledged to find a solution before July.
The EU wants to "uphold" existing access to British waters for vessels from member states, to avoid "economic dislocation" for their fishermen.
Mr Barnier said an alternative UK proposal to hold annual talks over access to its waters, as the EU does with Norway, was "totally impractical".
"There's a hundred species or so. What we can do with Norway on five species simply isn't possible for 100 species," he added.
Mr Barnier also said the first round of talks had revealed differences between the two sides over law-enforcement matters, where both sides are seeking a deal.
He said a UK demand to pull out of the European Court of Human Rights and rejection of a role for the EU's top court over individual rights would have an "immediate impact" on the depth of co-operation that would be possible.
He also said a "question of trust" remained over the UK's pledge to ensure fair and open competition, another area of contention in the talks.
He added that the UK had committed to respecting high regulatory standards, but had resisted "appropriate mechanisms" to enforce them.
The EU wants the UK to sign up to strict competition rules, and to "ensure the application" in the UK of EU state-aid rules on subsidies for business.
Mr Johnson has rejected this approach, saying there is "no need" for a free trade deal to tie the UK to the bloc's rules on subsidies or other areas such as competition policy, environmental rules or social protection.
After the conclusion of talks on Thursday, a UK government spokesman said its team had "made clear" the UK would "regain our legal and economic independence - and that the future relationship must reflect that fact."