Coronavirus: Parliament shuts down for a month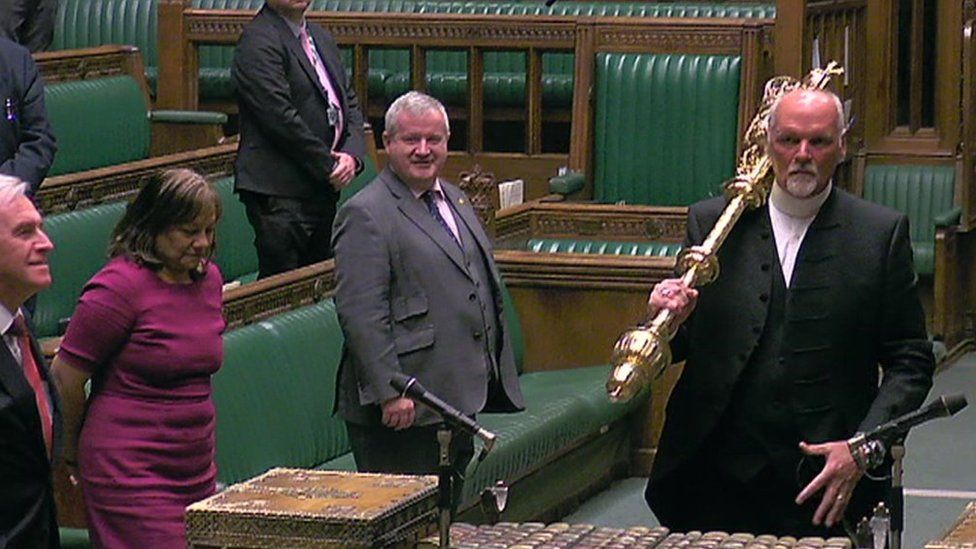 Parliament has shut down until 21 April at the earliest to combat the spread of coronavirus.
Emergency laws to deal with the pandemic have been rushed through both Houses and were given Royal Assent earlier on Wednesday.
MPs voted to plan for a managed return to work on Tuesday 21 April, to deal with Budget legislation.
The House of Commons had been due to break for Easter next week but concerns were raised about spreading the virus.
The Scottish Parliament chamber was shut down on Tuesday but MSPs will return on 1 April in order to consider emergency coronavirus legislation.
And in the Welsh Assembly, full sessions will be replaced by "emergency Senedd" meetings during the coronavirus crisis and will include fewer members.
Announcing the extended Commons recess, Speaker Sir Lindsay Hoyle said: "Before the House adjourns, can I just say - I wish every member well, your families, and once again to reiterate, that the staff in this House have done a fantastic job."
He said work was under way to give MPs the technology they need to stay connected during the break, including the possibility of "virtual parliament and virtual select committees".
Writing in The House magazine, Sir Lindsay said: "I hope that when this historic crisis passes and we return to business as usual, we will come back stronger, wiser - and more agile with new and better ways of working."
The Speaker had been urging MPs to sit further apart while attending the chamber, as well as introducing a staggered voting system to ensure MPs kept a safe distance from each other.
Speaking earlier, Commons leader Jacob Rees-Mogg said he was grateful MPs, peers and staff had worked to complete the emergency legislation.
He told MPs the "aim" was for them to return to work on 21 April, but added that he would "keep the situation under review in terms of medical advice".
Legislation giving the government new emergency powers to combat the spread of the disease and to release funds to deal with the crisis cleared all stages in Parliament on Wednesday, and has now become law.
Deputy Speaker Eleanor Laing announced that the Coronavirus Act 2020 and the Contingencies Fund Act 2020 had been granted Royal Assent.
Earlier, Sir Lindsay doubled the length of Prime Minister's Questions to an hour, to allow for debate on the coronavirus emergency and ensure social distancing on the green benches.
MPs asking questions in the first half of the session filed out of the chamber to make way for the remainder of the MPs who wanted to put questions to Prime Minister Boris Johnson.
It was Jeremy Corbyn's final PMQs as Leader of the Opposition. He will stand down as leader of the Labour party on 4 April.
Mr Corbyn urged Mr Johnson to make himself "available for scrutiny" during the parliamentary recess adding "we represent people who are desperately worried about their health and their economic well being".
Mr Johnson promised to work with the Commons Speaker to ensure Parliament is kept informed.
Leader of the House of Lords Baroness Evans told peers they would also break early for Easter on Wednesday evening.
She said that after the recess, peers would only sit three days a week on Tuesdays, Wednesdays and Thursdays until the VE Day long weekend in May.
She added that "sensible adjustments" needed to be made to working conditions and sought to assure members that senior officials were working with the Parliamentary Digital Service to develop "effective remote collaboration and video conferencing".
The Cabinet are expected to continue to meet via video conferencing.
BBC political editor Laura Kuenssberg said Westminster had been considered one of the hotspots of the disease and a fair few MPs had been in self-isolation with symptoms.
MPs could return on 21 April to pass Budget legislation, but then be asked to vote to suspend the Commons again - although nothing is finalised.
While the House of Commons is on recess, MPs will still be able to respond to and help their constituents.
Labour MP Chris Bryant criticised the timing of the decision to close Parliament, arguing: "It must be wrong that Parliament is suspended before the government has a proper package in place for the self employed."
Another Labour MP, David Lammy, agreed and said: "The government should announce a solution today. We cannot leave anyone behind."
And their party colleague Barry Sheerman called for "new ways of maintaining proper scrutiny of the government".