Coronavirus: Labour urges PM to stop 'winging it' over easing restrictions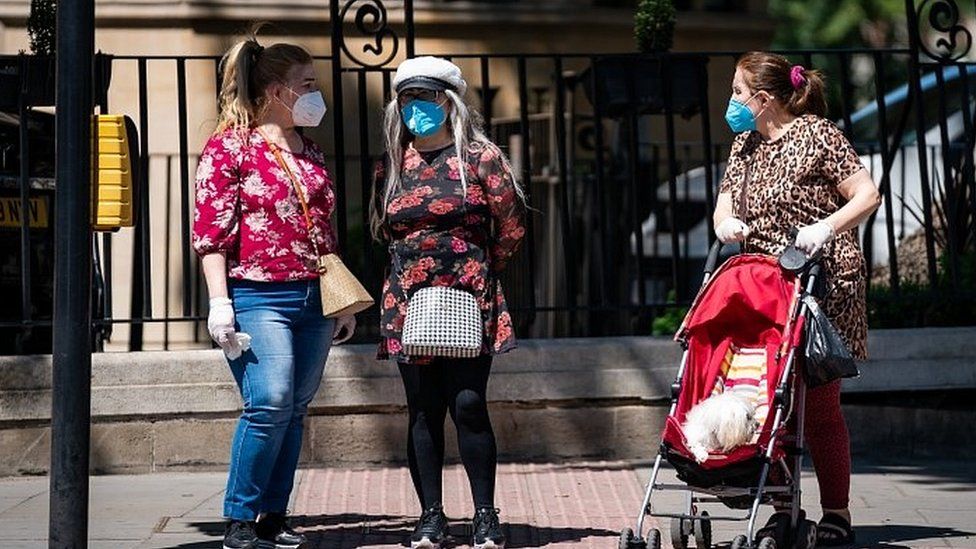 Boris Johnson's "mismanagement" of the easing of virus restrictions risks a second wave of infections, Labour leader Sir Keir Starmer has warned.
In a Guardian interview, he urged the PM to "get a grip" and restore public confidence in ministers' handling of the coronavirus pandemic.
But No 10 said it was proceeding with caution to secure a safe recovery.
It comes as the government is to outline further details of its quarantine plans later.
Home Secretary Priti Patel is to tell MPs that the proposals - which have been met with criticism from many Conservative MPs - are necessary to avoid the risk of another wave of coronavirus infections.
From Monday, the majority of those arriving in the UK will be told to self-isolate for 14 days.
But Portugal's foreign minister has told the BBC that his government is talking to Home Office officials about a so-called "air bridge" agreement so that tourists returning from his country can avoid the restrictions.
Health minister Edward Argar said he hopes people will be able to go on holiday this year but cautioned "I'm not going to say a particular date on when that might happen".
"We will have to be guided by how the disease behaves, controlling any risk of a second wave and controlling the disease," he told BBC Breakfast.
In the Guardian, the Labour leader also said there was a growing concern that Mr Johnson was now "winging it" over moves to reopen schools and relax shielding advice.
Echoing Sir Keir's criticism of the government, shadow Cabinet Office minister Rachel Reeves told BBC Radio 4's Today programme: "We have seen an exit from the lockdown with no strategy to make it work."
The Labour MP said the easing of lockdown restrictions was "the time of maximum danger" and that the party was calling for an "effective" test, trace and isolate strategy, "fast access to testing" and "clear" public messaging.
In one of his first acts as Labour leader, Sir Keir Starmer announced he would not indulge in opposition for opposition's sake.
This was seen as a decisive break from his own party's recent past.
But now he wants to create more distance between the government and the opposition.
Some say they have noted a more hostile, less consensual tone towards Boris Johnson from Sir Keir.
But, in truth, Sir Keir's stated policy of "constructive criticism" has already tended to emphasise the latter of those two words at Prime Minister's Questions.
And his approach today has much in common with his approach before - to put down a marker in case things go wrong.
The Labour leader is determined to stay one step ahead of the government.
So, by raising questions now over the easing of lockdown while doubts remain about the alert level and the efficacy of the track and trace system, he is positioning the party to distance itself further from the government's approach if the R number goes up.
Former health secretary Jeremy Hunt has stressed the importance of a "functioning" test and trace system, which he suggested could be used in place of quarantine measures.
Speaking on the Today programme, Mr Hunt highlighted comments by Professor John Newton, the national testing co-ordinator, who said contact tracing for travellers arriving in the UK could be used instead of quarantine rules.
"If you know that you are going to track down anyone that comes from abroad and isolate them really quickly, then you don't need to have a blanket quarantine measure that stops people going on holiday or doing business trips," Mr Hunt, the chairman of the Commons Health and Social Care Committee, said.
He added that turning around coronavirus test results within 24 hours was "absolutely essential" for an effective test and trace system.
"If the test results themselves take 48 hours to come back, that is going to be impossible," he said.
Sir Keir said while Labour wanted to see society re-open and businesses begin to get back on their feet, he had deep misgivings about the approach in England, compared with that in Wales and Scotland.
He said children had returned to schools before the system for identifying new cases and tracing their contacts was fully up and running.
He also complained that public health officials had been given no notice of the changes to shielding advice for the most vulnerable - which was announced a month before a review had been due to take place.
"After a week or more of mismanagement, I'm deeply concerned the government has made a difficult situation 10 times worse," he said. "We've called for an exit strategy. What we appear to have got is an exit without a strategy."
He warned that trust in the government had been "burnt" at a crucial time by the controversy surrounding the PM's chief adviser Dominic Cummings and whether he broke the lockdown rules.
"Like many people across the country, there is a growing concern the government is now winging it," Sir Keir said.
"At precisely the time when there should have been maximum trust in the government, confidence has collapsed.
"I am putting the prime minister on notice that he has got to get a grip and restore public confidence in the government's handling of the epidemic.
"If we see a sharp rise in the R rate, the infection rate, or a swathe of local lockdowns, responsibility for that falls squarely at the door of No 10."
A Downing Street spokesman said its focus was on "helping the country recover safely from coronavirus and restoring the livelihoods of millions of people across the country".
"Now is the time to look to the future and not the past, as we continue to fight this virus while taking cautious steps to ease restrictions. The PM looks forward to hearing any concrete proposals Labour has to offer."
The BBC understands the PM has established two new cabinet committees to support the next phase of the Covid response - one overseeing the strategy for the recovery and the other the delivery of policy.