Brexit: Boris Johnson to hold crunch EU-UK meeting next week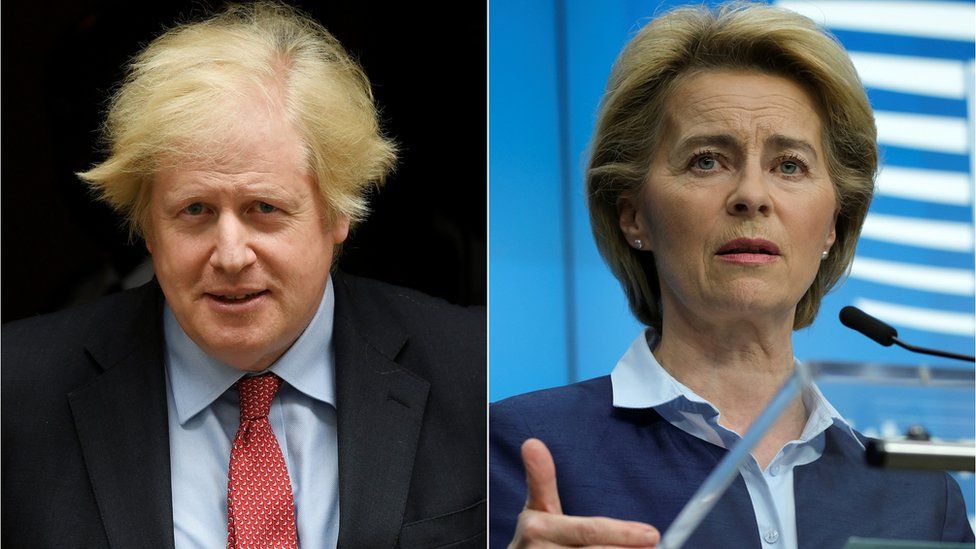 Boris Johnson will hold post-Brexit trade talks with EU Commission President Ursula von der Leyen via video link on Monday next week.
The UK and EU have said no major progress has been made towards a deal after four rounds of talks this year.
Both sides were due to decide by the end of June whether the current deadline for negotiating a deal should be extended beyond the end of December.
On Friday, the UK formally confirmed it will not extend the transition period.
Cabinet Office minister Michael Gove said in a tweet that he had chaired a meeting with the EU Commission's Maros Sefcovic in which he said the "moment for extension has now passed".
"On 1 January 2021 we will take back control and regain our political and economic independence," he added.
A UK government spokesman said both sides had also agreed an "intensified" schedule of weekly talks throughout the month of July.
This will involve a mix of formal negotiating rounds and smaller group meetings in London and Brussels, if coronavirus guidelines allow, he added.
European Council President Charles Michel and European Parliament President David-Maria Sassoli will also take part in the video call on Monday.
Mrs von der Leyen said she was "looking forward" to the meeting, while UK chief negotiator David Frost said he was "very pleased" an "intensified talks process" had been agreed.
But he said the government's policy on not extending the transition period - during which the UK stays in the single market and customs union - "remains valid".
Earlier, Cabinet Office minister Michael Gove told the Commons the UK will "under no circumstances" accept an extension to the transition period.
He said the EU's Chief Negotiator Michel Barnier had indicated progress can be made on issues including fisheries and state aid. but some EU member states had been a "little more reluctant".
"I think it would be in everyone's interests, EU member states, the Commission, and of course the UK government, if Michel Barnier were able to use the flexibility that he has deployed in the past in order to secure an arrangement that would work in everyone's interests," he told MPs.
It comes after Mr Barnier said there had been "no significant areas of progress" at last week's negotiating round.
Likewise his UK counterpart Mr Frost said progress "remains limited," and negotiators were "reaching the limits" of what could be achieved in formal talks.
Differences between the two sides remain on fisheries, competition rules, police co-operation, and how a deal would be enforced.
Speaking after his meeting with Michael Gove, Maros Sefcovic said it would be "extremely useful" if the UK could provide technical clarifications on customs IT systems at Northern Ireland ports by the end of June.
He added that he wanted to have "the specialised committee meetings organised in the course of summer so we can, I would say, bring the momentum into these discussions".
He added: "We can also proceed with important conclusions in early September because time is really pressing and the clock is ticking, and I think we need tangible results in that process."