Coronavirus: Marcus Rashford urges U-turn on school meal scheme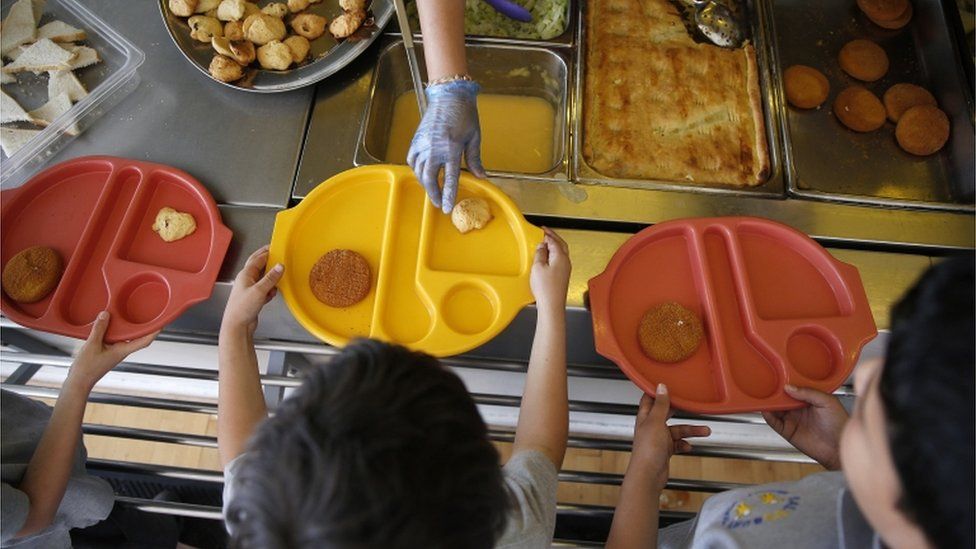 Marcus Rashford has renewed his calls for the school meal voucher scheme to be extended in England.
The footballer asked others to think about struggling parents who have had their "water turned off" in lockdown, and whose children have gone hungry.
Work and Pensions Secretary Therese Coffey has been criticised for replying that "water cannot be disconnected".
The Manchester United forward, 22, urged MPs to "put rivalries aside" in a Parliament debate on the subject later.
Labour described Ms Coffey's comment as "snarky" while the former leader of the Scottish Conservatives questioned why the government has not yet U-turned on the plans.
Families whose children qualify for free meals have received vouchers or parcels in lockdown.
While provision is to continue through the summer in Scotland and Wales, it will stop at the end of term in England and Northern Ireland.
Official figures for 2019 showed the need was greatest in parts of London, the north and Midlands where between a quarter and a third of all pupils were getting the free meals.
When Ms Coffey replied to Mr Rashford's Twitter thread on the scheme, he said he was "concerned" she had only acknowledged his tweet about water being turned off.
He urged her to help "make a difference".
Labour deputy leader Angela Rayner tweeted: "We often couldn't afford hot water when I was growing up, I don't know if you've ever experienced poverty and being unable to pay the bills but as Secretary of State for Work and Pensions I would have expected better from you."
Ruth Davidson, an MSP and the former leader of the Scottish Conservatives, said she was "baffled" that the government had not already backtracked on the plans.
"Food security during the holidays so important. It's basic. Feed the kids," she said on Twitter.
The government says £63m is available to councils to help families.
In an emotional open letter to MPs posted on Monday, Mr Rashford drew on his own experience of relying on free school meals and food banks growing up.
Mr Rashford, who grew up in Manchester, said his story was "all too familiar for families in England".
'My teenage boys are bottomless hunger pits'
Jane Keen-Smith, a mother of four boys and a self-employed hairdresser, has seen her livelihood collapse during the lockdown.
Underlying health conditions in the family - one son is severely disabled - mean she will be unable to work even once hairdressers are allowed to return next month.
She told the BBC the £60 vouchers she receives each week make a "massive difference", saying the family will be "stuck" when they stop and she has no income.
The mother from Pershore, Worcestershire, said she has had some help from friends and family - but teenage boys are "bottomless hunger pits" and her budget is extremely tight.
"We're basically struggling with everything", she said, adding that having the vouchers over the summer would be "a huge help".
During the Commons debate on the issue later, Labour will say it would be "callous" not to take what it will call a "small step".
Labour leader Sir Keir Starmer said on Twitter that Conservatives have an opportunity to "do the right thing" to make sure "children don't go hungry this summer".
But Transport Secretary Grant Shapps insisted the government is "not turning a blind eye" to child poverty during the crisis, and defended its decision not to extend the voucher scheme.
He told BBC Breakfast the government had been "wrapping its arms around people in communities" to do "everything it possibly can" to support them, including the £20bn spent on its furlough scheme and payments to local government bodies.
He said No 10 had given an extra £63m to local authorities to help children during the pandemic, as well as a £129m investment "that's already gone to families and schools as part of the process of helping children".
1. When you wake up this morning and run your shower, take a second to think about parents who have had their water turned off during lockdown #maketheuturn

— Marcus Rashford (@MarcusRashford) June 16, 2020
2. When you turn on your kettle to make a cup of tea or coffee think of those parents who have had to default on electricity bill payments just to make ends meet having lost their jobs during the pandemic#maketheuturn

— Marcus Rashford (@MarcusRashford) June 16, 2020
3. And when you head to the fridge to grab the milk, stop and recognise that parents of at least 200,000 children across the country this morning are waking up to empty shelving #maketheuturn

— Marcus Rashford (@MarcusRashford) June 16, 2020
4. Recognise children around the country are this morning innocently questioning 'why?'

9 out of 30 children in any given classroom are today asking 'why?'

'Why does our future not matter?' #maketheuturn

— Marcus Rashford (@MarcusRashford) June 16, 2020
Shadow education secretary Ms Long-Bailey said it was "only right" for the government to continue the scheme over the summer, so children don't go hungry and are in a position to start "learning properly" in September.
Speaking on BBC Breakfast, she asked ministers to "just continue the free school meal voucher programme" and pointing to Scotland and Wales, added: "They are going to do this over the summer holidays for their children, so why can't the government in England do the same?"
Last week, three Conservative MPs signed a cross-party letter calling for an extension of the scheme - worth £15 for each child per week in England - into the summer holidays in England.
David Simmonds, the Conservative MP and a member of the education select committee, said Mr Rashford's letter was "incredibly powerful" but the free school meals scheme, although "popular", is a "very blunt instrument" and it doesn't always get to the most vulnerable children.
Citing figures from the Local Government Association that show a £3bn shortfall in the children's social care sector, he told BBC Radio 4's Today programme that pressure is "building" in the system and that there has been a "massive increase" in the number of children coming into care whose needs "must come first".
He said the government needed to address the "significant pressure" on the system "so the most vulnerable children in this country - of whom there are tens of thousands - are not left behind".
He told BBC Newsnight: "He shouldn't really be the one having to do this, but... he's doing a great job."
The former England striker said he understood "kids wouldn't ordinarily be fed during the summer holidays", but these are "very difficult times".
Conservative MPs will have a chance to register their unease during the Commons debate, said Newsnight's Nicholas Watt.
One Tory backbencher forecast an eventual government U-turn, he added.
Ministers, who say free school meals are not usually continued into the summer holidays, are planning to amend the Labour motion to highlight the steps the government has taken to help pupils from poorer backgrounds.
This includes the £63m for local authorities to help people struggling financially as a result of coronavirus and the Holiday Activities and Food programme, which offers activities and free meals in the summer.
Please include a contact number if you are willing to speak to a BBC journalist.