UK imposes sanctions against human rights abusers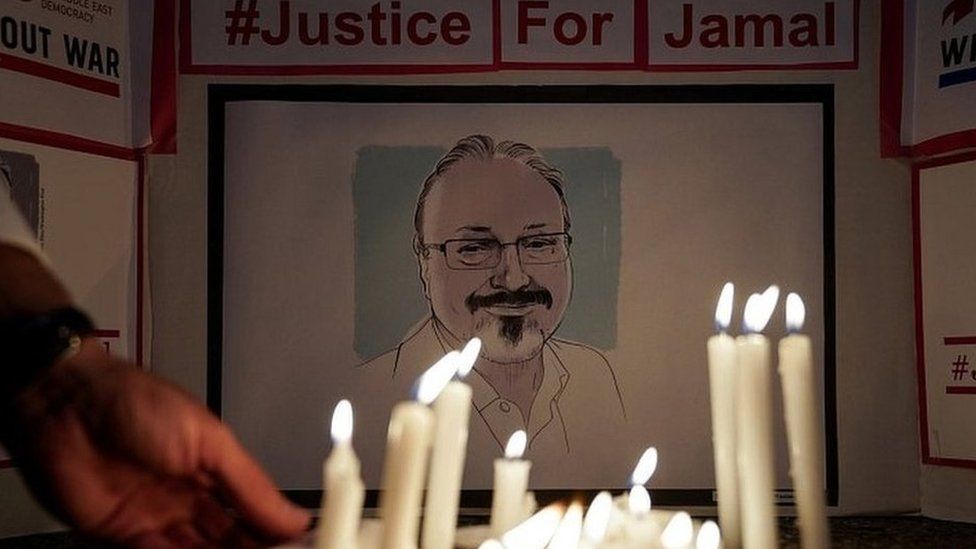 The UK is imposing sanctions on 49 people and organisations behind the most "notorious" human rights abuses of recent years.
Individuals implicated in the death of Russian lawyer Sergei Magnitsky in 2009 will have their UK assets frozen and banned from entering the country.
And Saudi Arabian officials involved in the 2018 murder of journalist Jamal Khashoggi are also being targeted.
Foreign Secretary Dominic Raab said the move sent a "clear message".
Speaking in the Commons, the foreign secretary said the UK was taking action against the "thugs of despots and henchmen of dictators" as well as stopping those trying to launder their "blood-drenched ill-gotten gains".
Russia has threatened to retaliate with reciprocal measures and said the sanctions were "pointless".
"Russia reserves the right to respond to today's unfriendly decision by the UK on the basis of reciprocity," the Russian embassy in London said in a statement, adding that the move "will not improve Russian-British relations".
Those individuals and organisations subject to immediate sanctions are:
25 Russian nationals involved in the mistreatment and death of lawyer Sergei Magnitsky, who uncovered widespread corruption by a group of Russian tax and police officials
20 Saudi nationals involved in the death of journalist Jamal Khashoggi in the Saudi consulate in Istanbul
Two high-ranking Myanmar military generals involved in the systematic and brutal violence against the Rohingya people and other ethnic minorities
Two organisations involved in forced labour, torture and murder in North Korea's gulags
Mr Raab said those targeted had been involved in extra-judicial killings, including political assassinations, torture, degrading treatment, forced labour and servitude.
Those on the list, which includes a former minister in the Russian interior department and the former deputy head of the Saudi intelligence services, will be stopped from entering the UK, channelling money into the country or profiting from the British economy, through property or other assets they own.
"Today this government and this house sends a very clear message on behalf of the British people that those with blood on their hands, the thugs of despots, the henchman of dictators will not be free to waltz into this country," Mr Raab told Parliament.
"The powers enable us to target a wider network of perpetrators including those who facilitate, incite, promote or support any of these crimes and this extends beyond state officials to non-state actors as well."
The UK's new sanctions' regime is significant. It marks the first time Britain has had its own independent scheme focused entirely on tackling human rights abuses.
Until now, it has almost always had to act in concert with the EU. The government wants the UK to be seen as a leading defender of international rules and human rights. These sanctions are a central part of that policy.
One key test will be whether it can get support from other countries. The United States and Canada have similar schemes, the EU is working on its own version. Sanctions are always more powerful if imposed collectively.
What was announced today was merely the first wave of UK sanctions. More are to come and MPs are keen to see some Chinese names on the list.
The sanctions may well come at a cost to trade and investment if countries object to seeing their nationals targeted.
What is also unclear is how effective they will be in actually deterring human rights abuses. Many of those 47 individuals and two organisations named in the first listing are already subject to US sanctions.
We don't know what assets they actually have in London or how often they have come to the UK. But London is a hub of international travel and finance, and officials hope the restrictions will have an impact in the long term.
Mr Raab told the BBC the list would be kept under "constant review", and the government was "working already on the on further designations that can be made in due course".
Asked about if it could damage the UK's trading relationship with Saudi Arabia, the foreign secretary said it was "a matter of moral duty", adding: "We can't turn a blind eye to gross violations of human rights.
"We will apply these designations in the countries which we've designated today… for countries where we have a relationship, whether it's an ally or other countries that we need to engage with, because that's the world we live in."
But asked if he was avoiding another clash with China by excluding them for the list, Mr Raab said: "It's pretty clear… that we are willing to stand up for our vital national interests. But the regime that we have set out is evidence based.
"If we want a positive relationship with China… the real issue here is one of trust and whether China can be trusted to live up to its international obligations, and its international responsibilities.
Sergei Magnitsky: '10 year campaign'
Many MPs have long been pushing for a tougher domestic sanctions regime against foreign states accused of human rights abuses, based on the 2013 US Magnitsky Act.
Magnitsky, a Moscow lawyer and auditor, died in police custody after accusing Russian tax officials of defrauding Hermitage Capital Management, a British investment firm he was advising.
Magnitsky spent 11 months in police custody, during which he sustained injuries which human rights campaigners say were consistent with him being beaten and tortured.
His maltreatment has been condemned by the European Court of Human Rights, which found in 2019 that he had been deprived of important medical care and the authorities had not complied with their duty to protect life.
Russian officials subject to sanctions include Aleksey Vasilyevich Anichin, a former interior minister and Oleg Silchenko, a member of the ministry's investigative team who was involved in questioning Magnitsky and who is accused of forced him to retract his allegations of corruption.
Mr Raab said he would be meeting Magnitsky's widow Natalia and two children later on Monday to express the UK's "solidarity" with them and the nightmare they had been through.
Bill Browder, co-founder and chief executive of Hermitage Capital, said the action represented "a huge milestone in our 10 year campaign for justice".
Jamal Khashoggi: 'Brutal murder'
Mr Khashoggi, a prominent critic of the Saudi government, was killed by a team of Saudi agents in what the Saudi authorities described as a "rogue operation" that went wrong.
In December 2019, a court in Saudi Arabia sentenced five people to death and jailed three others but the process was condemned by foreign governments and the UN, which said it represented "the antithesis of justice".
Among those targeted by the UK, include Ahmed Hassan Mohammed Al Asiri, a former deputy head of the Saudi intelligence services and Saud Abdullah Al Qahtani, a former advisor to Crown Prince Mohammad Bin Salman Al Saud, who is said to have "planned and directed the killing".
Also on the list is Salah Muhammed Al Tubaigy, a government doctor present at the time of the killing and a number of intelligence officers also present in Istanbul said to have concealed evidence about the killing.
Labour, which has been critical of the UK's relationship with Saudi Arabia, particularly in relation to the war in Yemen, said it welcomed action against those responsible for the "appalling" murder.
The UK is also taking action against two senior generals in the Myanmar army, over the state's suppression of the minority Muslim Rohingya population in Rakhine state, a campaign of violence in 2017 and 2019 that campaigners have said amounts to attempted genocide.
They are Min Aung Hlaing, Commander in Chief of the Myanmar Armed Forces and his deputy Soe Win, who the UK says carry ultimate responsibility for unlawful killings, torture, forced labour and systematic rape.
The North Korea organisations targeted are the Ministry of State Security Bureau 7 and the Ministry of People's Security Correctional Bureau, which have responsibility for running prison camps.
The Foreign Office said its new sanctions regime, underpinned by legislation passed in 2018, could be extended in future to encompass individuals and governments guilty of corruption.
The UK is required by law to enforce existing EU sanctions it is a party to until the end of the transition period on 1 January 2021. The government has said it will maintain these after that date and also existing UN sanctions.