Priti Patel sets out post-Brexit immigration plan - including health and care visa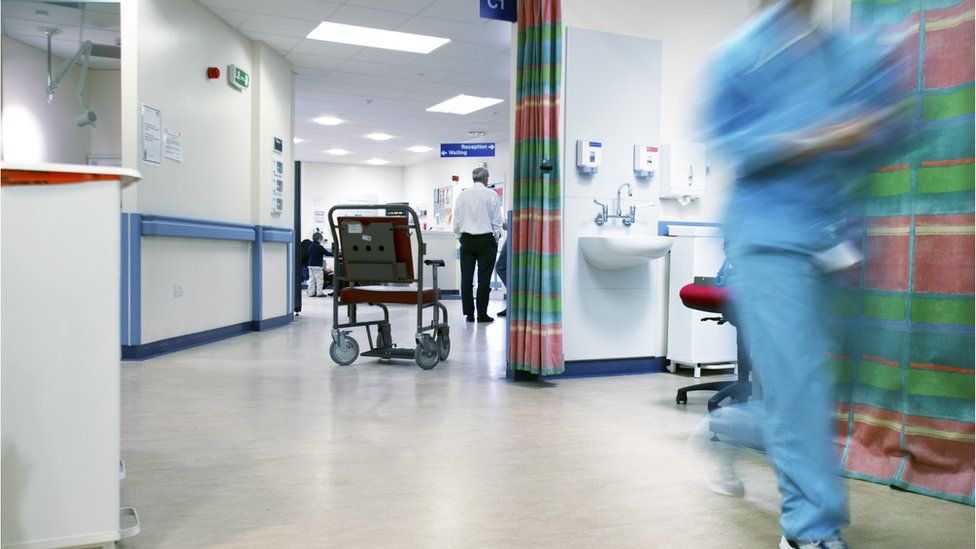 A fast-track health and care visa has been unveiled as part of the UK's plans for a points-based immigration system when freedom of movement with the EU ends in January.
Home Secretary Priti Patel said employers would be encouraged to invest in workers from within the UK.
But the new system, she added, would also allow them to "attract the best and brightest from around the world".
Unions have expressed concerns that the visa will exclude social care workers.
The health and care visa will be open to workers who have a confirmed job offer in one of a series of "skilled" roles within the NHS or care sector - or for NHS service providers, such as doctors, nurses, radiographers, social workers and paramedics.
However, the GMB union, representing NHS staff, described the new rules as an "embarrassing shambles", criticising the exclusion of frontline care home workers and contractors, and pointing out that a minimum salary threshold meant many cleaners, porters and support staff would also not qualify.
The new visa system is set to come into force on New Year's Day, immediately ending freedom of movement with the EU.
Under the government's plans when the Brexit transition period ends, those wishing to live and work in the UK must gain 70 points.
There is a mandatory requirement for visa applicants to have an offer of a job on a list of eligible occupations and speak English - earning them 50 points.
There is a minimum salary requirement of £20,480.
Further Points would be awarded for meeting criteria such as holding a PhD relevant to the job, or earning more than a "general salary threshold" of £25,600.
Those with job offers in "shortage occupations" such as nursing and civil engineering would also be able to earn extra points.
In a written ministerial statement to the House of Commons, Ms Patel said: "At a time where an increased number of people across the UK are looking for work, the new points-based system will encourage employers to invest in the domestic UK workforce, rather than simply relying on labour from abroad.
"But we are also making necessary changes, so it is simpler for employers to attract the best and brightest from around the world to come to the UK to complement the skills we already have."
Labour said it would scrutinise the proposals "very carefully", saying the government had "rushed through immigration legislation with very little detail in the middle of a global pandemic".
One of the biggest arguments for leaving the EU is that it would allow the UK to sets its own immigration policy.
The government's aim is a system that provides flexibility for employers - so the minimum salary threshold starts at just over £20,000 and there's no need to prove that a job couldn't have been offered to someone already living in the country.
But there are restrictions too: the vast majority of vacant positions in the social care sector will not be filled from immigration as these workers are not classed as skilled - and they're not eligible for the rebranded NHS and care workers fast track visa.
In short, care workers won't be able to apply for a visa dedicated to care.
Ministers say immigration can't solve the care sector's problems which, they argue, are down to poor pay and career prospects - making the job unattractive to British workers who could be capable of filling the roles.
The new health and care visa will have a reduced fee. Those applying for it should expect a reply within three weeks, the government said.
Caroline Abrahams at charity Age UK said it was a "care visa in name only. Care will scarcely benefit at all since the vast majority of care workforce roles are ineligible".
The union Unison said the work of the social care sector was in crisis long before the coronavirus pandemic and failing to include care workers was a "disastrous mistake that will make existing problems spiral".
Shadow home secretary Nick Thomas-Symonds said: "To exclude care workers from the health visa is a clear signal that this government does not appreciate the skill and dedication these roles involve... it is yet another insult from this Tory party to those who have been at the frontline of this crisis."
However, the prime minister's official spokesman said the government wanted employers in the sector to invest more in training and development for people already in the UK - including EU citizens - to become care workers, and it had provided additional funding to support it.
"Our independent migration advisers have said that immigration is not the sole answer here," he added.
The home secretary said frontline health workers would not have to pay the Immigration Health Surcharge - the fee of up to £400 a year that most migrants who have not been granted permanent residency in the UK need to pay to receive NHS care.
Ms Patel also said the visa process for students was being refined, with a new graduate route being launched next summer to "help retain the brightest and the best students to contribute to the UK post-study".
International students would be able to stay for a minimum of two years after finishing their studies, she said.
The paper also confirms that foreign criminals who have been jailed for more than a year could be banned from coming to the UK and foreign nationals already in the UK who have been sentenced to a year or more in prison "must be considered for deportation".