Liam Fox: Tory MP out of WTO leader race as field narrows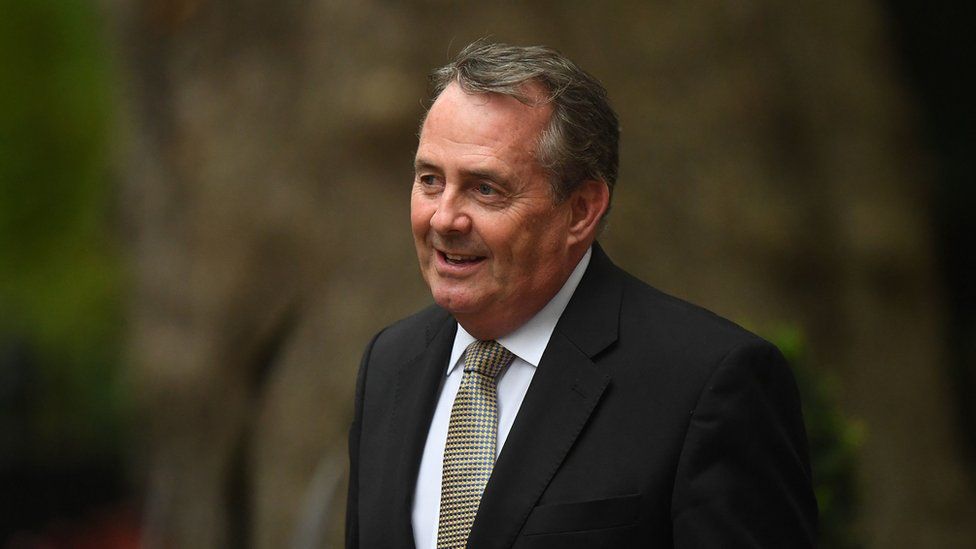 Conservative MP Liam Fox has been knocked out of the contest to become the next director-general of the World Trade Organization.
The ex-cabinet minister was among three candidates who failed to make the final two, as the field narrowed further.
It leaves Nigeria's Ngozi Okonjo-Iweala and South Korea's Yoo Myung-hee vying for the top job at the Geneva-based body.
The winner is expected to be announced next month.
It means the body, where 164 member countries aim to set global trading rules, will have its first female leader since it was established in 1995.
The next director-general will replace Brazilian Roberto Azevedo, who stood down a year earlier than expected at the end of August.
Kenya's candidate Amina Mohamed and Saudi Arabian nominee Mohammad Maziad Al-Tuwaijiri also exited the race on Thursday after failing to secure enough votes.
The contest comes at a crucial time for the WTO, amid a slump in global trade in the wake of the coronavirus pandemic.
The body has recently seen one of its main functions, arbitrating trade disputes, hobbled by a dispute with the United States.
Confirming his departure from the contest, Mr Fox said he was "naturally disappointed not to be continuing further".
In a video statement, he said he would be "returning to Westminster" but would "continue to champion the WTO and the next director-general".
Mr Fox was the UK's international trade secretary under former prime minister Theresa May, but was sacked when Boris Johnson entered Downing Street.
Having been put forward as a UK nominee by Mr Johnson in July, he would have become the first-ever British boss of the WTO if successful.
The UK has been a member of the body since it was founded, but has only sat as an independent member since its departure from the EU in January.
The UK and EU are aiming to negotiate a free trade agreement to come into force before the UK's post-Brexit transition period ends in December.
If they fail, trade between them will default to the standard international set of rules set by the WTO.
If successful, Mrs Okonjo-Iweala, an economist and former Nigerian finance minister, would be the first-ever African leader of the WTO.
Her competitor in the final round, Yoo Myung-hee, currently serves as Korea's trade minister, following a career in trade diplomacy.