Labour anti-Semitism report: Corbyn's suspension exposes old divides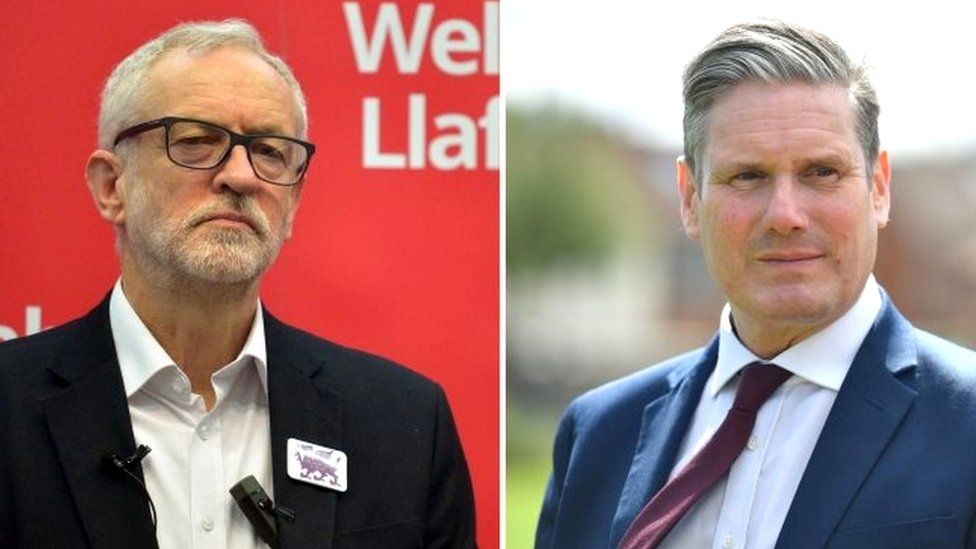 Despite a damning report on the handling of anti-Semitism allegations, Jeremy Corbyn's reaction to 130 pages that describe how Labour let Jewish people down was achingly familiar.
The former Labour leader stated his own anti-racist campaigning credentials, but then claimed that the prevalence of racism against Jewish people inside the party was overstated by those who wished him political harm.
Sir Keir's speech had already been written to include a vow that anyone who claimed the problem was exaggerated would have no place in the Labour Party.
The leadership said it had not seen Mr Corbyn's statement in full at this stage.
It's understood Labour headquarters did then urge the former leader to retract his words, but when that didn't happen, the decision was taken by the party's general secretary, David Evans, that he would have to be suspended and an investigation launched.
Sir Keir was, it's understood, part of the discussion but not, his allies maintain, set on ousting Mr Corbyn.
This seems not to have been a deliberately designed collision between the current party boss and his predecessor.
But this was an explosive political parting of ways, provoked in part by Mr Corbyn's trademark determination not to bend.
This is an attribute admired by many of Mr Corbyn's devotees, a frustration abhorred by his detractors and a sadness to those in Labour who believe it coloured the party's handling of anti-Semitism.
For Sir Keir, today's episode does, perhaps by accident rather than design, prove beyond doubt his slogan - Labour is under new leadership - to be true.
So much so that the former leader is not presently allowed in it.
But although Jeremy Corbyn's political project ultimately failed, for some on the left he remains a hero, much maligned.
Mr Corbyn's forced exit once again exposes the divides in the party that Sir Keir promised to bring together.
The scars from Labour's years of infighting are still fresh, and prone to tear.
And the day when the party built on fighting for equal rights was found to have broken the law designed to guard those rights, is no moment of pride.