US election: What a Biden presidency means for the UK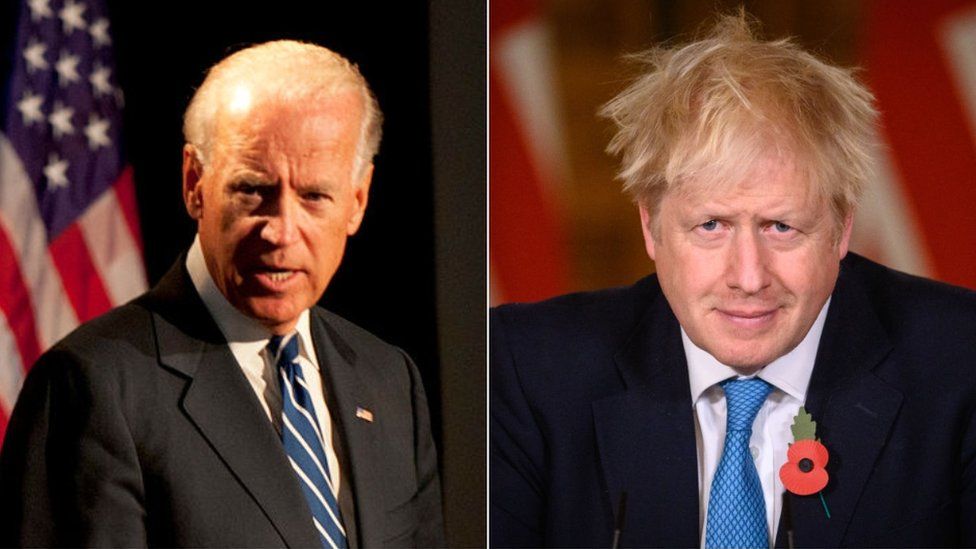 The election of Joe Biden leaves Boris Johnson facing a substantial diplomatic repair job. The two men have never met. Last December the president-elect described the prime minister as a "physical and emotional clone" of Donald Trump.
There are people around Mr Biden who remember bitterly how Mr Johnson once suggested President Obama harboured anti-British sentiment because of his part-Kenyan ancestry.
Mr Biden and his team think Brexit is an historic mistake. They would not want Britain to leave the EU without a trade deal, particularly if it involved breaking commitments made in the Northern Ireland protocol.
Last month Mr Biden warned publicly in a tweet that a future UK-US trade deal was contingent on the UK not unravelling the Good Friday Agreement that brought peace to Northern Ireland.
There is an expectation among many observers that when President Biden seeks to repair transatlantic relationships, he may focus more of his attention on Paris and Berlin than London.
And when Mr Biden does turn his attention to the UK, he may put pressure on Mr Johnson to repair its relations with the EU just when the prime minister wants to focus his "global Britain" foreign policy elsewhere, particularly in the Indo-Pacific.
So the government has a lot of work to do to in improving its relations with the incoming administration. That has not been made easier by a reluctance of Conservatives in recent years to meet Democrats when visiting Washington.
"We just couldn't persuade ministers ever to go and see Democrats on the Hill," one diplomatic source told me.
The foreign secretary, Dominic Raab, did meet the influential Democratic senator Chris Coons in September. The prime minister's foreign affairs adviser, John Bew, has also been cultivating links with those close to Mr Biden. But they are both playing catch-up.
That said, sometimes too much can be made of past comments and personal animus. Mr Biden is considered a pragmatist and under him the United States may well prove a more stable and predictable ally to the UK than was the case in the last four years.
Mr Trump's America First policy will be replaced by one that recognises America's place in a multilateral, international system from which the UK benefits. A Biden presidency would renew US support for Nato the World Health Organisation and the World Trade Organisation, all of which are priorities for the UK.
And there are issues where Mr Biden's views align significantly with the UK's: being tough on Russia; reviving the Iran nuclear deal; combatting human rights abuses in China and elsewhere; agreeing new carbon emission reduction targets.
This last issue is, perhaps, the most important. The UK will want to use its chairmanship next year of the United Nations COP26 climate change summit to forge a bond with the Biden administration, hoping to act as a broker between the US and other countries, especially China, in agreeing a deal.
The UK will still, of course, come under pressure to support America's confrontation with China, which is held as strongly by Democrats as Republicans.
But British policymakers hope that under Biden, the US will share a closer position with the UK, one that challenges malign behaviour by China - such as in Hong Kong and Xinjiang - but also engages on global issues such as climate change.
They also hope to forge a new alliance of liberal democratic countries to counter the influence of autocratic governments around the world.
The truth, though, is that Mr Biden's priorities will be overwhelmingly domestic - namely fixing America's economy and the Covid crisis. Relations with the UK - including a possible free trade deal - will not be a top priority.
And for all Mr Biden's internationalist instincts, there will be no return to America's global interventionism of the past. That means that despite Mr Biden's arrival in the White House, the UK post-Brexit may still have to forge a new role in the world, one that does not automatically slipstream behind US foreign policy.