Covid-19: Stop anti-vaccination fake news online with new law says Labour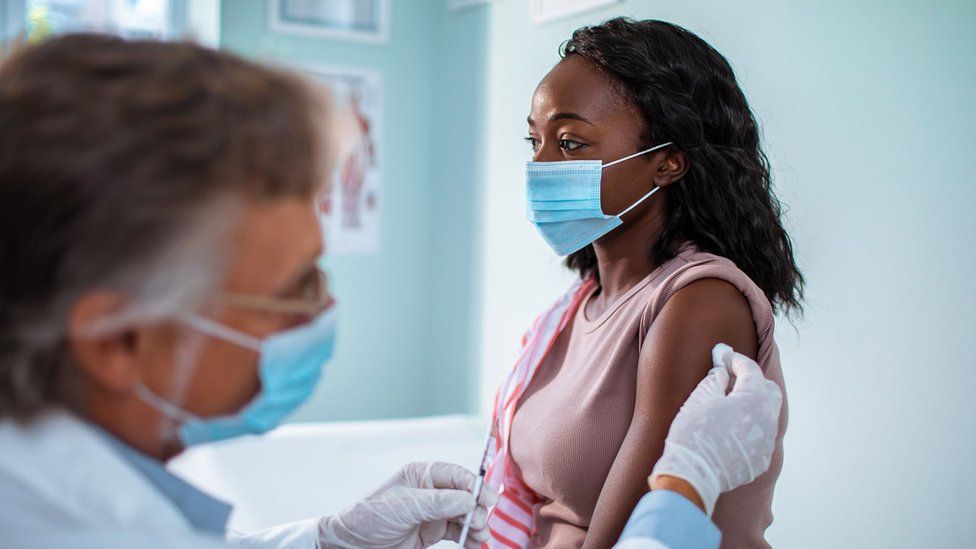 Emergency laws to "stamp out dangerous" anti-vaccine content online should be introduced, Labour has said.
The party is calling for financial and criminal penalties for social media firms that do not remove false scare stories about vaccines.
It follows news of progress on the first effective coronavirus vaccine.
The government said it took the issue "extremely seriously" with "a major commitment" from Facebook, Twitter and Google to tackle anti-vaccine content.
Many social media platforms label false content as misleading or disputed - and all remove posts that contravene terms of service.
But Labour said a commitment by platforms to remove content flagged by the government was not enough.
Shadow health secretary Jonathan Ashworth said such content was "exploiting people's fears, their mistrust of institutions and governments and spreading poison and harm".
He told BBC Breakfast his party wanted to work with the government on a cross-party basis to build trust and help promote take-up of the vaccine.
He said people would have legitimate questions about what the vaccine means for them, levels of immunity and whether the vaccine was appropriate for those with chronic health conditions.
"There's nothing wrong with asking those questions and strong public health messaging from the government, reinforced by us, will allay those fears," he said.
Baseless conspiracy theories about a coronavirus vaccine have been spreading on social media for months - and the latest vaccine news rekindled these pre-existing narratives online.
These includes false claims that the vaccine is a means of inserting microchips into the population, altering our DNA, or are even a weapon of genocide.
Within hours of news breaking about the Pfizer/BioNTech vaccine, comments and memes suggesting it will deliberately harm us were popping up in local Facebook groups, parent chats and on Instagram.
This kind of disinformation is worlds away from legitimate concerns that a vaccine is safe and properly tested.
Despite commitments to tackle falsehoods from social media sites and the government, a constant bubbling of conspiracies online looks to have already eroded trust for some in an effective vaccine.
The anti-vax movement, which pre-dates the pandemic, is not the only thing responsible for the spread of this disinformation online.
Pseudoscience figures with large online followings - who have spread other false claims such as linking coronavirus to 5G or suggesting the pandemic is a hoax - have also turned their attention to vaccines.
There is no truth to the false and harmful claims they make - but that hasn't stopped them spilling into the average social media feed for weeks and impacting those who come across them.
Meanwhile, a member of the government's scientific advisory group, Sage, has criticised ministers' strategy of "flip-flopping" between encouraging people to socialise and spend money - and tough lockdown restrictions in England.
Professor John Edmunds said: "We need to take a long-term view and be sensible and realise that we're going to have to have restrictions in place for some time.
"Yes, we can lift them when it's safe to do so, which will be primarily when large numbers of people have been vaccinated.
"But flip-flopping between encouraging people to mix socially, which is what you're doing by encouraging people to go to restaurants and bars, versus then immediately closing them again, isn't a very sensible way to run the epidemic."
The national lockdown in England is currently due to end on 2 December, with a return to the tiered system of local restrictions.
Prof Edmunds also criticised that system of lower to higher restrictions, saying it was not "very well thought through".
Scotland has moved to a five-tier system of coronavirus restrictions. Wales has now ended a "circuit breaker" while Northern Ireland has extended its own temporary lockdown.
A further 26,860 UK coronavirus cases were recorded on Saturday and 462 more deaths within 28 days of a positive test were reported.
Suspicion of vaccines has been around almost as long as modern vaccines themselves. But in recent years, the anti-vaccination - or "anti-vax"- movement has gained traction online.
Social media has been blamed for allowing unfounded claims about vaccines to spread more easily.
In 2019, the UK lost its measles-free status designated by the World Health Organization - and there has been a marked decline in vaccination rates for all 13 diseases covered in jabs for children.
Since the pandemic, anti-vaccination campaigners have moved their focus to the coronavirus.
In the letter to Culture Secretary Oliver Dowden, Labour said there were dedicated anti-vaccination groups online with hundreds of thousands of followers who were "churning out disinformation" on the issue.
Last week, the government announced that social media companies had agreed a package of measures - including that no company should be profiting from Covid vaccine fake news.
But Labour warned that the measures do not go far enough and has questioned why anti-vax groups are not being closed down.
"The announced collaboration with social media companies last week was welcome but feels grossly inadequate with a promise by them to remove only the content which is flagged by government and which generates profit," Labour said.
Labour called for emergency legislation that would see financial and criminal penalties for a continued failure to act, and said they would vote for it.
On Monday, news of a potential vaccine made headlines after preliminary results from Pfizer and BioNTech showed their vaccine could prevent more than 90% of people from catching Covid.
The vaccine is one of 11 vaccines that are currently in the final stages of testing. Pfizer and BioNTech companies now plan to apply for emergency approval to use the vaccine by the end of November and a limited number of people may be given the vaccine this year.
The UK has bought enough doses for 20 million people.
But it will not be released for use in the UK until it passes final safety tests and gets the go-ahead from the MHRA - the Medicines and Healthcare products Regulatory Agency.
Earlier this year, Prime Minister Boris Johnson called people who oppose vaccinations "nuts".
And this week, he said he had "no inhibitions" about getting one, adding: "Anti-vax is total nonsense, you should definitely get a vaccine."
A government spokesperson said: "Letting vaccine disinformation spread unchecked could cost British lives.
"We take this issue extremely seriously and have secured a major commitment from Facebook, Twitter and Google to tackle it by not profiting from such material, and by responding to flagged content more swiftly.
"We continue to work closely with social media firms to promote authoritative sources of information so people have access to vaccine facts not fiction."