Brexit: Will Brussels dinner prove to be the last supper?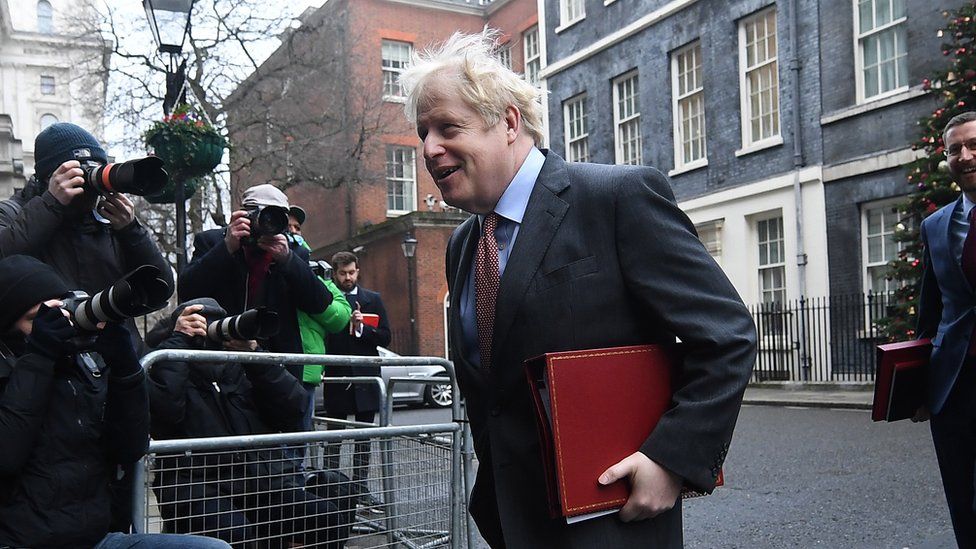 Could it be the last supper?
Boris Johnson will travel to Brussels for the first time in months on Wednesday night to sit and break bread with the EU Commission chief Ursula von der Leyen.
It is more than a standard diplomatic dinner.
It is possible that the encounter could be the moment at which the UK and the EU conclude that there cannot be a trade deal now, and that after decades of political and economic ties, efforts to say a polite political farewell have failed, with all the consequences that might entail.
The purpose of the dinner however is not to call a halt. But nor is the purpose to proclaim that a deal's been done.
The reason for the meeting is to see if both sides are willing in principle to tolerate the notion of budging, after the negotiations, and frankly negotiators, have been exhausted.
If the prime minister and Mrs von der Leyen can look each other in the eye and agree that there are still compromises to be had, then a deal is still possible.
If they are willing to make that kind of pact - to say privately to each other, I'm willing to budge if you are too - then that would in theory allow technical talks to get going again.
This wouldn't be any kind of changes to the formal mandates - the boundaries the negotiators have been set.
But it could reset the dial, sending Lord Frost and Michel Barnier back to the table in the understanding that their political bosses might just be a touch more wiling to be flexible after all.
In turn, that doesn't mean that a deal is going to be achieved.
But it could tip the balance back towards the overall political imperatives of making this happen, and away from both sides' commitment to stick so closely to their principles.
Here, the government's actions on the Northern Ireland protocol on Tuesday are a hint that they just might be willing to bend a little further.
Equally however, settling the joint protocol makes it easier for the government to minimise disruption if it walks away. So beware wise sages claiming it's definitive proof either way!
Don't forget too, it's only this time last week that there was a sense we were moving towards a conclusion on both sides.
But that was before some member states, with France as the hard man, toughened their approach, surprising the UK and setting the process back - although any change is still denied officially by the EU side.
What we just can't know, however, is whether the leaders will be able to find common cause when they meet on Wednesday.
There has been a real sense of "you first" in the last 24 hours, with both sides waiting to see what the other's next move would be.
If there is a chance that a deal can be done, tomorrow night's dinner needs to produce at the very least a metaphorical statement of intent.
But if the two leaders just aren't prepared to make a leap, it could yet be the last supper after all.
P.S. It's interesting to note that when Theresa May was trying to manage these processes, she sometimes dashed off to see the individual leaders of the member states, or held phone calls with them, as did Boris Johnson sometimes.
There was one notable explosion with German Chancellor Angela Merkel on a call last year, which now seems a century ago.
It's understood that this time Boris Johnson's team was interested in the possibility of talking to Mrs Merkel and French President Emmanuel Macron in these vital few days themselves.
But I'm told the EU wanted to keep everything channelled through one point of contact.
Downing Street has denied the suggestion this afternoon that he wanted them to be on the call when he rang Mrs von der Leyen on Monday.
But it seems there have been discussions about whether to have those separate discussions that have then not (so far) taken place.