Brexit: Ministers accused of fishing compensation U-turn
By Kate Whannel
Political reporter, BBC News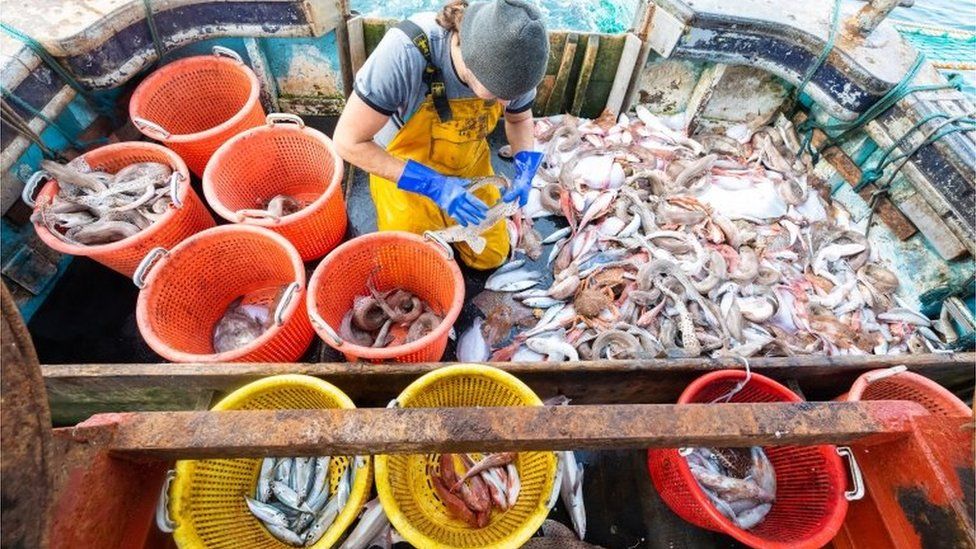 The government has been accused of making a "U-turn" on a pledge by the PM to compensate fishing businesses hit by post-Brexit export problems.
On Wednesday Boris Johnson said he understood the "temporary frustration" of the fishing industry and promised to provide compensation.
Environment Secretary George Eustice told the Commons on Thursday that he was "looking closely" at the issue.
Labour said No 10 appeared to be backtracking on the PM's commitment.
The BBC has been told that the Department for Environment, Food and Rural Affairs (Defra) did not know about the promise to compensate the fishing industry before Mr Johnson mentioned it on Wednesday.
Appearing before a Commons committee, Defra's top civil servant said the department was "monitoring the situation" and needed to get a "good picture", when looking at "issues of compensation".
Earlier this month, the Scottish Seafood Association said exports to the EU were being hit by "red tape" delays in Scotland and France.
Addressing the environment minister in the House of Commons, Liberal Democrat MP Alistair Carmichael said boats were "tied up in harbour... with red tape manufactured in Whitehall" and accused the government of creating a "shambles".
Elspeth Macdonald, chief executive of the Scottish Fishermen's Federation, said the sector, already hit by the Covid pandemic, was experiencing "quite severe problems in the supply chain" and needed to see details of any compensation "immediately".
"This product is highly perishable - it will not sit around for days waiting for these problems to be solved," she told BBC Radio 4's World at One.
The SNP's Deidre Brock said the situation was costing businesses "shed loads of money".
"Who should they apply to for compensation - shall I give them the minister's phone number?" she asked.
Labour's shadow environment secretary Luke Pollard said the PM had promised compensation for those affected by export problems but suggested that "Downing Street seemed to U-turn on this less than six hours later."
Labour leader Sir Keir Starmer said the government owes the fishing industry an apology over what he describes as a lack of preparation for Brexit.
He told reporters he had "a lot of sympathy" for fishing communities that have been "left high and dry" with an agreement signed "at the eleventh hour".
Conservative Cornish MPs also raised concern in the House of Commons. Sheryll Murray said "uncertainty" was "posing a real threat" to a constituent's business.
Another Conservative MP - Anthony Mangnall - suggested exports were being "deliberately delayed" on the European mainland.
Mr Eustice said there had been "teething problems" but added that he believed once the industry was "used to using the paperwork" then trade would "flow normally".
The government has said it will invest £100m to modernise the fishing industry - and Mr Eustice said he would be consulting on how the money is spent in the next month.