Covid: Close courts in England and Wales or face strikes, union warns
By Justin Parkinson
Political reporter, BBC News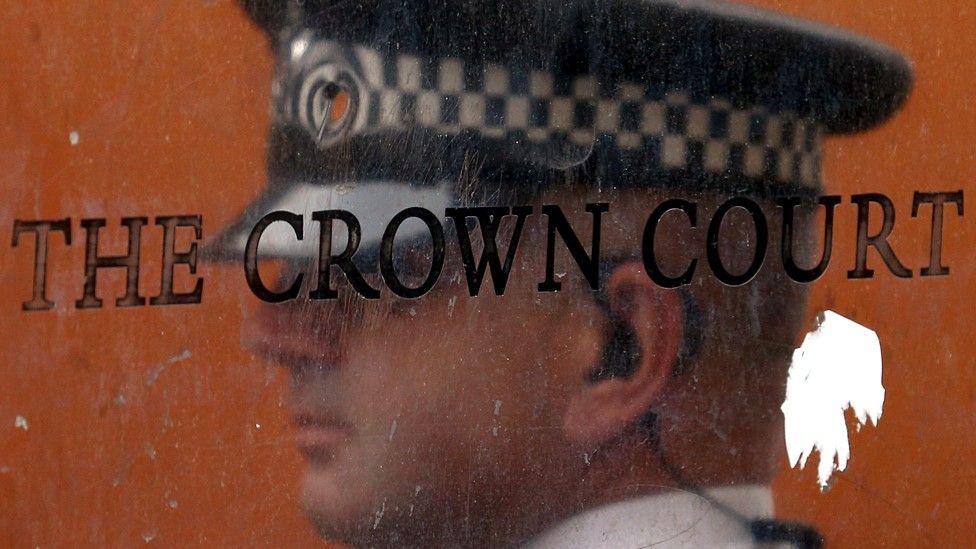 A union has warned of industrial action unless courts in England and Wales close while improvements are made to staff coronavirus safety.
The PCS said "escalating" infection numbers were putting workers at "unnecessary risk".
Cases could be dealt with virtually for the time being, it argued.
But the Ministry of Justice said it was "simply untrue" to suggest people attending courts or tribunals were at "elevated risk".
A spokesperson added that it was "clear that justice must continue to be done".
The PCS's demand for court closures comes amid a growing backlog of cases in England and Wales due to the pandemic.
In the crown courts, 54,000 cases have yet to be heard, with the inspectorates for policing, prisons, probation and prosecutions expressing "grave concerns" about the impact on criminal justice.
But the PCS - which represents ushers, security staff and Crown Prosecution Service employees - said 600 Covid cases had been confirmed on the HM Courts and Tribunals Service (HMCTS) estate since 24 November.
It called for lateral flow testing at every court and for every prisoner attending hearings.
PCS general secretary Mark Serwotka said: "It is obvious that Covid cases are at unacceptable levels and HMCTS staff are being put at unnecessary risk while courts remain open."
He added: "Our members do an invaluable job keeping the justice system going during this global pandemic but their safety is our union's number one priority.
"The technology exists for crucial cases to be heard virtually and this is what now needs to happen.
"We are not ruling out industrial action if HMCTS management fail to act."
A source told the BBC there was a "strong likelihood court staff would be balloted for strike action" unless the situation changed.
The Law Society, which represents solicitors, agreed with the PCS.
President David Greene said closing courts appeared to conflict with "the imperative to mitigate" the growing backlog of cases, but argued there was "almost certain to be a significant loss of capacity due to court closures following outbreaks of coronavirus, and due to staff, lawyers, judiciary and parties falling sick".
"We believe the measures we propose represent the least bad option for ensuring that courts can continue to operate safely," he added.
Government coronavirus guidelines state that fulfilling a legal duty - such as attending court as a duty lawyer or jury member - is a reasonable excuse for leaving home.
A Ministry of Justice spokesperson said: "Throughout this pandemic the government has been clear that justice must continue to be done."
Every building the department operated met government Covid guidelines, which remained "sufficient to deal with the new strain of the virus".
"Positive test numbers are consistent with the wider community and it's likely that the vast majority contracted the virus outside courts," the spokesperson said
"It is simply untrue to suggest people are at an elevated risk of infection when at a court or tribunal."
During the first lockdown, which started in March last year, fewer than half of the courts in England and Wales were kept open, contributing to the current backlog.