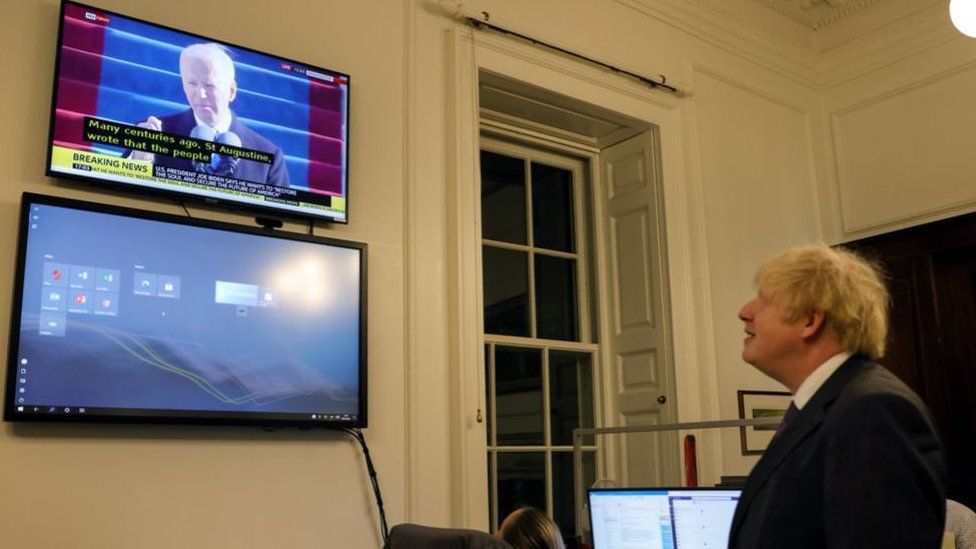 The inauguration can't be beaten in terms of political showbiz.
I'm not sure who the equivalent of Lady Gaga would be in the UK, I can't quite see Adele belting out Land of Hope and Glory before the prime minister steps up to the lectern.
We don't quite do things like that here.
Wednesday's spectacle prompted one of Theresa May's former chiefs of staff to write, "I have rarely felt so British."
But beyond observing the momentous events, whether you loved or squirmed through every moment, and reflecting on the herculean challenge that faces brand new President Biden, remember, the character of the occupant of the White House does really matter to the UK too.
UK prime ministers like to consider American presidents as their best diplomatic friend.
That relationship, particularly when it comes to security and defence, is unusually close.
When, as with Donald Trump, that friend has been unpredictable and unconventional, that has made for some very awkward political moments.
So for the government, this a really important and positive turning of the page.
That's in part because the new president is expected to get stuck back in to those international alliances - like NATO - that mean a lot to the UK.
Those platforms are where the UK can have an impact, but without American participation they lose their punch.
The Biden Presidency also brings some hope to government, because No 10 reckons there is a lot of overlap between what Joe Biden wants to do and what Boris Johnson wants to do - on tackling climate change for example
Although, the prime minister and the new president know each other by reputation, they have never met in real life.
While Mr Johnson's political affinity with Donald Trump was real, it was sometimes exaggerated, yet it didn't go unnoticed by Mr Biden, who once called the PM a Trump "clone".
The new Pennsylvania Avenue resident took a dim view of Brexit and cares deeply about the Good Friday Agreement too.
The terribly over-used phrase the 'special relationship', which provokes neurotic behaviour on this side of the Atlantic, has meant the most when there has been a genuine personal chemistry between the two leaders - whether Thatcher and Reagan, or Bush and Blair.
There is nothing automatic about Mr Biden and Mr Johnson developing that kind of political friendship.
And with so much political pressure at home, while Downing Street hopes that the president might make two trips to the UK this year for the G7 in June and the Climate conference in Glasgow in the autumn, there's nothing guaranteed about that either.
But in the words of one former senior minister, for the UK Biden means "we will lose exclusivity but gain predictability: easier to work with, less cringeworthy and more dependable, but we may not be the only girlfriend on speed dial."
There may be fewer fireworks, a lot less drama, but for the government there is a real hope that this new president will be serious about getting things done that are in the UK's interest too - that he will be a more dependable friend.