What is Labour's case for and against Starmer?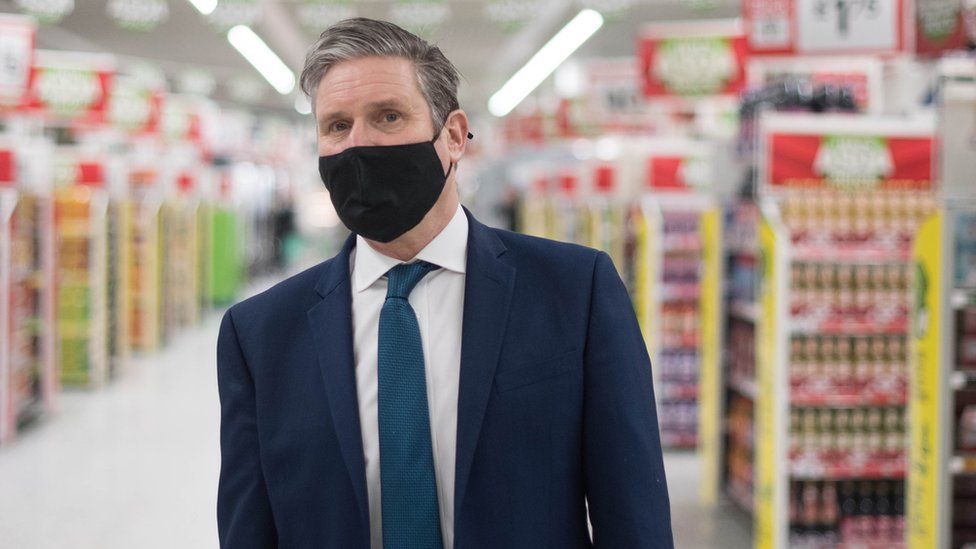 Exactly a year ago, Jeremy Corbyn's local Labour Party branch nominated Sir Keir Starmer to be his successor.
Even Mr Corbyn's tribe in his own backyard accepted, by a narrow margin, that the journey was over, choosing Sir Keir - rather than Rebecca Long Bailey, who was politically much closer to Mr Corbyn - for the job.
The national result of the leadership contest did not come until a couple of months later.
But Islington North's decision showed the direction of travel, which would end in a strong victory for the former lawyer at the beginning of April.
Twelve months since the voters of Islington North Labour put their crosses narrowly in Starmer's box, however, there are at least the beginnings of grumblings about his leadership.
There have been criticisms on the left of the party too - one MP last week accusing Sir Keir in a national newspaper column of advocating "phoney flag waving", in the absence of "little vision and even less analysis" of why the country is in the position it is.
He said: "We're now getting to a position where on the polls we're about even, so that's a step in the right direction.
"But we've got a long way to go between now and 2024 and we're going to be working hard at this with real determination, every day, every week, every month, every year, into that election in 2024."
Asked about concerns over his leadership, Sir Keir said: "The vast majority of our party and our movement are behind what we're doing."
But is there anything under the froth that's bubbled around the Westminster village in the last few weeks?
As Starmer himself might try to do, let's look at the case for the prosecution, and the case for the defence.
'Desire to rattle the cage'
First off, there is what was described by one senior MP as "obvious discontent" on the left.
Whether that's angst about how Labour uses the Union Jack, frustration about Mr Corbyn's exit from the party, or the handling of internal disputes, it is real.
The concern perhaps doesn't run far beyond a relatively small group inside the party, and even one of that wing suggested to me that it is "not that unusual" and "it's nothing serious".
But no question, there is a desire to rattle the cage, to try to organise, with, for example, calls for a special conference to talk about what's going on.
One member of the shadow cabinet said there were "a bunch of people on the hard left who want Keir to fail", suggesting that they are mirroring the behaviour of some Labour MPs in 2016 who simply didn't want to accept that Mr Corbyn had won the leadership.
Whatever the motivation, however, there is a slice of the Labour Party that is not happy.
Given the torment of the last few years, and arguably the traditions of the left, it is not that surprising, but at the very least, it is a distraction.
Beyond the good old fashioned tug of war between different Labour factions though, there is a wider issue.
More than a year since we carried out that interview, it's not clear we have learnt that much more.
For many in Labour, there is no question now, as then, about his overall credibility, or his experience.
What even some of his close colleagues question, however, is his ability to turn that into a passion or a plan that can catch the imagination of the public.
He may be expert at preparing arguments, but that's not the same as winning the crowd.
One shadow minister told me: "To be the author of the story, we do have to be more prepared to put some stakes in the ground on contested areas."
In other words, to make an impact, the opposition might have to make a bit more noise.
Colleagues point too to the lack of visibility of a persuasive tribe around him.
Henchmen (nearly always men) get a bad name in Westminster. But leaders of opposition who end up in power often came with a gang, or at least an enforcer.
Tony Blair had Peter Mandelson and others, David Cameron had George Osborne and the Notting Hill set of the noughties always alongside.
When you ask Sir Keir's colleagues who his political friends are, the answer is not always that clear.
And even the most persuasive argument is rarely made by one politician alone. Oppositions need guile, timing and a strong team to make a big impact.
Insiders admit for Labour that the art of running a highly effective opposition, making bold strides is still something they are learning to do.
But his supporters make a strong case in his defence. Most plainly, since Sir Keir took over, Labour's position in the polls has been transformed.
The party had been thumped in the general election and suffered years of toxic infighting and disputes over racism against Jewish people.
Now regularly, Labour is level pegging with the Tories. And Sir Keir's personal ratings as a potential prime minister make good reading for his allies too.
After 10 months in the post, the latest net satisfaction figures in one survey put him at -5 points - after a similar time in the job, Mr Corbyn's rating was -41.
In the day-to-day hurly burly, it's easy to forget that the debate in the Labour leadership contest sometimes even questioned whether the party had a future.
After more than 10 years of the Tories, others would argue Labour should be making up more ground, but the contrast to last year is unarguable.
Lack of political clashes?
And it's also impossible to underestimate the effect that taking the reins during a historic emergency has had.
The Labour leader has, in the main, only been able to appear at the dispatch box or give speeches on Zoom.
His strategists have been sure all throughout the pandemic that the public didn't want politicians to be screaming and shouting at each other.
Labour's questions of the government have become more pointed in recent months. But broadly, the pandemic has led the opposition to support where the government where it can.
Rightly or wrongly, that reduces the opportunity for the kind of political clashes that attract attention and headlines. Creating national excitement from a laptop screen in your living room is a tall order.
What Sir Keir's allies repeatedly highlight too is what they see as the mess they inherited. A party that had fought itself for years. An organisation that wasn't really functioning.
One of his aides said: "It was the Titanic and we have just about managed to float it again."
And, another shadow minister suggested Sir Keir's leadership team hadn't just been preoccupied by fixing immediate problems they found on arrival, but they have suffered from a lack of political inheritance.
"Kinnock passed project to Smith, Blair picked that up from him," they said, and there is, they suggested, "no line of succession" this time.
The Corbyn project, with all its associated fighting between the different wings of the parties, prompted such a rupture, that Sir Keir's team has to - as they see it - clean up a mess first, to then start again.
One of his allies suggests they are trying to do the equivalent of what John Smith and Tony Blair both did for the Labour Party, coupled with a rebranding like David Cameron and the Tories - four political projects in one year.
To claim, therefore, that there is some kind of crisis, or that he is not up to the job, one senior MP says is "grossly unfair".
There are grumbles. There are questions. But, this does not feel like a moment of genuine danger for Sir Keir's leadership.
He has changed so much about the Labour Party in 12 months, and certainly, is on the journey to make the party again, a credible opposition.
But as he knows, that will not always be enough.