Genocide trade bill row: Government sees off Tory rebellion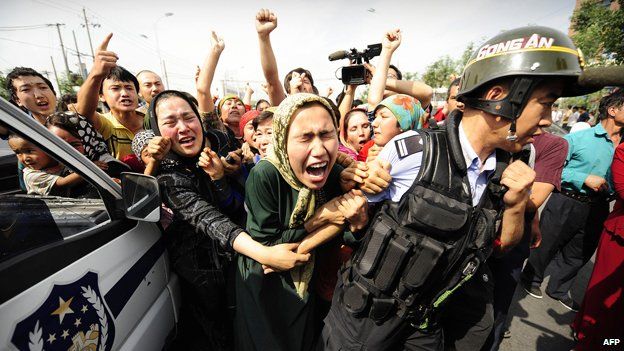 The government has been hit by a backbench rebellion over plans to ensure Britain's future trade partners are not committing genocide.
MPs backed a government proposal to give select committees a greater role in examining allegations of genocide.
But a number of Tory MPs rebelled and the government saw its working majority of about 80 slashed to just 15.
Those pressing the UK to take a tougher stance on human rights abuses in China have vowed to carry on the fight.
A total of 31 Conservative MPs voted against the government on Tuesday, several accusing ministers of playing "appalling" parliamentary games to avoid defeat.
MPs were expecting to vote on a plan to give British courts the right to decide if a country is committing genocide.
But the government, which opposed the plan, used a procedure to prevent a vote and instead backed a separate move giving Parliament greater say.
This passed by 318 votes to 303 but peers will seek to overturn this and re-insert a clause empowering British courts into the Trade Bill when it returns to the House of Lords later this month.
The government was heavily defeated on the issue in the Lords last month and independent peer Lord Alton has said he will resurrect his amendment in the hope MPs will get the chance to vote on it.
"Denying them that right makes a mockery of democracy," he said.
MPs were prevented from having their say on it on Tuesday after ministers used a parliamentary procedure to lump it together with a Labour proposal which required ministers to determine whether a prospective trade partner has committed crimes against humanity.
Downing Street argues it's "common practice" to package certain amendments together during parliamentary ping-pong but developments have undoubtedly provoked anger on the Conservative backbenches.
Some MPs view what's happened as pure "parliamentary chicanery" on what is a very important and emotive issue.
And, looking to the longer term, there are claims that the episode has "hardened" attitudes against the government, a government, it's said, that had been getting "very twitchy" on the numbers following a big whipping operation.
Another backbencher described that operation as "heavy, full-on stuff" and an exercise which had revealed the extent of a potentially "stonking" rebellion.
What's more, it appeared that some newer MPs were gearing up to rebel for the first time. That is a habit any government doesn't want its backbenchers to get into.
A number of Conservative MPs criticised the government's tactics, Nusrat Ghani saying "she was appalled at the parliamentary games being played over such a grave issue".
The UK, she said, should not be "using its newfound post-Brexit freedoms to trade with states which commit and profit from genocide...Britain is better than that".
Trade Minister Greg Hands said a committee could trigger a Commons debate and vote if it decided there were "credible reports" that genocide had been committed by a state with which the UK was negotiating a trade deal.
"This approach rightly puts Parliament, not the courts, in the driving seat on the issue of who generates a debate in Parliament," he told MPs.
But former Conservative leader Sir Ian Duncan Smith said there was a reason why matters of huge public importance, such as public inquiries into tragedies and scandals, were overseen by judges.
"I have my own differences with judges but when we need an impartial taking of evidence and a judgement, we turn not to select committees but judges. Why do we do that?
"One, because we assume they are impartial. Two because they are trained to take evidence and deal with evidence. We are not here."
And Labour's Emily Thornberry accused the government of "shameful, shabby and shifty" behaviour.
Campaigners want British courts to hear genocide cases so that persecuted minorities, such as the Uighurs in Xinjiang, China, can have their situation considered by a court of law.
A legal opinion by senior barristers at Essex Court Chambers has already concluded there was a "very credible case" that the Chinese government was committing genocide against the Uighurs.