Putting councils 'in the driving seat' would save £1.6bn, says report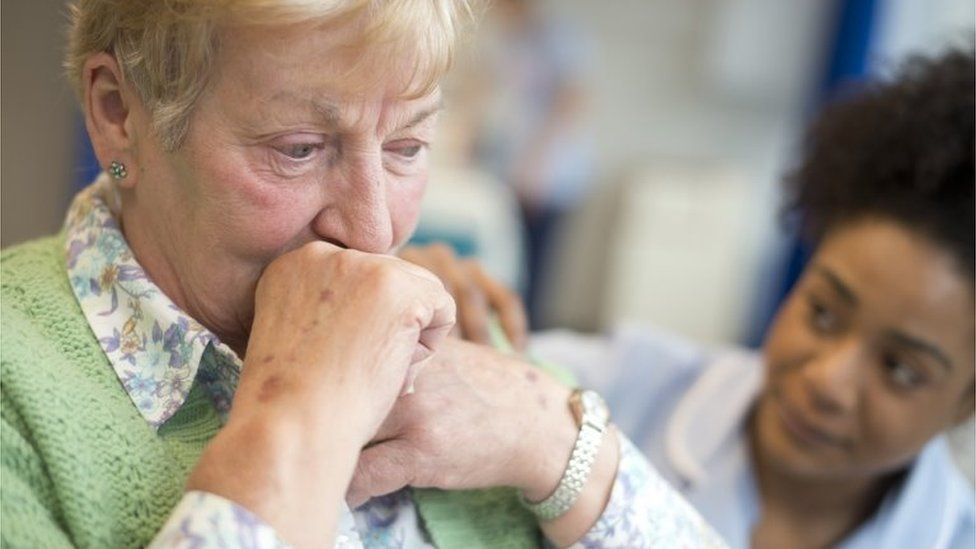 Putting England's councils "in the driving seat" to fix social care would save £1.6bn, a County Councils Network-commissioned report has said.
The report argues social care should continue to be delivered by local councils, rather than giving more power to NHS and central government.
The government said it would set out its plans later this year.
"Delivering a care system that is fit for the future, in which people are treated with dignity and respect, remains a top priority," a spokesman said.
The report - written by care consultancy group Newton - argues that councils, with their "deep roots in informal care networks" in the community are "uniquely placed" to deliver social care.
And it warns that centralising this responsibility would "risk disrupting these crucial local links".
Instead, the report advocates greater collaboration between councils, the NHS and care providers; maximising the use of the voluntary and community sector and improved commissioning of care services.
Newton's report argues its proposals would allow tens of thousands to live more independent lives and reduce care costs by £1.6bn a year - but only if local councils are put "in the driving seat".
The report also stresses that improvements can only be delivered if councils are given "the clarity of a long-term funding model for care".
The Local Government Association has estimated councils need £3.6bn by 2025 just to maintain the current standard of adult social care services.
Councillor David Fothergill, social care spokesperson for the County Councils Network - which represents 25 county councils and 11 county unitary authorities in England - described the report as "compelling".
"Only councils, who know their populations and their providers, have the means to deliver improved social care services to keep people independent for longer."
The report comes at a time when ministers are believed to be exploring the option of providing funds to care homes more directly, rather than relying simply on the current system that uses local councils.
Last May, Health Secretary Matt Hancock told MPs that trying to get money to care homes during the coronavirus pandemic had been challenging and added it "raises a question not just for the crisis but for the longer term".
He said: "When I am held accountable at this despatch box for the actions of local authorities, I can give support, but we do not have the direct levers."
Social care is not generally provided for free. In England, usually only those with assets below £23,250 qualify for council funding towards their costs. Those with assets below £14,250 receive full funding.
There is no overall limit on costs, leading to the prospect of some having to sell their homes to pay.
In Scotland, personal care, such as help with washing and dressing, is free for those assessed by their local authority as needing it. Those in a home still have to contribute towards accommodation costs.
Some care costs are capped in Wales, and home care is free for the over-75s in Northern Ireland.
Our political correspondent Laura Kuenssberg wrote at the time about the decisions the government faced, saying: "After years of delay by successive governments and months of promises from the current one, it's now understood that before the pandemic struck the UK, ministers had reached what one senior figure involved described as "90% agreement" on at least part of a solution."
She continued: "At the start of 2020 there was a series of meetings between senior ministers and Sir Andrew Dilnot, who'd designed a system where people keep more of their assets before they have to contribute to the cost of their care, but the amount they would have to pay over their lifetime would be limited too."
Responding to the CCN-commissioned report, a Department of Health spokesman said: "We are focused on ensuring all those receiving care continue to get the very best support during the Covid-19 pandemic.
"We have provided billions of pounds of additional funding to the care sector, with further support being made available to respond to Covid-19, including regular testing of staff and residents, free PPE and prioritising staff and residents for vaccinations."
A brief history of social care reform attempts
Everyone agrees the adult social care system is in need of reform - but successive governments have failed to implement the changes.
In 2010, the Labour government sought to reach a cross-party agreement but talks broke down when Conservatives accused Labour of planning a "death tax" to pay for free personal care.
In 2014 the Conservative-Lib Dem coalition government, following recommendations made by Sir Andrew Dilnot, passed a law stating no-one would have to pay more than £72,000 for care over their lifetime.
When Boris Johnson became prime minister in 2019 he said he had "a clear plan" to fix the social care crisis.
The government is now believed to be looking at adopting the care cost cap ditched under the previous prime minister.
However, questions remain over how it will be paid for.