Call for inquiry into Carrie Symonds' influence in No 10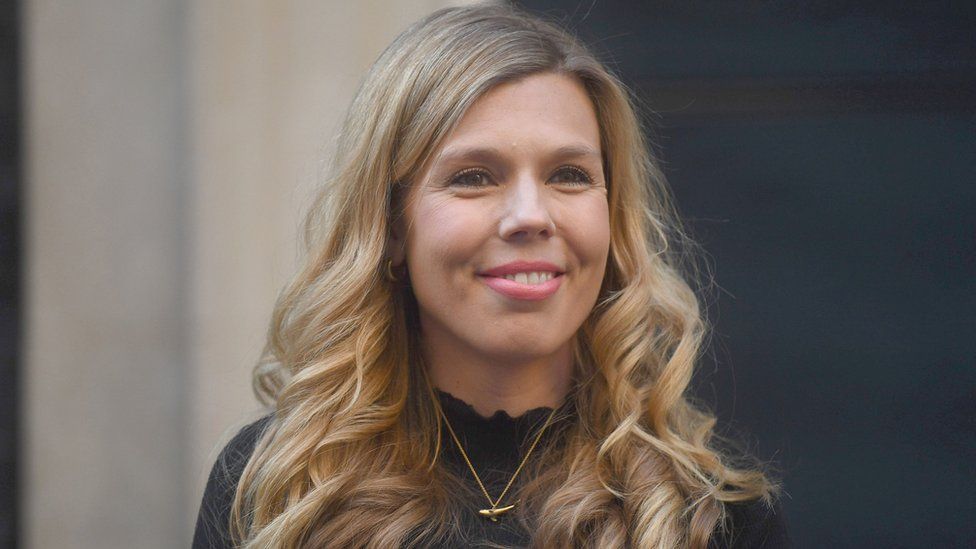 A conservative think tank has called for an independent inquiry into Boris Johnson's fiancée, Carrie Symonds, and her "possible influence" in government.
The Bow Group said No 10 needed to clarify her position after reports in the media that she was "taking a central role in running the country".
Ms Symonds used to be the Conservative Party's head of communications, but no longer holds an official role.
And Downing Street said it was "incorrect" she plays a central role.
Speaking on Monday, the PM's press secretary Allegra Stratton added: "The prime minister's fiancée is on maternity leave, she's raising their son Wilf."
She said Ms Symonds would shortly begin her new role as head of communications at wildlife charity the Aspinall Foundation.
Ms Symonds' first job in politics was working for the then-Tory MP and now peer, Lord Zac Goldsmith.
In 2010, she began working as a press officer for the Conservative Party and two years later worked on Mr Johnson's successful campaign to be re-elected mayor in London.
After rising through the ranks, she left her role as head of communications for the party in 2018, and the next year she was linked with Mr Johnson romantically.
The pair announced their engagement in February 2020 and they live together in Downing Street with their son Wilfred, who was born in April last year.
Ms Symonds has no official role, either in the party or the government.
However, media reports have claimed she advises the PM on an informal basis - from issues of animal welfare through to who to appoint in key roles - and that she clashed with his former chief adviser, Dominic Cummings.
The Bow Group - which describes itself as "Britain's oldest conservative think-tank" and counts Tory MPs and peers among its members - has called for an independent inquiry and review into Ms Symonds' "powers over government".
The group's chairman, Ben Harris-Quinney, said: "She currently holds no official role in the Conservative Party or the government, yet consistent reports in the press suggest that Ms Symonds is taking a central role in running the country, without any authority or accountability to do so.
"She has not been elected, she has not been appointed, she holds no legal or constitutional powers to make decisions relating to who should hold government posts, to be party to privileged information, or to set the policy direction of the country.
"It is therefore urgent that a review and inquiry takes place to determine what Ms Symonds' role in the governing of the United Kingdom is, and has been to date."
Mr Harris-Quinney said failing to clarify her position "potentially has huge hazards for the government, the Conservative Party, and the nation".
He added: "The public take a very dim view of cronyism, democracy in Britain is and must always be sacred, and no one should be involved in running our country without accountability to the people."
Conservative MP Laura Trott told the BBC that briefings against the prime minister's fiancée are "distasteful".
Speaking on Radio 4's Westminster Hour, Ms Trott said:
"I used to work with Carrie, she's an incredibly talented and able person and I think there should be some consideration given about whether some of these things would be said about a man.
"It's very distasteful and I think it's incredibly unnecessary."
Businesswoman and wife of a former prime minister, Samantha Cameron, has also previously said the suggestion Ms Symonds has undue influence over her partner is sexist.
Last month, she told BBC Radio 4's Woman's Hour: "It could happen if you were a husband or wife potentially, but I think that it is very unfair to pick her out as having some kind of undue influence".
"In my view, your husband or partner is the prime minister, they're quite able to take decisions themselves, they have a huge team of advisors.
"And so the idea that it's the wife, you're somehow, you know, influencing them over and above what they think or what advice they're getting from their team, I think it's kind of demeaning, really, for the prime minister."