Government has no climate change plan - MPs
By Roger Harrabin
BBC environment analyst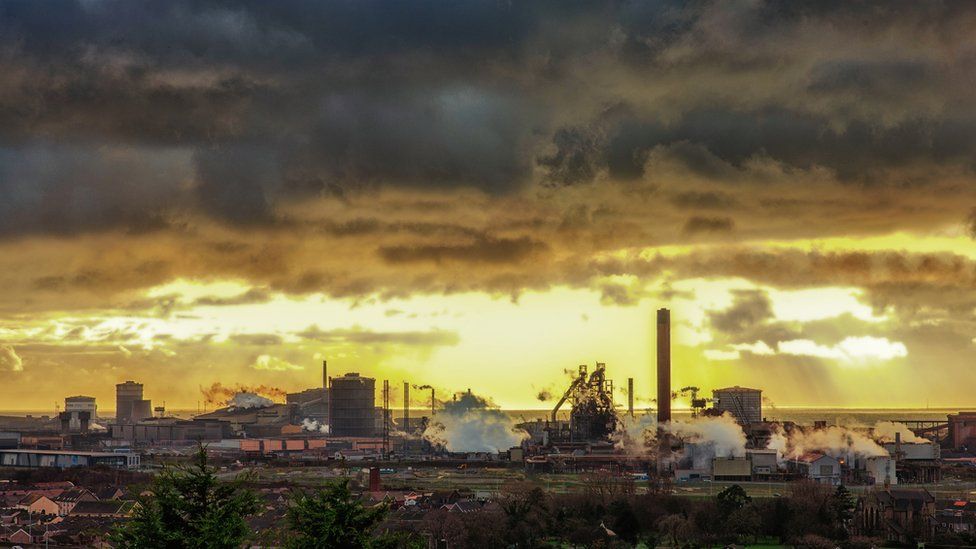 The government has been hit by a double whammy of reports from MPs criticising its performance on climate change.
The influential Public Accounts Committee (PAC) says ministers have "no plan" to meet climate change targets, two years after setting them in law.
And the business committee says the vital UN climate conference scheduled for Glasgow in November will fail unless its goals are made clear.
The government says both reports are inaccurate and unfair.
The PAC's report says ministers still don't have a coordinated strategy to realise the goal of removing almost all the carbon emissions from Britain by 2050.
The report notes that the government intends to publish what the MPs call a "plethora" of strategies setting out how it will reduce emissions in sectors ranging from transport to heating buildings.
But, it says, the policies aren't agreed yet.
The MPs say the Treasury has changed its guidance to ensure departments place greater emphasis on the environmental impacts of their policies, but hasn't explained how this will work in practice.
What's more, the MPs say, the government is not yet ensuring that its activities to reduce emissions in Britain are not simply transferring those emissions overseas - where so many of the carbon-intensive goods bought in Britain's shops are made.
They also blame the government for failing to engage with the public.
Meg Hillier, the committee's Labour chairwoman, said: "The government has set itself a huge test in committing the UK to a net zero economy by 2050 - but there is little sign that it understands how to get there.
" We must see a clear path plotted, with interim goals set and reached - it will not do to dump our emissions on poorer countries to hit UK targets.
"Our new international trade deals, the levelling up agenda - all must fit in the plan to reach net zero.
"COP26 (the vital climate conference in Glasgow in November) is a few months away. The eyes of the world, its scientists and policymakers are on the UK - big promises full of fine words won't stand up."
Meanwhile, the business committee says the government has provided no details so far about how success at the conference will be measured.
Their report urges the prime minister to set out a clear list of ambitions for the summit, with a set of accompanying measures of success.
It points out that the UK is currently guiding the summit to focus on key areas for change chosen by Britain.
Adaptation and resilience
Nature based solutions
Energy transitions
Clean transport
Switching the finance system to low-carbon investments.
But the committee says: "We have concluded the current 'themes'-based approach is too broad, without clear measures for success.
"More focus needs to be given to the overriding necessity to agree deliverable policies that keep global temperature rises to as close to 1.5C as possible."
A COP26 spokesperson said the government was making "good progress" but added "there is no time to waste".
"The COP26 President, Alok Sharma, our teams, and the full weight of our diplomatic network are all working tirelessly to push for accelerated action from our partners around the world" the spokesperson added.
Nick Mabey, from the think tank e3g, argues that multiple potential goals must be achieved - and he believes those goals should be debated publicly.
Strengthening nations' long -term commitments to cut emissions
Measuring whether governments' policies match up to their promises
No new coal power built.
Major public banks withdrawing from fossil fuel investment
Ending export finance for coal power stations
Greatly increasing cash for poorer nations to adapt to inevitable global heating.
"This debate is up for grabs" he told BBC News.
"It should be a public debate because we're talking out how to change whole economies. A lot of the outcomes from Glasgow will be decided in the court of public opinion."
Richard Black from the Energy and Climate Intelligence Unit (ECIU) said: "The lack of clarity on the vision for COP26 is seriously concerning. It is surely obvious that COP26 has to set the global economy on track to net zero emissions by mid-century.
"This means brokering agreements that kick-start decarbonisation in various sectors and it also means Boris Johnson, Dominic Raab and Rishi Sunak stepping up to the plate on finance to help the poorest nations.
"Failure to sort this will fatally compromise COP26 - and the failure will lie squarely at the door of Downing St."
Whatever global goals are eventually agreed, green groups warn the UK's negotiating position will be weakened unless it consistently cuts carbon domestically - it's currently slipping away from its long-term targets.
Mr Black added: "Coming on the back of a Budget that didn't even try to get the Conservatives on track to their net zero target, the conclusion that they don't have a plan for reaching it, just months before the UK hosts a major UN climate summit for the first time, should stimulate some serious thinking right across Whitehall."
A government spokeswoman said: "It is nonsense to say the government does not have a plan when we have been leading the world in tackling climate change, cutting emissions by almost 44 per cent since 1990 and doing so faster than any other developed nation in recent years.
"Only this week in the Budget we built on the prime minister's Ten Point Plan for a green industrial revolution by encouraging private investment in green growth, and we are bringing forward bold proposals to cut emissions and create new jobs and industries across the whole country."
Follow Roger on Twitter @rharrabin