Covid-19: Nurses prepare for strikes over 1% NHS pay rise in England
By Justin Parkinson
Political reporter, BBC News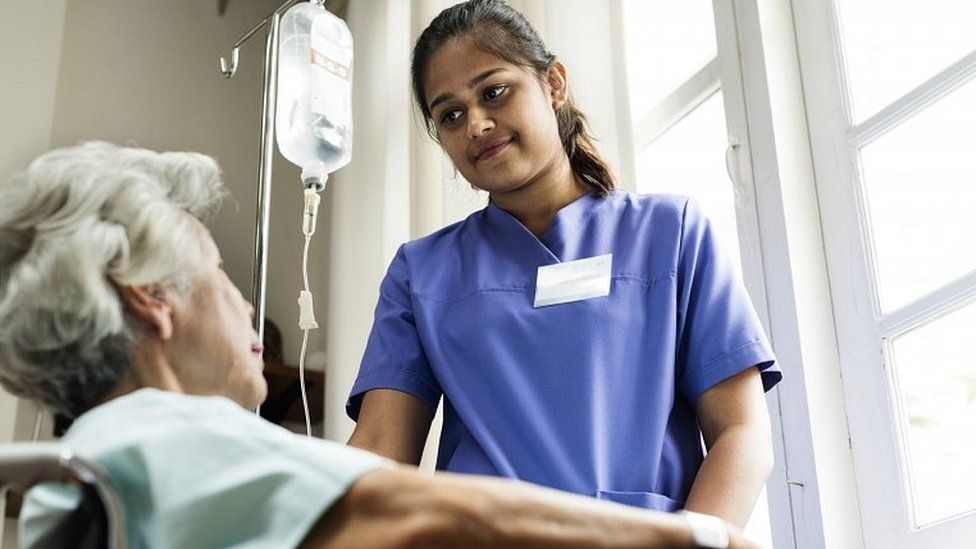 A nurses' union has set up a £35m fund to prepare for possible strike action over a proposed 1% pay rise for NHS workers in England.
The Royal College of Nursing (RCN) called this "pitiful", arguing that its members should get 12.5% instead.
It would have to hold a ballot before strikes could go ahead.
Labour said NHS "heroes" deserved more money, but the government insisted 1% was "what's affordable" at a difficult time for the public finances.
At least 1.3 million other public sector staff - including teachers, the armed forces, firefighters and police officers - are about to have their pay frozen for a year.
The Department of Health and Social Care recommended the 1% pay rise to the independent panel that advises the government on NHS salaries.
It would cover nearly all hospital staff, but not GPs and dentists. The panel is due to make its own pay recommendations in early May, when ministers will make their final decision.
A government spokesperson said 1% was a "real-terms increase", as the latest official inflation figure was 0.9%.
What do NHS workers in England earn?
The lowest minimum full-time salary - for newly employed drivers, housekeeping assistants, nursery assistants and domestic support workers - is £18,005 per year
The starting salary for most newly qualified nurses is £24,907
Staff in "high-cost areas", such as London, get extra payments
But RCN general secretary Dame Donna Kinnair warned it would mean just £3.50 more per week in take-home pay for an experienced nurse.
"This is pitiful and bitterly disappointing," she said. "The government is dangerously out of touch with nursing staff, NHS workers and the public."
The RCN's governing council voted on Friday to set up a £35m "industrial action fund" to support members who would lose income during a strike.
And the public sector Unison union has called for a "mass slow handclap" at 20:00 next Thursday, over what general secretary Christine McAnea described as a "miserly" offer.
Emily Huntingford, an intensive care nurse at a London hospital, said she had been "completely shocked" when she heard about the 1% pay rise.
"The first thing that came into my mind was that this is insulting," she added. "It shows a complete disregard for the work NHS workers have done this year.
"This whole year has taken a lot of personal sacrifice for all of us. We've put ourselves at risk."
But Emma, a nurse who works in Nottingham, said that "even though 1% isn't much, it's still a pay rise".
She told BBC Radio 1's Newsbeat that all public sector workers and key workers - not just NHS staff - should get the same.
Health minister, and former nurse, Nadine Dorries said she was "pleasantly surprised" that any rise had been proposed, with the government set to borrow hundreds of billions of pounds this year to support people and businesses through the pandemic.
She told BBC Radio 4's Today programme that nurses "do their job because they love their job", adding that "we totally appreciate their efforts over the past year".
Labour said the government's promise to reward NHS workers for their efforts during the pandemic "now lie in tatters".
"Boris Johnson is cutting nurses' pay," said shadow health secretary Jonathan Ashworth, who - in contrast to ministers - called the 1% rise a "real-terms pay cut".
Some staff, whose pay bands are being changed due to restructuring, will get more than a 1% increase as the result of a previously agreed three-year pay deal.
The NHS in Scotland, Wales and Northern Ireland is run by the devolved administrations.
The Scottish government has announced that 2021-22 pay negotiations will be delayed until the summer because of the disruption caused by Covid. Staff have been given an "interim" pay rise of 1%, which will form part of the new settlement.
The Welsh government has said it will not set a "ceiling" of 1% on NHS pay rises for 2021-22.